Pat Jones
Reflecting Back on 91 Years of Life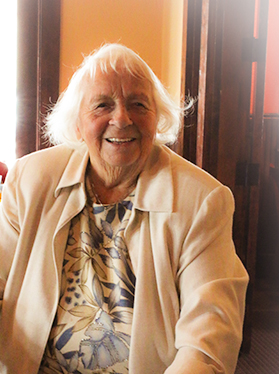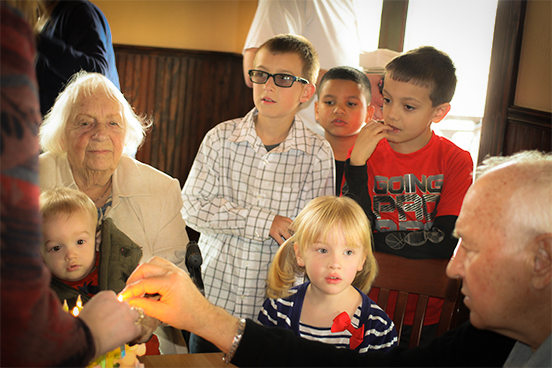 This website is for a midterm project at
Washington State University.
Digital Technology 338,
Sound Installations with Dr. John Barber.


Project Overview:
My work for the midterm in Sound Installations is a three minute sound clip
that features a storytelling experiment. This experiment includes a narrator,
sound clips I make and downloaded from the internet. The narrator
of the sound clip is my grandma Pat. Pat Jones has just turned
91 years old and I thought it would be a good idea to record a reflection
of her's in looking back on 91 years of life in the Pacific Northwest.

This recording was made at my grandma's house. It was edited at my
house and WSU. Being as old as my grandma is, she is quite sharp.
She can still remember back to short moments and stories of her
childhood, being a nurse, and a mother of 4. Although, she does fade
in and out in thought when we ask her to remember something from so long ago.
I doubt I will live as long as her.
Just to clear things up for listeners: In the beginning she explains about a fire engine
that was taken out for a joyride by my Dad (her son Scott Jones) and a friend of his.
For the record, it wasn't a huge fire engine. It was a fire cheif's fireman car.
I'm unsure of my Dad's friend's name, but his Dad was the fireman they stole the car from.
The way they got caught was because a fireman saw the car out driving around at 4 in
the morning. The fireman asked my Dad's friend's Dad (the fire cheif) what he was
doing out so late. The friends Dad said he wasn't out late at all. That's how they got caught.
And yes they were only fifteen.

A few times she brings up my Grandpa Don.
This shouldn't be confused with Donald Trump who she bashes in the middle of the clip.
Statement of Purpose:
I have always wanted something creative that stars my Grandma because she
is really old and funny. I'm sure she has a lot of stories to tell from her long life.
I also wanted to know if someone who has lived into their ninties can remember so far back.
One of the problems is that Pat never wants to be filmed or have pictures of her.
But she did agree to do a voiceover.

A Larger Notion of Aesthetics:
My sound clip fits within the guidelines for the assignment because it's length is over six minutes.
There is only a small amount of musical ambiance for effect.
I use a digital recorder, microphone, and sound recording programs.
Materials and Method:
I used Garageband 10, a shot microphone, a narrator, two interviewers (Myself and Cara Cottingham).
I downloaded extra sound effects from freesound.org. As my Grandma explains her life,
the sound clips take the listener back to the exact moment in time.
Outcome:
I want a fun, funny, and focused sound clip that brings up issues from the past, present,
and future. I want our family to be able to have something like this lingering, even after
Pat Jones passes away of old age. As for playing it in class, I hope the sounds of war don't
bother anyone who may be suffering from P.T.S.D. Also, Grandma Pat reflects on our new
President Donald Trump (She doesn't like him). I appoligize in advance if any of this offends you.
Self Reflection:
My Grandma did her best to help me with my school project. She thinks that my schooling
is very important. Grandma went to the University of Washington, but I have an aunt Robin who
graduated at WSU with creator Matt Groening of the Simpsons. I was a little worried my Dad and
other relatives won't like this, but I guess we will see what they think in the years to come.
Special thanks to Pat Jones, Scott Jones, and Cara Cottingham.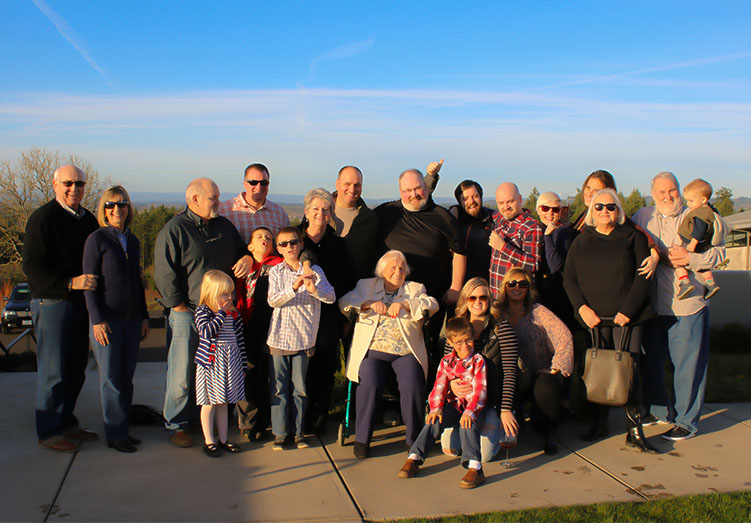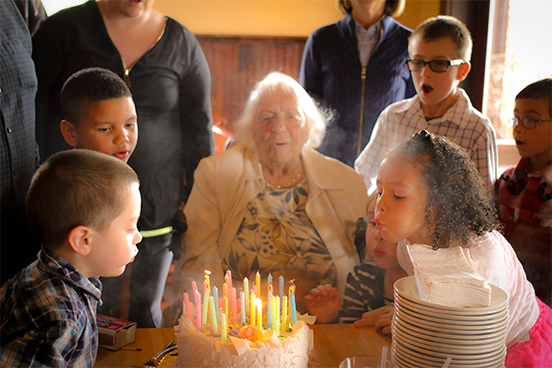 2 Minute Sound Clip
6 Minute Sound Clip