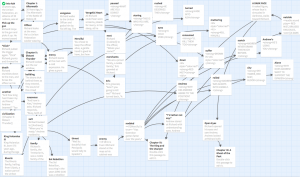 http://dtc-wsuv.org/ssims18/final/
My story "The Empty Shell" tells the story of Richard Trentarion, part of a once proud family in the Holandus Republic, a family wiped off the map after The Great Betrayal, which saw the destruction of Richard's entire family.
The story starts in the aftermath of the harrowing event, where Richard is confronted with Eric Riveris, the military officer who ordered the attack on his home. The reader is presented with three choices. Either he can kill the man outright with a gun found on the ground, he can spare Eric and head east, or he can drag Eric to where he used to live, where Richard tortures the officer. The idea I'm trying to get across is that choices do matter. Should you choose to torture or kill Eric, Richard will see multiple ghosts of his past. These were originally supposed to be completely random but I could not get random text to work in SugarCube.
The choice becomes more complex in the ending, in which there are three. The three endings admittedly end cliffhangers, especially the torture ending, which is because I plan on continuing this narrative beyond the class.
My goal with this story is to tell a character story, with elements of world building. Stories that take their time in developing and fleshing out their worlds are the stories I enjoy the most. Ideas of family and their importance in this narrative is inspired from Game of Thrones, where family is central part of the books and television show.
The realm of politics is also explored, where Richard is placed in a situation where he must choose to either side with a long time ally, or back stab them for the chance of better prospects. In this complicated decision is Richard's friend Andrew, who is trying to sway Richard to support the Ispaden claim to the throne of Typhos. Depending on the choice you make early on will determine whether or not you find out what drives Andrew to support the Ispaden family.
There was some inspiration from PRY. Throughout the early chapters, where Richard was at his lowest point, there are many words that you can click on, which give brief snippets into Richard's subconscious mind, and what he is thinking or feeling in that specific moment in the story. These texts are made bold, italicized, and occasionally colored red depending on context. Depending on the path you choose, will determine the prophecy you receive from the faceless ghost. The mystery I leave the reader to think about is whether or not what Richard is seeing is real, or if it is merely paranoid delusions.
I chose Twine because I love multilinear narratives, they have always been an interesting medium to explore and over the course of the semester, my fascination with them only grew stronger.