Interview Project
July 15, 2018
Interview Rough Cut
July 12, 2018
Skam Austin Post
July 10, 2018
I agree with the article's opinion of Skam Austin. It keeps the audience interested and invested by requiring their interaction in order to uncover the whole story. A series that uses social media as a broadcasting ground plays on brief communication spread across different medias. Rather than sitting through one continuous media form, audience members must investigate and work on both finding and piecing together clues. It invites interaction through the guise of active research on the part of the audience. A lack of commercials and other distractions, which especially hinder those with short attention spans, is also appealingly modern. Skam Austin is inventive and contemporary and also incorporates fan input. The show is constantly being influenced by the audience and vice versa, which is a completely new concept.
Skam Autin is making great use of the system it created and it is therefore difficult to think of new ideas to add to it. Perhaps the film team could make use of Facebook events to create an actual non-virtual interaction option with fans. Moving more out of an online setting and leaving impacts on the city of Austin itself. A treasure hunt based on the show and its characters, which are working in real time. Or oppositely taking advantage of more AR type technologies, which allow audience member to feel even closer to the characters.
Montage Video
July 5, 2018
Visual Evidence Post
July 5, 2018
For a news story on the Eagle Creek forest fire I would interview some experts in forestry, specifically those closely tied to Eagle Creek, to document the effects of the fire on the land as well as the story of the event itself. Then I might interview local individuals for their opinions on the fire and how it has affected the community they live in. A political leader in the area educated in analyzing the overarching effects of the fire would be useful as well.
For visual evidence I would prioritize shots of the damaged forest. As our reading explained, B-roll complements what is being said while visual evidence expresses a concept without words, relying on images instead. I would rely on visuals such as burnt fauna and park volunteers cleaning the area to convey the extent of the fire's destruction. The reading also noted that captured behavior could be decent evidence, so I might try filming the faces of people in the area and their body language. As for B-roll I would film some more general scenes. Hikers, plants, animals, and a large shot of a community or town nearby would be used to connect to the audio.
Time Frame Assignment
July 5, 2018
Run Lola Run Post
July 5, 2018
Run Lola Run relies heavily on a nonlinear technique that presents Lola's story repeatedly with slight variations in each rendition. Through this repetition of scenes the movie relies on digital methods of video editing that allow for time changes. As noted in the reading, digital films challenge the framework of what is real by deconstructing and showing what can normally not be seen by toying with speed, focus, etc. In Run Lola Run the fates of numerous characters are changed by restarts that begin recurrently at the same point in time. The movie also plays with multiple stories at once often with brief forward flashes of strangers' fates. Lola's, her father's, and Manni's point of views are dealt with simultaneously at greater length, taking advantage of digital cinema's ability to express larger amounts of information without overwhelming the audience. Animation, time manipulation, and mythical actions all test the boundaries of reality in this movie. In order to maintain clarity in this chaos Run Lola Run uses database logic, the audience's ability to document and recount prior occurrences, to repeat scenes over and over with only slight differences. By restarting at the same point and also following the same plot continuously, the narrative remains comprehensible. In many ways this film innovatively distances itself from classic film styles, however there are still several examples of shots and plot points that retain typical techniques. Time is conveyed by multiple shots of clocks and Lola's direction of travel (as well his her speed) is conveyed through the monorail as it travels in and out of shots. Thus the movie, while modern, still relies on older techniques to retain clarity.
Continuity Project
June 28, 2018
Time Frames
June 28, 2018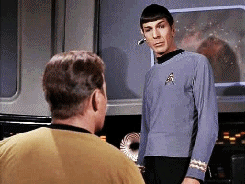 This Star Trek gif makes use of a slow zoom to increase the drama of the scene. The camera begins farther away to allow for the chair turn, an action which increases the length of the scene. Following this the camera zooms in increasing the wait of the character's final action which ultimately provides an unsettling tone to the scene.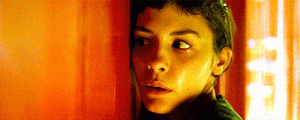 This scene from Amelie transitions from the main character to her love interest. However in the middle of the switch the two share the shot separated only by a wall. This shows that time remains the same  between both of their point of views. Their actions remain simultaneous through the use of this unique expression of time.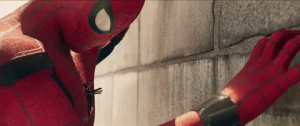 In this gif from Spiderman: Homecoming there is a swift cut from the spider robot leaving the character's chest to it flying away. These two shots put together show a progression of time while lacking the specific action of the robot flying away from Spiderman.
Visual Evidence Framing Project
June 26, 2018
Scene Framing
June 26, 2018
Sherlock Holmes (boxing scene)
This scene in Sherlock Holmes is a fighting sequence that relies on numerous close up shots and slow paced action to portray a comprehensible continuity of movement that is normally too fast and distant to pick apart by the human eye. By focusing closely on the actions of Sherlock Holmes in slow motion while periodically providing long shots to establish location and presence of other characters, the audience is given a beautiful display of fighting that they can admire in separated parts.
Close Up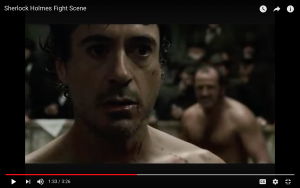 Medium Close Up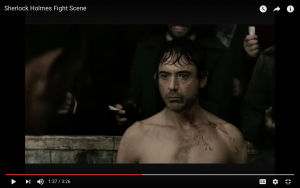 Medium Close Up
Long Shot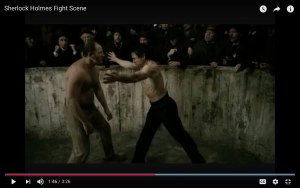 Medium Close Up
Long Shot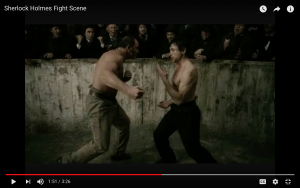 Extreme Close Up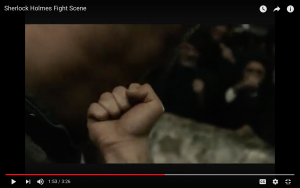 Medium Long Shot
Medium Close Up
Medium Long Shot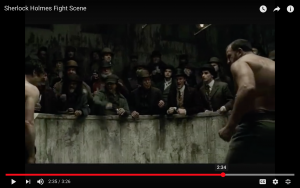 Medium
Long Shot
Medium Close Up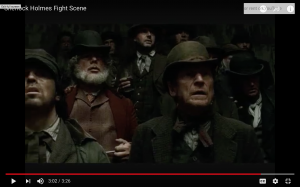 Long Shot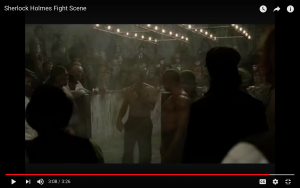 Skyfall Edit
June 21, 2018
Pocket Cinema
June 21, 2018
After reading "How your smartphone is changing cinema" and watching the accompanying trailers as well as the Detour short film, I believe iPhone filmmakers are attempting to develop something new within the confines of the format the phone provides.
In Detour we see many features that are unique to this filming format. As a handheld device, in the scene where the point of view is from a man resting in a hammock, the shot of the family is shaky. Better yet, as a sort of fairy tale motif, the table the family sits at (which the camera is pointed at) appears to be influenced by the rocking camera and shakes as well. The plates, the drinks, and the children struggle to remain seated. In another scene with the same man in the hammock, the shot makes use of the zoom feature and plays on the size of the tricycle as it appears in this context. Many of the other film examples use themes and techniques unique to cellphones. Tangerine and Starvecrow both implement close ups and character points of view relevant to selfie culture.
Modern digital media today is evolving into a more personal form of viewership with the relevance of cellphones increasing as they become more available and convenient. Thus, influenced by our more common uses of cellphones and their usual place on our person, by extension films created through phones have implemented this more intimate way of presentation. In comparison to regular films, this easily carried and used technology allows for a wider variety of uses. Perhaps cellphones have yet to reach the quality of high-grade filming equipment, but they do allow for spontaneous and unusual methods of recording. I believe digital media will therefore continue to evolve more in this way as consumers continue to increasingly rely on their phones for almost everything in their lives.
Amanda's First Post!
June 19, 2018
Hello! I got my first video camera on my 12th or 13th Birthday which thus resulted in many horrible short films through middle school. I also went to VSAA 6th through 12th grade and took two film classes while I was a student there. More recently, after several years of little involvement in film, I made a video documentary on local boom to bust towns for a history class at WSUV. I still have a video camera and a tripod and now have both a small wire microphone and a regular microphone for decent audio recordings. I also have the proper adobe editing software.
By taking this class I would like to improve my techniques of filming. I want to learn how to take better shots and use other skills to develop professional looking videos. I would also like to become more comfortable with editing tools available to me. I am currently a DTC and History major. After I graduate this coming Spring I'm hoping to pursue a career that involves both of my majors. I'm not exactly sure what that entails, but I'd like to have a job that in some way lets me use what I learned from both.
I really like Buzzfeed Unsolved. Its entertaining and I like their uses of different shots and also their transitions to text and pictures connected to their research. Plus it would be fun to do a ghost hunting video.