Our Lives (Final Cut)
December 10, 2019
My Film "It Was love" for reference to the Video Journal
November 6, 2019
My Film (Video Journal)
November 5, 2019
A Paint Life
October 29, 2019
Blog Post (Skam)
October 22, 2019
After reading "The New Yorker" and finding a YouTube video explaining "Skam". (fb page failed) "Skam" does something incredible, it connects the audience even after they have left the episode. The show accomplishes this by posting on social media from one of the characters. Whom ever sees the post then can see the context of the post in the following episode. This is a brilliant idea because it connects with today's youth and does something no show has really done before in my view. Keep audiences engaged even after the show stops for the day. With so many people connected i am just surprised that no one has thought of this yet. Because it is a great way for the audience to connect to he characters and bury themselves even deeper into the story and related drama.
What is Digital Cinema? Blog Post
October 8, 2019
After reading the paper by Lev Manovich, I partially agree with him. More so in what he lists as reasons digital cinema is not cinema on celluloid. Cinema and film making when it first began was recording images on celluloid for a certain time frame. But you were still limited to the indexicality of it. He states that once a something has been recorded on film but is copied onto a computer for additional editing, it has then separated itself from everything that has made it a film and its connection to the past (Manovich 7).  I once watched behind the scenes of editing "The Lord of the Rings: The Fellowship of the Ring." When this film was created, digital cinema was just starting out in Hollywood. It was filmed in celluloid cameras but scanned onto a computer for editing later. To Manovich this is no longer a film but a digital movie.   He goes onto say that cinema becomes more of a renaissance painting than a film by the means of color and editing options that open up with digital. This most evident "Yorgo Alexopoulos No Feeling is Final; In Five Chapters, 2010." This incredible piece is not film because it was created digitally. With the amount of elements involved with the final product, editing celluloid would take incredibly long to make such an image. But digital would possibly do in a matter of hours or days. This is what digital cinema and computing has turned film into. Something incredible with new possibilities.
What to Do (Idea Montage)
October 1, 2019
Blog Post
On the first night of the Eagle Creek fire a photographer who happened to be near by took a time lapse of the devastation occurring. I would go to him first and ask how it felt to a be present at such an event and to know you couldn't do anything about it? His time lapse made local news because it captured the fire as its spread through out that area. As stated in Barry Hampe's "Making Documentary Films and Video." He explains that if you were to interview someone and they described a large crowd situation. But show and empty street the audience will not believe the interviewee. In creating such a film the audience will believe the story if supported by visual evidence (Hampe 92).
In creating the visual story I would grab the time lapse of the fire and interview the photographer, having the time lapse become B roll. I would conduct interviews with the officers in charge of the investigation and response of the emergency as well as the people that were first on scene when the fire erupted. Since there is no footage of the fire starting I would have to fill with related B roll or do a recreation with actors.
Apples (Temporal Montage)
September 24, 2019
Tonal Montage
Though the sequence is not from one specific film I believe that it still captures just as much emotion as any one film could capture. This is a mix of film lead a by narration of a Andrew Stan as explains what story is. What makes a good story, what a good story is supposed to do. His speech is matched up significant moments is some of the influential films in Holly Wood. Some of which have had these moments he speaks of. He describes that story should grab the viewer, make them wonder. Challenge them, pull them. Push story telling beyond our imagination. Each is perfectly times to mirror what he is describing and therefore grabs the viewer instantly. I had to watch a few time because how well the shots were placed and how the story pulls on your emotions. Though its is not from a single film. It is a great montage.
Exercise (Tom, Dylan, Grayson, Jasmine)
September 18, 2019
Blog Post:
In the movie "Run Lola Run" I believe that the digital aesthetic comes when comes to combining the animation aspect of the film for the stairwell sequence. The Narrative is spaced in clever way. It tells a linear story but in three separate ways and in each way the stories characters have a different outcome based on the protagonists interactions with them. Time is also manipulated by cutting certain ways within the film. This comes with changes in camera angles, jump cuts and so fourth within a repeated scene. In fact the camera angles are what keep the audience informed of what is happening and its on the certain changes in the angles with each character interaction that propels the story forward. Altogether this film is a prime example of how film can manipulate time and space.
The Book
September 10, 2019
Blog #2 Framing in Movies
September 3, 2019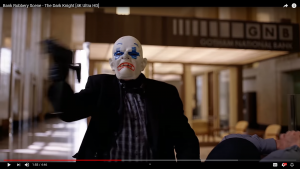 Medium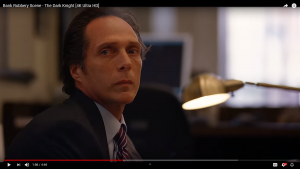 Close up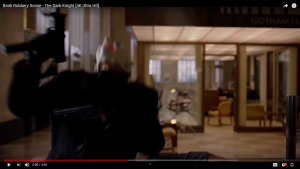 Medium Close-up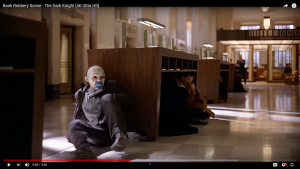 Wide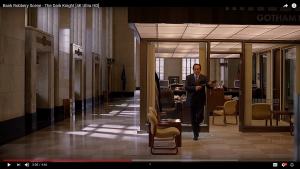 Wide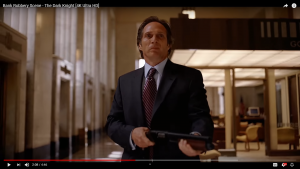 Medium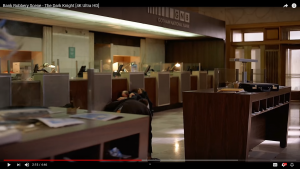 Wide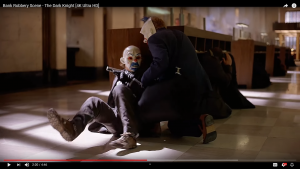 Wide Two Shot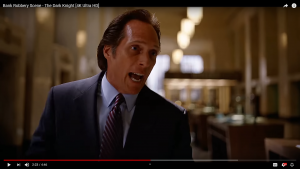 Close up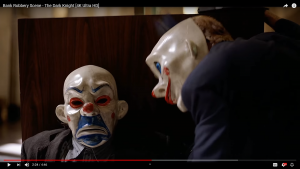 Close Up Two Shot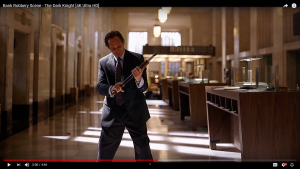 Medium Wide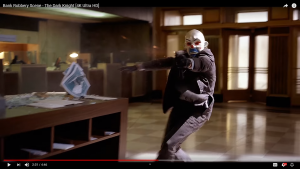 Medium Wide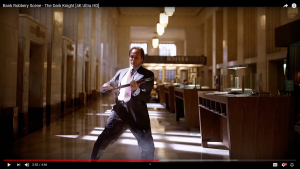 Medium Wide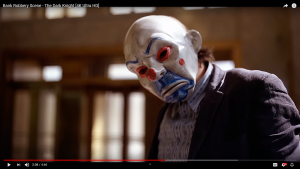 Close Up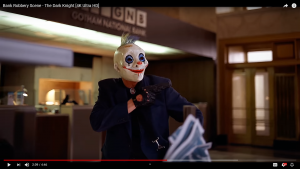 Medium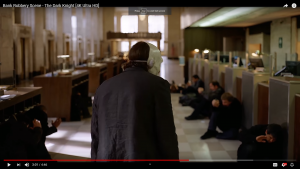 Medium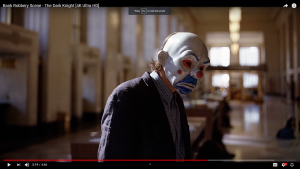 Medium Close Up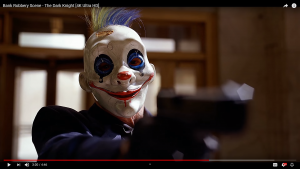 Close Up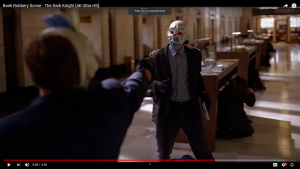 Medium Wide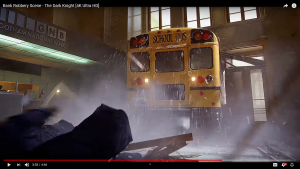 Wide
This is one of the first Sequences of "The Dark Knight". Each shot is a medium to close up with an occasional wide to emphasize and the scene and make the audience feel closer to action. The first initial shots are of one of the clowns and a close of a bank manager. This is to emphasize that the manager has something up his sleeve and the clown is about to become a target. Which is a fact when the manager pulls out a shot gun and fires on the clown. This is the moment where the clowns lose control of the situation with repeating medium and close up shots showing the back and forth battle between the antagonists and protagonist of the scene. The clowns then turn on each other when finding out that one is meant to die, this stand off is ended quickly when a bus comes barreling through the door running over one of the clowns. The scene is well planned and keeps the audience on the edge of their seat the whole time.
Life is Gone (Framing Assignment)
September 2, 2019
Blog Post #1 Cellphone Cameras
August 21, 2019
Cellphone movies are growing in popularity, mostly for budgetary reasons. But, other times cellphones are used for a certain angle which may be easier to obtain compared to a regular cinema camera.  Movies that are produced via cellphone often times are compared to movies that were shot with regular cinema from the past. This may be because cinema and traditional films have been around for decades. Therefore comparisons between traditional cinema and cellphone videos are unavoidable. At the end of Bentley commercial one of the ending credits state that it was shot an iPhone.  The point of showing stating this was to break a barrier. To state that with the right tools and cellphones a great commercial can be made. However, the commercial also showed that cellphone technology is not far behind that of larger cinema cameras.
This is most evident within the trailer of "Unsane", within some scenes of heavy shadow it was clear that the low light capability was not clear. Though, this affect can also add to certain style of the director so chose to use it to their advantage. Cellphone videos are growing in popularity because anyone who is anyone has a cellphone and each phone has a camera connected to it. Cellphones can then have a style of their own if the author so chooses because not only are they lighter than high grade cameras but the tools used to get professional looking shots are cheaper too. Therefore a person can make a good video for a fraction of what make movies used to cost.