Three Loops
September 19, 2019
Class Videos
September 18, 2019
McCloud Blog Post
September 11, 2019
I felt that the McCloud visual essay was very poignant in terms of film. Talking obviously about the illusion of time in storytelling. I think one of the parts that stuck out to me the most was when McCloud mentions that "The panel acts as a sort of general indicator that time or space is being divided." This relates to film when compared to the shot. The shot represents time and space, and it is assumed that time has not changed if the shot hasn't changed. The same goes for characters within each shot, and how if you want to show time passing, having the character on screen leave the frame fully will help with the illusion of the passing of time or space. Another part I like was in the beginning when they show the long frame that has Uncle Henry taking a picture. In this frame they show how even though the brain wants to say "this is happening at once, because it's all one picture." However, our brain interprets it like a movie, and looks at this one frame, as one scene, as reads each thing happening in order from top to bottom, left to right. In a movie that issue isn't present because the brain simply watches the movie in order, and doesn't have to worry about what order it should be reading. I also found the portion about how quick each piece conspires to be interesting. Certain portions, like the "PAF" from the camera feel faster than the word "Smile" said by Uncle Henry. It's all about how your brain reads it, but that's based on how the author, or director in the case of movies, presents it. Overall, the illusion of time and space in movies and other media, is something that can be played with so that the viewer will see it the way you want, or see it in an interesting way.
Snowboard – Continuity
September 10, 2019
Stolen Doughnuts – Framing
September 3, 2019
Blog 2 – Casino, Pen Scene
September 3, 2019
For blog 2 I chose the pen scene from Casino. I chose this scene because it always stuck with me, both because of how randomly violent it was, but also because of how ridiculous it was to watch Joe Pesci kill someone with a pen.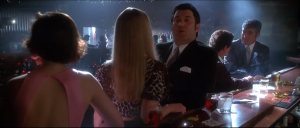 Medium (M)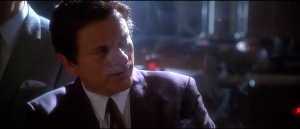 Medium Close Up (MCU)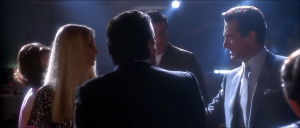 Medium (M)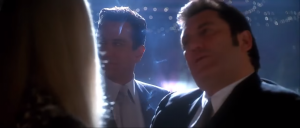 Medium Close Up (MCU)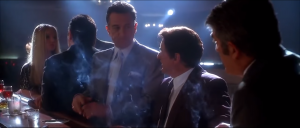 Medium (M)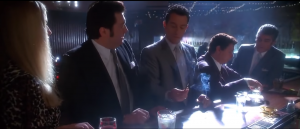 Medium Long Shot (MLS)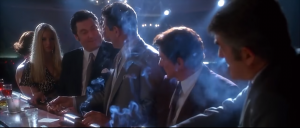 Medium (M)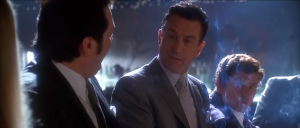 Medium Close Up (MCU)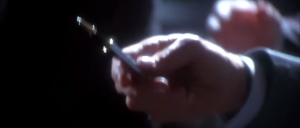 Extreme Close Up (ECU)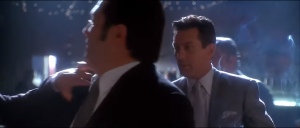 Medium Close Up (MCU)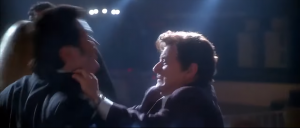 Medium Close Up (MCU)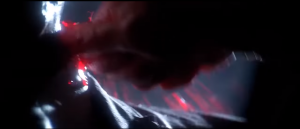 Extreme Close Up (ECU)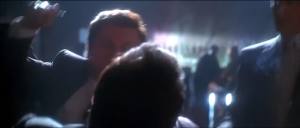 Medium Close Up (MCU)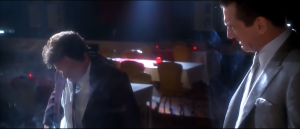 Medium Close Up (MCU)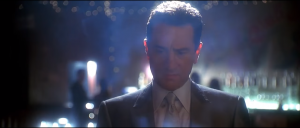 Medium Close Up (MCU)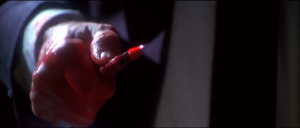 Extreme Close Up (ECU)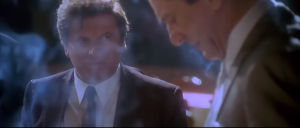 Medium Close Up (MCU)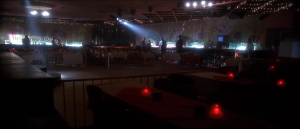 Extreme Long Shot (ELS)
In this scene there are 18 individual shots. Most of them are medium shots, and medium close up's, however, there are a few medium long shots and extreme close ups mixed in. I feel like the reason that medium close ups were used so heavily was to keep the viewer in the action (not too far away) while still showing everything that is happening, by not getting to close. The few times the camera switched to an extreme close up was too specific details that the viewer may have otherwise missed, such as Joe Pesci taking the pen.
The establishing shot of this scene is a medium shot, but it is a moving shot. The shot moves to the right, allowing the viewer to see each person at the bar, before it pans and zooms on Joe Pesci, which becomes a medium close up, and the second scene. The beginning of this scene switches back and forth from medium shot, to medium close up quite a few times, but once the action starts, its mainly medium close ups.
Depending on the character you choose to focus on, a shot may go from a medium shot, to a medium long shot, but I tried to figure out where the majority of the characters fit, to give the most accurate name. Its also important to note that even thought the bar hides the lower half of everyone body, that the shot was names for the distance, or what the view would see had there not been a bar there.
The final shot is the longest shot of the scene, being an extreme long shot. This is a good way to end the scene and allow the scene to kind of sit with the viewer for a minute before moving to the next scene.
Digital Media Ease vs. Quality
August 28, 2019
After reading the articles and watching the videos, my opinion is that these short films are trying to use the phone similarly to a camera. It feels like both films are not trying to be like traditional film. The reason I say this is because Detour is made in the style of a family film, or just a short fun film, not meant to look like a movie. However, the use of the phone seems to mimic camera use in a lot of ways. I do think that Detour used the affordances of the phone well though, in the scenes where they had a lot of camera movement, which is obviously easier with a phone than a large camera. Night Fishing is also different from traditional film, at least traditional western film because, like you said in class, it follows a more Korean style of film. Again though, it seems that this one is using similar techniques to a standard camera. One major difference I saw in this film was the heavy vignette, though I'm not sure if this has more to do with the phone, or just the overall style of the film. In Night Fishing, there is also a noticeable camera shake, particularly in the scene where he stumbles over the fishing poles and falls near the camera. This would not be the case with a standard camera.
I feel like an important automatism of digital video today is the ease of camera movement, which is made even more apparent in smartphone films, but is also easier with real cameras today, than it was in the past. Another important one, which is less related to the camera, but is still important, is the ease of putting your video, film, or movie out to the world, by simply using YouTube, Snapchat, or FaceBook. As a creator, I use digital video to create small clips for social media, like we talked about in class. As a consumer, I tend to watch a lot of YouTube, and see a lot of other peoples social media creations. The way I use digital media is generally based on entertainment and human connection. The reason for this is because I get a lot of my digital media through social media, and that is usually for entertainment purposes, or me and other people to communicate with each other through digital media. Digital media specifically through phones, seems to be trying to do two things. The first is create an easy way for EVERYONE to be able to create simple digital media and share it easily. It's not meant to be professional or even impressive in terms of the media itself, but is meant to be easy and accessible. The second thing is to be able to mimic what real film equipment can do, but this is only when paired with the right amount of money, and the right skill. Most people won't be able to create a film like the ones we watched, or even talked about in the articles. So it seems that phone related digital media is trying to have something for everyone. Its easy enough for any to make a low quality piece of media, but advanced enough for a select few to make high quality pieces of media.
-Grayson
Hi Class!
August 21, 2019
Hi, My name is Grayson. I have enjoyed making and editing videos for most of my life, but haven't done much because of limited equipment.
Here is the YouTube video link: https://www.youtube.com/watch?v=y6uGxZJYVoI
The reason I chose this video is because I like the style. I think that the shooting is very interesting, I think that the use of different angles and different distances gives the video a nice flow. I also like the editing style, the music along with the shot speed, and time give the whole video a very good vibe. I also like the changes from highly professional shooting, to more quickly shot and unedited interviews, and back to professional shooting. What I find interesting about these types of videos is that they hold the attention of the audience without many strong characters, or strong story lines. Usually the cars, and the editing style are enough to keep me engaged.