Final Project – How to Write a Song
December 12, 2018
This video is a lighthearted comedy video about me trying to finish a song that I am writing, and all of the things I try to do in order to make that happen – complete with a little teaser at the end for when the song may actually be posted to my main channel.
If you saw my first rough cut for this project, you would know that coming up with an idea for this project was a huge struggle for me. I would say that I have been burned out creatively for around a year now – and as someone who loves to create things, that has been incredibly frustrating. However, I somehow got inspired last minute for this project and ended up with this video that I am quite happy with.
I wanted to create something more fun and lighthearted than I had previously planned because I thought it would take my mind off of how stressed I have been. I also wanted it to serve the dual purpose of being a bit of a teaser for my main YouTube channel – in fact, one of the things I knew going into this project was that I wanted this video to be good enough to go on my main YouTube channel as my first video. I had it in my head that my first video would be an original song, but the song I wanted to post was not fully written yet – so, I thought, why not make a video about trying to finish that song, and end it with a little teaser about it coming out in another video early next year? Therefore, this storyboard happened: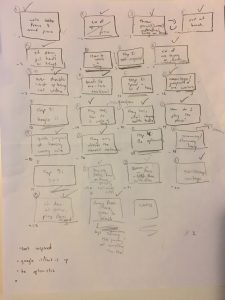 Overall, I am very happy with how this video turned out, especially considering how many times I started over and made something completely different for this project. It gave me the kick-start I needed to finally start my YouTube channel and get in the habit of creating again. Hope you enjoy!