Job Interview Final
October 29, 2019
Pixel Cinema
October 29, 2019
Contrast Idea Montage
October 9, 2019
Temporal Montage
October 9, 2019
Blog Post 5: Eagle Creek Fire Documentary
October 2, 2019
I would likely pursue those that helped in the moments after the fire started — first showing photos of people hiking the trail prior to the fire. As to who I would interview, it would be great to get an interview with the woman who witnessed the fireworks being dropped and started the fire. Additionally, the people living in that area would be ideal interview subjects as well, getting to talk to them about how it affected their lives, what adjustments have they made. Lastly, I would interview the first responders and fire crew that arrived to fight the fires, ranging from the pilots to the actual people in the forest working to contain it.
Most importantly, however, I would look to fill in the gaps with visuals. Like the book said, b-roll is merely illustrating what is being said. To show the effects the fire had, I would see if I could find the remains of the homes of the victims (though I believe there is just one). The imagery of the woman who lost her home standing where it used to be would work well to help provide that visual evidence and tell its own story. To illustrate the extent of the fire, perhaps just including a simple time-lapse of the fire spreading in the distance would help to communicate the devastation it had, as opposed to having the fire marshal read off statistics about the extent of the damage.
In-Class 9/17/19
September 24, 2019
Blog Post 4: Montage
September 24, 2019
I chose this scene from one of my favorite movies, Hot Fuzz. This scene Nicholas Angel, (Simon Pegg) is moving from London to the small town of Sandford, much to his dismay. I feel that this scene demonstrates a rhythmic montage. The scene shows Angel's day-long journey, and as he is leaving London the shots and cuts are rapid. However, once the taxi sign appears again and goes dark, the scenes are darker. As he begins to arrive in Sandford, while cuts and shots are still relatively quick, they are much longer than the previous ones. Long shots on the signs in the town, and on the church. Edgar Wright is really good at creatively using continuity in his shots, which is what rhythmic montages are built with. Again, mentioning the taxi sign and the fade to character, but additionally, having the wide shots at the start and end showing where he begins and ends, and the character waiting at the train station (a great bit of visual comedy). It's impressive how Wright can convey plenty of information about how the character is feeling in just 35 seconds.
Blog Post 4: Run Lola Run
September 17, 2019
Run Lola Run was a great movie to watch. What I found interesting about Run Lola Run, was that in theory, I should have been confused about the narrative. Given that it is not only a foreign movie that turns my focus to the subtitles but also stories that involve time manipulation is traditionally confusing. That said, I did not find myself at all confused throughout the movie. Its ideas and plot were laid out clearly, and the use of animated segments, and the into as a whole stay consistent at the beginning of each time loop gives helps ease you into what changes were made to that loop. It was subtle but wholly crucial as to not lead the viewers astray. Another useful method the filmmaker used was by linking the money bag, and the phone linked the jumps in space and time for a smooth transition that was not sudden and jarring. Lastly, in terms of time manipulation in scenes, one that stood out to me was after Lola hung up the phone with Manni and began thinking about who she should go to for help. While lots of movies would have the character pace, and perhaps talk to themselves, the movie plays with the time she is taking to come to a decision. By having the camera circling her at a fast pace, not only compresses down the time she is taking, but it also helps with emphasizing the panic she is facing. Overall, I enjoyed the movie.
The Sandwich
September 10, 2019
Blog Post 3: Time Manipulation in Cinema
September 10, 2019
I think if you want to discuss the manipulation of time, you should look at the process of making a movie. Hours, days, months, and even years cut down to the matter of hours by the end. Even the act of watching a movie is, in and of itself, manipulates time. Movies from the 1980s or 90s show that era, how people and places looked, and acted. A camera captures a point in time. If you watched Die Hard 2, you don't see the security checkpoints of the 21st century. Watching a movie, however new, is in a way time traveling. Like the point McCloud makes, comics, unlike other media, can show the past and future all around us. But cinema is specifically able to show us real, footage of people during a different time.
In terms of story, another method of time manipulation in cinema is showing events in reverse order. Such as having the beginning of the movie starts showing the end of it, having the rest of the movie showing the events leading up to it like in Pulp Fiction. McCloud makes the point that media and real-time has taught us to expect a linear progression, and a straight line from point A to B. However, with movies that show events in reverse order, or begin with the end is more like point B to A, (and sometimes) back to B.
Framing Assignment Mitchell Torres
September 3, 2019
Blog Post 2: Django Unchained
September 3, 2019
For this blog post, I chose the movie Django Unchained. Quentin Tarantino always has unique and intriguing shots in his movies, so I thought picking a scene from one of his movies would be a good idea. This scene is no exception and has a variety of shots.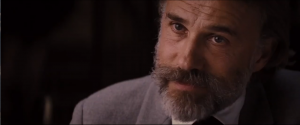 CU – Close-up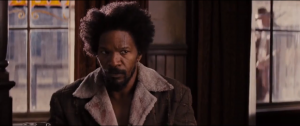 MCU – Medium Close-up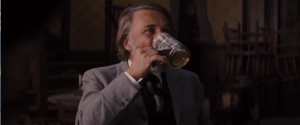 MCU – Medium Close-up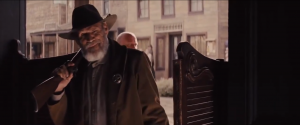 M – Medium (Tracking)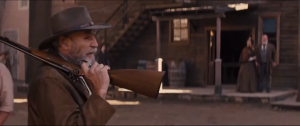 MCU – Medium Close-up (Pans)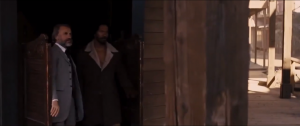 MLS – Medium Long-Shot (Pans back)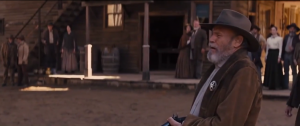 MCU – Medium Close-up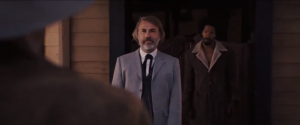 MLS – Medium Long-Shot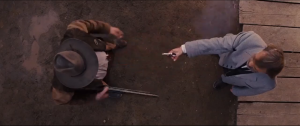 LS – Long-Shot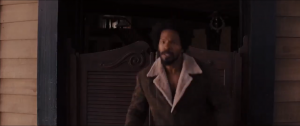 M – Medium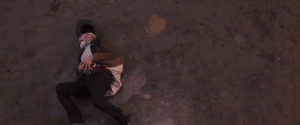 LS- Long-Shot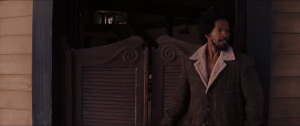 M – Medium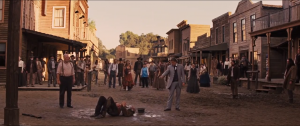 ELS – Extreme Long-Shot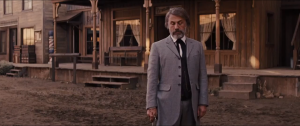 MLS – Medium Long-Shot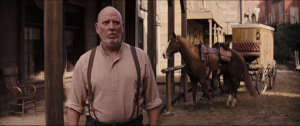 M – Medium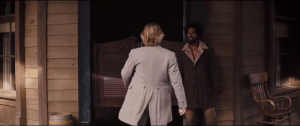 MLS – Medium Long-Shot (Pans Left)
In total, 16 shots make up this brief scene. The shots start out as close-ups while in the bar, mainly while Django and Dr. Schultz are having their conversation. Upon the exiting from the bar, the camera pans back and forth between the main characters and the sheriff. (Who we don't know is an outlaw.) This panning helps the viewer adjust to the outside after the number of close-ups previously, and gives an idea of what the space outside is like.
Once the action starts, the camera is pulled back further than before, to capture both the main character and the outlaw. The over-head shot was unique in that it captures all of the action, and again helps us connect that the outlaw has stumbled out into the middle of the street. It also gives us a full view of classic Tarantino bloody action.
The only extreme long shot in this scene shows Dr. Schultz shooting the outlaw in the head, while also capturing the reactions of the crowd that has gathered. After that, it pulls back into medium shots to capture a few more specific reactions and line deliveries, as the main characters return into the bar.
Blog Post #1 Pocket Cinema
August 27, 2019
iPhone filmmaking seems like it will be the next popular method of filmmaking, both for amateur and professional alike. And even though this is a newer method of filmmaking I don't think they are trying to imitate traditional film, instead branch out from it. Those who are filming their movies on an iPhone embrace the uniqueness of it and work with its strengths and flaws. Working with the phone's strengths like the portableness of an iPhone, or its ease of use, or utilizing flaws like the issues it has in low-light to give movies like Unsane an eerie feeling.
One automatism is the portableness of smartphones, allowing for even more creative liberties in terms of shot composition. But above all else, the familiarity of digital video, more specifically video on a smartphone, is the automatisms. Today, it is commonplace to have cameras pointed at us. And this comfort has helped give more genuine reactions and performances. Much like in the filming of Tangerine, and the High Flying Bird, you can capture the actions of both your actors and the people around you much more naturally when filming with an iPhone.
There isn't one way to use digital video, more so what do you want to produce as a creator? A funny film to entertain people? A documentary about World War 1? You can make all of these as modern digital video allows for a low bar of entry. Most people today have a smartphone allowing them instant access to a decent camera. 
As an emerging medium of filmmaking, filming on a smartphone wants to be taken as a serious option for filmmakers to consider. And as evident by Tangerine being shown at Sundance, and filmmakers such as Claude Lelouch shooting on iPhone, it is an option that is being considered much more than ever before.
Introduction to the Class
August 26, 2019
Hello, my name is Mitchell. I am a Senior at WSU Vancouver studying Strategic Communication, and DTC under the Humanities degree. I have been interested in video since I was 10 years old after I got a Flip video camera for my birthday. I took classes in editing with Premiere while I was at Clark College and have continued to edit and film for fun.
One of my favorite channels on YouTube is kaptainkristian, a guy who makes video essays.  I have always enjoyed documentaries, and video essays but what makes his videos stand out is the smooth transitions in his editing. The flow from one portion to the next is an interesting way to keep viewers engaged, aside from just having an interesting topic.