"Dear Enemy" by Valerie Parrish
December 14, 2017
This is my official final submission.
Rough Cut
December 8, 2017
Final Project – VP
December 1, 2017
Interactive Cinema
October 26, 2017
Bear 71 is a great example for interactive cinema. It is a documentary about how animals are being affected by humans, but it is told in an interactive way. I can click on photos and videos that are connected to a map. It is super interesting because they use text to show you facts about the population of certain animals many years ago and then the population of them today and how they have decreased. Also, they use videos to show you the animals. But most importantly, they have a narrator speaking during the entire thing. It is the voice of the main bear in the first scene of the documentary. It helps to humanize the animals and cause the viewer to become sympathetic and understand what the animal is thinking. It's so cool and extremely powerful. The map is a way to allow the viewer to explore and discover more about the land and different animals. You can make your choice as to what animal you want to see and what area on the map you want to visit. This is a narrative because you are listening to the character's (the bear's) story and their life. The bear tells you stories about their life and the different things they learned. It is cinematic because the first video they showed introduced the main character, the bear. On the map it allows you to explore the other animals' lives. The bear continues to tell their life story in the narration as a timeline of it's life which is a way of storytelling. You hear about the beginning of human interaction with the bear, life in-between, and the death of the bear. Some cinematic language they use in this interactive documentary is in the beginning clip. It had a lot of visual evidence and b-roll throughout it. They also used a montage in one of the clips with multiple camera screens in one frame showing different areas of the forrest with bears.
Networked Cinema
October 20, 2017
Getting a creative strategy together is a great first start to making successful content. If you don't know what you are going to be making a have a plan for what the future of your videos are going to look like, you won't have any direction to go in. It's more promising to make a plan.
Make sure that your content is actually interesting and something that will draw an audience. Be passionate about what you're filming, but also make sure that your audience could be passionate about it as well.
Be creative with your thumbnails, descriptions, and visual aspects. If your visual components are dull, they won't draw in an audience. This helps to initially bring them in and if your content is as strong as those items, they'll keep coming back.
Find ways to make money off your content whether through YouTube, clients, employers, or ads. This will not only make you successful based off your fans, but will also make you successful financially.
These are a few points that summarize the Google resource material for YouTube creators.
My favorite YouTube channel is Olan Rogers. He is a storyteller who tells hilarious stories to the camera (his audience) about things that have happened to him or events that he has experienced. They are so funny and he is a great and very animated story teller. Everything about what he produces and how he produces them is extremely successful. He has 951k followers.
Job Interview
October 19, 2017
Hybrid Space
October 17, 2017
I liked the two original video clips of the time-lapse and jelly fish. So, I combined the two using the subtract blending mode. It turned out to be somewhat hypnotizing, which I really liked. I faintly blended in a third clip of industrially formed clouds and turned it into a piece about how urbanization and industrial growth is ruining the beautiful planet. The audio helps to emphasize the point that nature was intended to be enjoyed and it helps to encourage the viewer to get out from the city smog and really appreciate the planet we live on in hopes to invite the human race to conserve its beauty.
Hybrid Cinema
October 5, 2017
After clicking on the playdamage.org link, I was exposed to a visual poem of sorts told by visuals, animations, and music. There didn't seem to be a narrative to it, rather, it was open to interpretation as to what it was you were looking at. To me, it felt poetic and non traditional. In Lev Manovich's "What is Digital Cinema," he mentioned on page 15, "instead of dismissing visual strategies of every multimedia titles as a result of technological limitations, we may think of them as an alternative to traditional cinematic illusionism, as a beginning of digital cinema's new language." This online, multimedia form of artwork contained all sorts of media. There were pictures, text, animations, transitions, and music. The traditional aspects of cinema is altered in this piece by the animation of the original cinematic files. There is a slide with a picture of a guy's head. It is animated to make it look like several photos put together as a stop motion. Traditional cinema isn't like that. This kind of does inspire me to make my own Hybrid cinema to see what I can come up with that isn't just a bunch of nonsense. I think it would be easy to slap something together with no intent, but then that feels incomplete.
Montage
September 29, 2017
I wanted my video to have an editorial feel and to highlight the peacefulness of nature.
Visual Evidence
September 28, 2017
I would interview the families right in the area of where the fires were and ask them questions of how they're doing with all the smoke and fear of the fire possibly reaching them. Shooting at their house would allow for me to shoot their location as visual evidence. With visual evidence being something, "you can show your audience that will help them to understand the subject," I would capture footage of them living their lives in the smoke. If they had to do something to help them breathe, I could try to capture that on footage as they did it. Scenery outdoors of normal chores or activities with the smoke surrounding their house would also make for a powerful piece of visual evidence. Some examples of b-roll I'd film would be the fire in the distance, some mundane shots of their neighbors and empty streets to show a sense of desertion. Also, I'd make sure to film these individuals in a way to make them appear sad and depressed, as if they were waiting for the fires and smoke to go away so their lives could continue. It says in the reading, "Any time a shot in a documentary could be taken out of the film and replaced with something completely different, it's B-roll." Since these shots I listed above aren't crucial in telling the story and are replaceable, even though they help, they're considered b-roll.
"Run Lola Run"
September 21, 2017
This movie has a lot of scenes in it that display a sense of narrative without having to use any words. When the frame turns into a split frame with Lola on the right and her boyfriend on the left. She is running to him and he's about to walk into a store to rob it. It shows you what is going on with the both of them as time passes. Her running and making it to him on time affects his decision to rob the place or not. So, as you're waiting to see if she will make it in time, you're able to see the process he goes through in deciding what to do. There are many shots that are a form of narrative like that in the film. Also, when she bumps into people, it shows you snap shots of that person's future. It changes and shows you their own personal story. This movie is different than most other films in the fact that the narrative space is different. It keeps going back in time and the storyline changes. Movies generally don't start over again and tell you a different story. In Cinema in the Digital Age, By Nicholas Rembes, it states, "Lola repeats her quest to secure money to save her boyfriend." The time line goes back into the past, showing you three different events. This is made possible by the artistic choice of the director and the manipulation of scenes. Though, some of it is similar to Hollywood style with the technical aspects of it. The way they show continual space and time is an example of that. Time is manipulated in the scene with the telephone. As it flips through the air and lands on the base of the phone, an action that should have only taken a couple seconds, ended up being an action that took 10+ seconds. It was extended by switching between shots of her and the phone.
Time Frames
September 21, 2017
Cinematic GIFs
September 14, 2017
Like the reading says, images, movies, and even comic books, give an illusion of time and space. This GIF does just that. The cars enter from left and exit to the right. It gives the illusion that they had to come from somewhere far off to the left and will continue driving further out to the right. It's the illusion that the road these cars are traveling on is a lot larger than what we simply see. Also, it gives an illusion of time because the cars keep coming and coming. It may be a simple loop to give that illusion, but it feels like the cars stopped at the crosswalk have been idly waiting for their time to continue driving. These other two GIFs do the same thing.
This one give the illusion of the continuity of time. It's as if the viewer is waiting for the owner of this car to return. It is still running, yet the hazard lights are flashing. What happened to the driver? Is something wrong with the car? What's happening? The mystery causes the viewer to wait patiently to see what happens, even though nothing will because it's a loop.
This GIF has the same effect as the first GIF.
Continuity
September 13, 2017
Continuity of time is displayed in my video with the shots of the dog waiting for her owner to return. It cuts from the dog standing up to sitting down to pacing, which implies the passing of time. In a span of 50 seconds, I aimed to show the passing of a couple hours as the dog waited. Continuity of space is displayed in my video with the sequence of shots in the beginning. I included an establishing shot of the owner's bedroom as she got ready to leave. Then, the proceeding shot was of the hallway while the owner and dog passed through. The owner and dog exited the first establishing frame to the left and entered from the right into the second frame. This makes it a smooth transition between frames. Also, it easily convinces the viewer of the continuity of space, that they are in the house with the subjects and not simply looking at a small set. As for framing, I wanted everything to be low to the ground so the viewers are on the same level as the protagonist. I also wanted the upper half of the female owner to be cut off so there was no identity attached to her other than the fact that she was the dog's owner. I believe that it helps to keep the viewers attention solely on the dog and to watch her behavior around the owner. If I did not have the camera on a tripod, it might have made the viewer believe there was someone watching the dog in the background, adding another character to the story. Having it still like I did kept the idea of the audience being onlookers to a private activity, making them believe that the dog was truly alone, even though I was there filming the whole time.
Screen Grabs
September 7, 2017
From the movie Breathe In:
An example of Medium Close-Up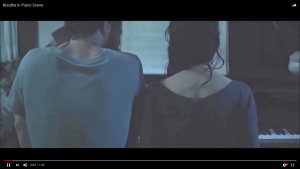 An example of Medium Close-Up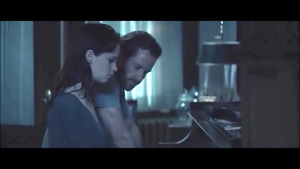 An example of Close-Up (face)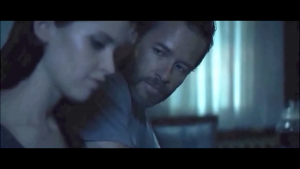 An example of Close-Up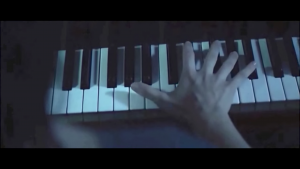 An example of Extreme Close-Up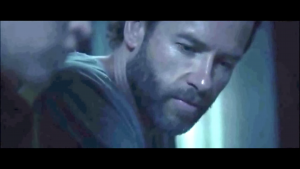 An example of Close-Up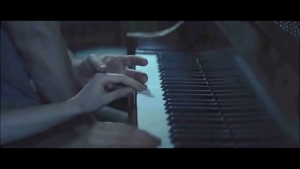 I chose this scene because it is the beginning of the climax to the movie. It is about this foreign exchange girl (in scene above) falling in love with her host father (in scene above). They share a love for music, which brings them together in an intimate way. This scene is the first time they made physical contact after they both grew feelings for each other. The scene starts out with medium shots, but as the intimacy and emotions build up between the characters, the framing get closer and closer to the subjects. This helps to draw the viewer in and allows for them to experience the intimacy along with the characters.
Who Dunnit?
September 7, 2017
In-Class Exercise
September 1, 2017
What Was Cinema?
August 31, 2017
One of today's "automatism", the performance of an action without thinking about it, would be recording and editing video today on your phone. It is extremely instant and you don't have to cut and slice video together. It is automatic. One use to have to record on film and then cut and slice video, where as now, you can insert your digital clip into an editing program and have it sliced together instantly.
For me, an area where I see automatism is when I shoot my film picture cameras. I have a couple cameras with 35mm film. When I click the image, the light is captured and imprinted onto the film. It is done without me having to physically grab the light and place it onto the film. It is done on its own without thinking about it. There is a section describing this exact thing in the last paragraph in the article. As for video, it is when I record on and edit through premiere on my phone. Like I mentioned above, you aren't having to physically slice the frames together to make a smooth video like they did in the past. It is done instantly and digitally.
I think automatisms will continue to develop and what we do manually now will eventually become something we don't even think about. I also believe that because of how quick things are done automatically, qualities and content of videos will change. In the past, when people had to record on film, there was more thought into the video because you only had a certain amount of film to use. Now with it all being digital, you have freedom to shoot as much and whatever you want, which also allows for a whole new realm of creativity to arise.
Valerie Parrish Intro
August 25, 2017
Hi, my name is Valerie Parrish. I am a senior this year and am majoring in Digital Technology and Culture, specializing in videography. I have been filming for many years now. I have volunteered for my church as their videographer and am also WSU Vancouver's videographer for the Marketing and Communications department. I've also done volunteer video and photo work in Mexico for a missions organization called Forward Edge.