Visual Hierarchy and Typography:  Sherlock Holmes
Diagrammatic Writing, by Johanna Drucker
Gesture:
Placement
Relation
Attribute and Refinements
Embedment: hierarchical frames of reference, stepping inward
Entanglement: interlinear or spatially complicated conditions
Embrace: act of protection or aggression
Enframing: partial to full enclosure
Surrounding: higher level of aggression, possession
Subordination: spatial superiorty and inferiority
Domination: another power move
Complement: attempt at parity
Parallelism: attempt at dualism and dialogue
Shadow: exposing latent tendencies
Support: providing foundation function
Undermine: undercut
Negation: extreme attempt at undermining
Engagement: exchange
Attach: connect, sometimes drive by desire
Depend: attachment with issues
Overlay: obvious
Obliterate: heavy overlay
Extenuation: some/any conditional refinement
Dynamic Frame Space (digital interface):
Opening
Linking
Dropping Down
Dripping
Sliding
Enlarging
Diminishing
Scrolling
Drilling
Bridging
Closing
Mallarme, "A Throw of the Dice Will Never Abolish Chance", another version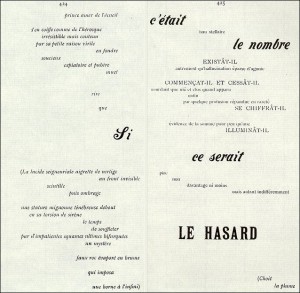 House of Leaves (this is a large pdf of entire book. although this an involving narrative work, please explore the typography and layout for ideas)
House of Leaves by Mark Z. Danielewski
YOUNG-HAE CHANG HEAVY INDUSTRIES : Bust Down the Door
Duel, by Andy Campbell (Dreaming Methods)
Tell-Tale Heart by Kate Palermini
Crapshoot by Mark Amerika & Will Luers
Subtitles –
Assignment #1:  Typographic Storytelling
DUE 9/23 
This assignment is about exploring new ways that language (text) can connect for the reader on the single page and from page to page. Graphic and web designers typically use difference in typography – contrast, proportion, white-space, font styles, color, shape – to create visual hierarchies so that the reader has clues about how to read. Repetition of design elements create structure and context. Think of link colors, background color, navigation tabs.
Digital artists/writers, inspired by the typographic experiments of the 1920s avant-garde, also use difference and repetition of design elements, but with more of an interest in creating non-hierarchical structures; open forms that rely on associations made visually on the page (Drucker).  But even a collage of language fragments can be semantically difficult to read without some rhythm in the visual arrangement of text.  How can you make text fragments relate dynamically on the page (and from page-to-page) and still maintain narrative coherence?
Using source material you have gathered so far (or other any other remixed source material), construct a typographic narrative using ideas/strategies from Drucker's Diagrammatic Writing and any other typographic work that inspires you.  You may use Illustrator, Photoshop, Prezi,  iBook Author, even video. But Keynote/Powerpoint is best because of the ease of manipulating text blocks and exporting to pdf or video. There should be at least 3-4 panels or pages with a story structure following the Western three-act plot or the Japanese four-act (kishotenketsu) plot. You may use color, various fonts and graphic elements (arrows, borders, basic shapes), but please do not use images. Let the text fragments, their arrangement and typography guide your composition of the story.