Diagrammatic Writing by Johanna Drucker introduced to me to the idea that the style, placement, and structure of text can sometimes convey more meaning to a reader than the text itself. The author uses the powerful phrase, "the first words placed define the space" to explain her unique perspective on diagrammatic writing. She goes on to explain that it is not the phrase itself that's important but where it is placed within the page.
The author asks you to "look at the proportions of the very first page on which the single phrase stands alone. There the line of text is shifted towards the gutter, slightly left of center. If placed at the mechanical center, it would fly off the page. Lower down and it would be oppressed by the mass of space above. Higher up and it would appear too eager, presumptuous, slightly obnoxious in its immediate and pressing bid for attention."
I have always noticed that I pay more attention to detail when it comes to how I place text and images in different class projects than some of my other classmates but I never considered the result of those choices and how I can use this concept in a more intentional and influential way.
I have to admit when I first started reading Great Rock n'Roll Pauses by Jennifer Egan, I thought I must've clicked on the wrong link. What started out as a compilation of 76 brightly colored and confusing slides quickly turned into an inspirational and interesting story when I began to put the pieces together. The author refers to the story as her slide journal and uses different charts and graphics to explain different parts of her story. She uses a single sentence on each slide to portray an important part of the story and a format like the one below to show conversations between her and her family members.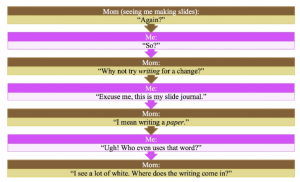 The slideshow definitely gave me a lot of ideas about the different structures and formats I can use to tell a story. I learned to use similar structures to contain equally important pieces of information and to pay attention to how a reader will take in information with the top right section showing you the most eye catching content.