"No matter the medium––orality, writing, print, electronic, mobile––give an artist something, anything, to create with––air, animal skin, paper, computer screen––and she or he will find a way to use it for making art. This impulse is, after all, a feature of our humanity." Grigar, 2013
QUESTIONS
How do we preserve the voice and the message of the original author?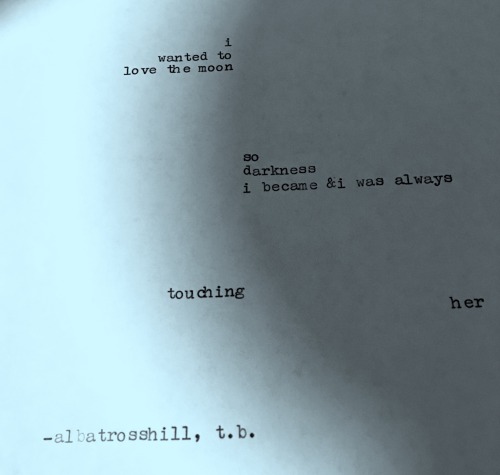 One of the earliest questions we were faced with was how much of Tyler's voice to we want to preserve in this adaptation? While our initial thoughts was "all of it!", but we quickly realized that would be simply publishing the book digitally, offering no real affordances of it being digitized at all. So much of Tyler's voice as an author is in his form. The way he played with formatting, material, and other analog elements around him became part of his identity as a writer. As soon as we started stripping those things away, that identity was being stripped away as well.

That being said, the WRITING itself remained intact and whole. Even stripped down, the use of language remained unaltered, and it rang dinstinctly Tyler. The ability to break the poem up and add visual elements also provided him with more power than he had imagined as an author. Instead of being limited by the conventions of print literacy, we were armed with not one or two, but numerous methods of communicating his ideas. While losing much of his voice seemed inevitable, he felt he had greater controls and means to effectively get his message across.

The other interesting obstacle we ran into early on was my voice. Being that I wrote the code, determined how the writing would be presented, and helped Tyler better understand the visual possibilities, my "fingerprints" were all over the project. It became just as much my interpretation and expression of his work as it was his own, if not more. In this work of writing, visual communication, and hypertext, I was responsible for two of three of those elements.
What visual elements best communicate the message?
It surprised us how much we found ourselves talking about movies and music videos. Perhaps it shouldn't- the book is even called A Fatal Vignette, a concept that easily floats between poetry and cinema. We easily could have remediated the poems into videos, had the project gone that way. Instead, we found ourselves spending more time on timing, transitions, and pacing then any other aspect of the book. In the absence of traditional formatting to guide the reader, we relied on timed animations of the text. How often they changed, when and where the appear, dynamic effects on certain words, and the speed all worked with specific purpose- to guide and pace the reader, and to set an atmosphere on the page.

Color design played another big role in how the message was crafted. His poetry often involves dark, wild imagery that when coupled with his poetric writing, sets a distinct mood. While that remained unchanged in the adaptation, we were also presenting this is a now visual space where even a blank canvas has associated meaning. For that reason, we needed to make sure that we crafted an appropiate atmosphere on the page, and color was instrumental in this case. Dark, romantic, powerful- black and red. That meant we were very wary about the heavy use of images. While we were intially really excited about the possibilities it offered, we found that how we were employing them worked against the poetry, instead of with it. Where there had once been subtly and nuance, now we were bludgeoning people over the head with the message. Basically, we became very aware at our ability to amplify certain aspects of the poem by highlighting it through various mediums. This was a powerful tool, but also one I think we may not have used with the most grace. Dark imagery in the writing, dark colors, moody images... OKAY, WE GET IT, YOU'RE DARK.

Interestingly, the vast majority of the visual elements were things that, in theory, he could have already been using in his work. Typography, layout, color, and imagery played an equally important role in print as it does on the web. Of course, since the medium is the message, how those principles affect the message changes with the medium. While it made sense for us to create a visually stimulating space on the web, it didn't accomplish the same goals when Tyler put his ideas to paper. In fact, he played with the same elements but intentionally took them in different directions. It seems painfully obvious, but typography in hypertext plays a different role than typography in print.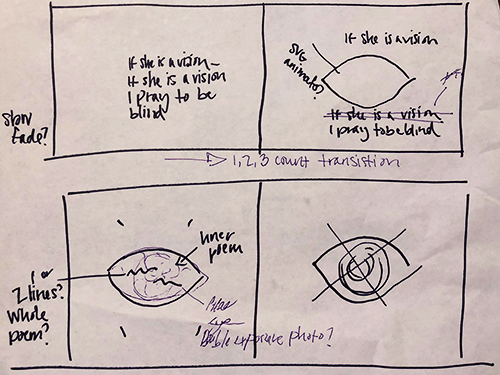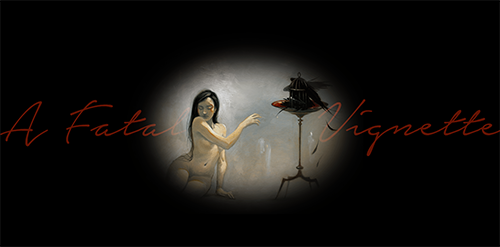 How can hypertext help communicate the message?
Hypertext was likely our most underused aspect of the entire project, which is interesting, considering it is presented in hypertext. The page's design is heavily influenced by print books, as it has a cover, preface, and navigation (or table of contents) that is presented to the reader linearly. From there, one can explore the poems in whatever order, but when you consider the larger possibilities of what hypertext has to offer, we didn't even scratch the surface.

In my exploration of digital poetry, non-linear narratives are a cornerstone. Having the ability to use hyperlinks to allow the reader to virtually traverse their way through a piece of literature add yet another of syntax for the author to work with. How a person experiences the content on the page- how they are guided from each screen to the next, how they can trigger different events and outcomes- all have their own ways to conveying ideas and information. This was a step we decided not to explore in greater depth for a couple of reassons. The first, UX/UI is still so new that neither Tyler or I felt as "fluent" in those ways of communicating as we did with writing and visual elements. The second, hypertext felt like it had the potentional to have the greatest effect on the message of the original writing. In our effort to still keep as much of Tyler in there as possible, we avoided seeing how far that rabbit hole went.