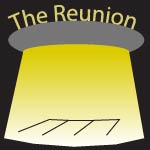 About "The Reunion"
This relatable science fiction horror story takes the reader on the wild ride through the mundane. "The Reunion" begins with the reader identifying as a defeated adult on the brink of their second high school reunion. Let down by life and friends, this individual must face the grueling task of a dreaded social gathering. As the evening goes on however the reader is led through the increasingly extraordinary events of the night. There are many decisions to be made as the stakes raise higher and the fate of humankind rests heavily on the hero's shoulders.
URL to the work: https://dtc-wsuv.org/cdillhoff19/dtc354_twine/thereunion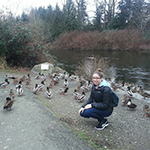 Cassandra Dillhoff is a Junior at Washington State University Vancouver in the Digital Technology and Culture degree and is set to graduate in December 2020. With a degree focus in social media, Cassandra has a passion for writing for digital platforms. In addition to this focus she enjoys video editing and content creation. However, school is not Cassandra's only drive. In her spare time she enjoys video games, reading to her nieces, communing with nature (in particular duck wildlife and her beloved pumpkin plant Leaf Erikson), and swimming through the waters in her groovy goby mermaid tail.