For their capstone project, 22 graduating seniors will be working on Level 3 of the adaptation of Rob Swigart's game, Portal, published by Activision in 1986 and his novel, Portal: A Dataspace Retrieval, published by St. Martin's Press in 1988. This new game, entitled DATA ENTRY: PORTAL, is an adaptation intended for the VR environment and builds on the work by students from spring 2023 who conceptualized the game and built Levels 1 & 2.
During the production of the game, students gain experience with project management, teamwork, collaboration, workflow, deadlines, written and oral communications, and timesheets. They also hone their skills with software, including Unreal Engine, Maya, Substance Painter, Figma, AfterEffects, Adobe Illustrator, Blender, among others.
Below is the list of teams and students.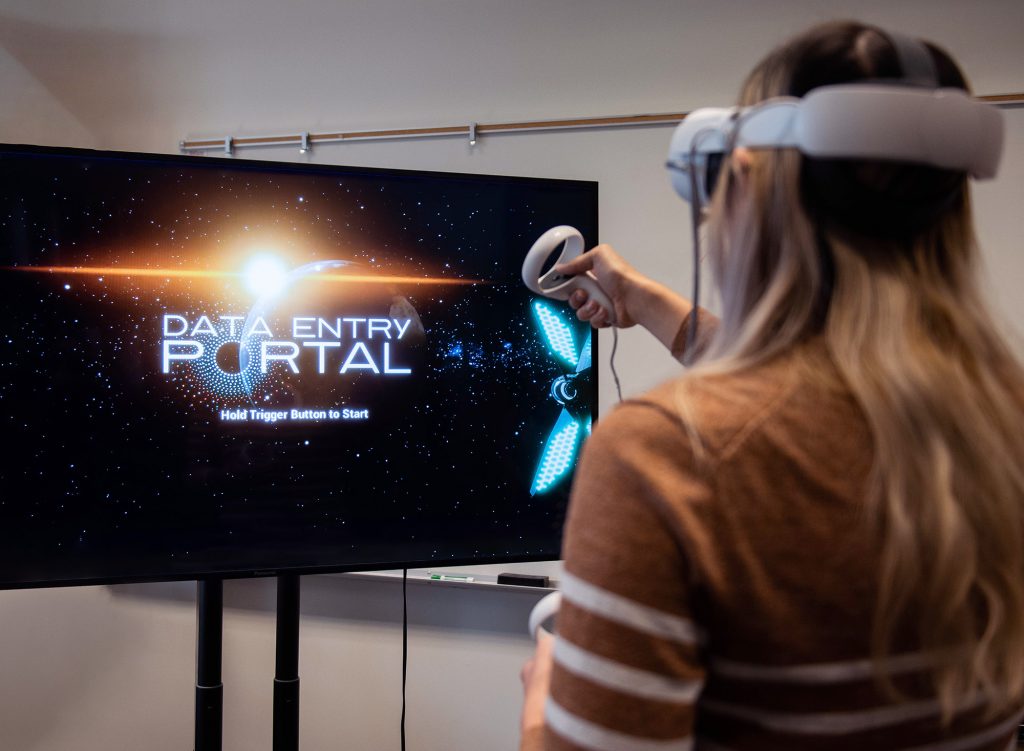 Professional Staff:
Professor: Dene Grigar, PhD
Lead Project Staff from the Electronic Literature Lab: Greg Philbrook, Holly Slocum, Andrew Thompson, Ahria Nicholas
Project Manager:
Project Manager: Lili Forbes
Game Dev Team
Seth Jordan, 3D Modeling, Team Leader
Adam Doolittle, UE and VR Developer
Delano Kingston, 3D Modeling
Sotheara Narith, 3D Modeling & in-Game Script Development
Gabe Page, 3D Modeling, UE and VR Developer
Video Production Team
Ivan Goebel, Video Production & Editing, Team Lead
Jessica Miralrio, Video
2D/3D Animation Team
Colin Standish, 2D/3D Animation, Team Leader
Paiten Madsen, 2D Animation
Ace Palisson, 2D Animation & Design
Multimedia Design Team
Sydney Nguyen, Design, Team Lead
Taryn Evans, Concept Art
Keven Fernandez, Design
Norman Helgason, Design
Chrys Robb, Design, Sound & Video Production
Ryan Doherty, Web Development & Design
Social Media Promotions
Abi Lightfoot, Social Media Marketing & Video, Team Leader
Allison Brandon, Social Media Communications
Kendall Brandon, Social Media Communications
Aaron Ness, Social Media Communications & Video
Dat Nguyen, Digital Marketing