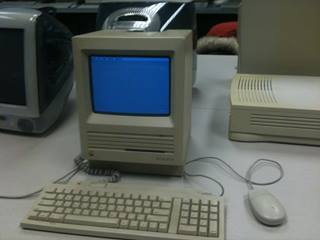 I added five more computers to the lab today:  Two G3 iMacs (Graphite), one Performa, one PowerPC, and another SE. Here are the specs for the first four:
iMac #1
Mac OS X 10.4
640 MB RAM
400 MHz G3
13GB HDD
DVD-ROM (slot load, works)
iMac #2
Mac OS 9.1
128MB RAM
400MHz G3
13GB HDD
DVD-ROM (Slot load, works, but is weak)
Performa 6360
Mac OS 7.5.3
48MB RAM
PPC 603ev 160MHz
1.2GB HDD
CD-ROM
PowerMac 6400
Mac OS 8.1
48MB RAM
PPC 603ev 189MHz
1.5GB HDD
CD-ROM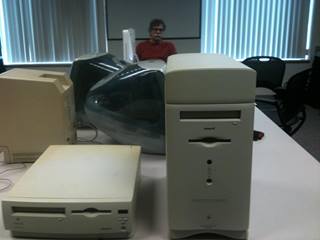 I love having access to System 9;  it is also great to have two additional Macs that also run the Classic OS.  Finally, probably the best part of this acquisition is that I now have four matching Graphite iMacs for exhibit purposes.  I am already thinking about the next show I can mount with them. . .