Live Stream Traversal of Douglas' "I Have Said Nothing"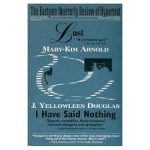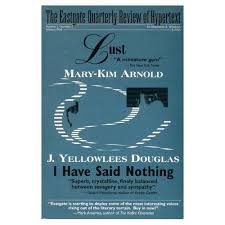 Friday, 12/1, 2017
12 Noon-2 p.m. PDT
Live on YouTube and F2F in Electronic Literature Lab, WSUV Campus, VMMC 211A
#elitpathfinders
Experience a performance––what Stuart Moulthrop and I call a "Traversal"––of an early creative hypertext essay: Jane Yellowlees Douglas' I  Have Said Nothing (1993).
This is a live performance streamed on YouTube and also captured in video in the Electronic Literature Lab. To access the work, we will be using the version published on a 3 1/2-inch floppy disk from The Grigar Collection running on a PowerPC Performa 5215CD.  Performing the Traversal is Philippe Brand, Lewis & Clark College. Guests can view the Traversal in person at Multimedia Classroom Building, Room 211B, or online at https://www.youtube.com/channel/UCzeZQ05p_1Tli0lDBeWMxOA/live. The event begins at 12 noon PDT and will end at 2 p.m. PDT.
Schedule
12-12:30 p.m.: Pre-show including John Barber's soundscape, live feed of set up, videos, and introductory comments
12:30-1:00: Philippe Brand's Traversal
1:00: Q&A with Philippe Brand and Dene Grigar
During the Traversal we will be posting photos and commentary on Facebook and Twitter.
Media Channels
YouTube: https://www.youtube.com/channel/UCzeZQ05p_1Tli0lDBeWMxOA/live
Facebook: https://www.facebook.com/elitpathfinders/
Twitter: #elitpathfinders
Storify: Forthcoming!

About Jane Yellowlees Douglas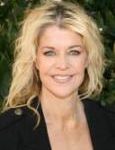 From Wikipedia: "J. Yellowlees Douglas is a pioneer author and scholar of hypertext fiction. She began writing about hypermedia in the late 1980s, very early in the development of the medium. Her 1993 fiction "I Have Said Nothing", was one of the first published works of hypertext fiction. . . .  Douglas has written over two dozen articles, short stories, and a book about the development, structure, and uses of hypertext. In a 1991 article—quite early in the development of hypertext as a new literary medium—she argued for hypertext as offering an alternative to an 'either/or' view of reality in the form of an 'and/and/and' structure. In her 2000 book The End of Books or Books Without End, she examines how interactive fiction works and discusses the current state of hypertext criticism, arguing that hyptertext authors are the natural heirs of early 20th century experimental modernists like James Joyce. In "What Hypertexts Can Do That Print Narratives Cannot", Douglas goes into more detail about how hypertext fiction works as a literary form. Critics have noted acerbity as a characteristic of Douglas's writing as she 'makes plain her frustration that hyperfiction works and their writers are still not considered part of the canon.'
Douglas is recognized for having discovered a node in Michael Joyce's hypertext novel Afternoon: a story that had no inbound links. In discussions about the novel, the node became known as 'Jane's space' because she was the first to remark on its orphan status. She also became implicated in revisions to this node, which originally (1987 edition) featured only a single phrase from Jung, 'Man… never perceives anything,' but later (1990 edition) included a second line: 'and only Jane Yellowlees Douglas has read this line.'"
About I Have Said Nothing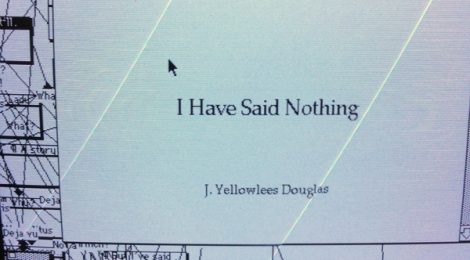 From Eastgate Systems, Inc.: "Bracketed by two fatal car accidents, I Have Said Nothing is a meditation on the enormity that divides us from others. Douglas explores the interaction between the fragmentation inevitable in hypertext and the causality necessary for the creation of story; she says, 'I had a vague … conviction that causality is the root of all narratives: like E. M. Forster in Aspects of the Novel, I believed that you could rip everything else to shreds as long as you kept something that resembled cause and effect pumping away beneath the surface, you could keep just about any amorphous blob going.' The result is a tough, hard-edged, look at how we fragment ourselves to avoid pain, to avoid the inevitable — death."
Along with Michael Joyce's afternoon: a story, it was included in W.W. Norton & Co.'s anthology, Postmodern American Fiction, published in 1994.

About Philippe Brand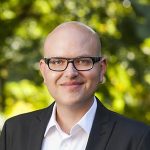 Philippe Brand is Assistant Professor in the Department of Foreign Languages and Literatures at Lewis & Clark. His research interests range across a variety of topics in twentieth and twenty-first century French and Francophone literature, film, and culture, extending to literary innovation, post-apocalyptic fiction and film, immigration and national identity, and issues of social justice. He teaches a range of courses on French language and culture and French and Francophone literature. His publications include articles in the French Review, Contemporary French & Francophone Studies, and the Critical Review of Contemporary French Fixxion.

Reviews & Critical References
Ensslin, Astrid. Canonizing Hypertext: Explorations and Constructions. NY, NY, Continuum Press, 2007.
Moulthrop, Stuart. "Traveling in the Breakdown Lane: A Principle of Resistance for Hypertext." Mosaic 28, 4 (1995): 55–77. To purchase article, go here; to read the preview, go here.
Miranda, Juan. "Death, and Again: A Critical Analysis of J. Yellowlees Douglas' I Have Said Nothing". 24 Feb. 2015.
To join us in the Electronic Literature Lab for the Traversal, or to get more information about the event, contact Dr. Dene Grigar, dgrigar[at]wsu.edu.
This event is part of the year-long "Born Digital Preservation Series" celebrating the Electronic Literature Organization's move to Washington State University Vancouver. It is sponsored by Washington State University Vancouver, Electronic Literature Organization, and the Lewis E. and Stella G. Buchanan Distinguished Professorship.
Organizers: Dene Grigar, Nicholas Schiller, Greg Philbrook, Vanessa Rhodes, Veronica Whitney, Mariah Gwin, and Katie Bowen.