Rebooting Electronic Literature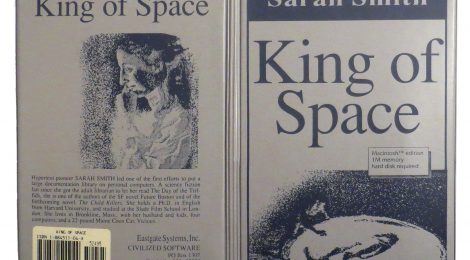 What do you call it when you make a work that has not be readily available to the public for over a decade accessible and promote that work via social media networks and open access publishing efforts?
The phrase we came up with is "rebooting," as in restarting. Makes perfect sense since the media we are working with is born digital, computational literary works, or "e-lit" as we call it.
For the last four months my lab's efforts has been to experiment with live streaming via YouTube performances of Sarah Smith's King of Space, David Kolb's Socrates in theLabyrinth, and Jane Yellowlees Douglas's "I Have Said Nothing." During the performance we used Facebook, Twitter, and the chat function of YouTube to engage with an online audience. We are now talking all of this content and organizing it into an open source book created on the Scalar platform. It will also contain the material from the four additional performances that are scheduled for next spring.
So, we are reviving interest in e-lit works published from 1986-1997, predominantly pre-web hypertexts. We have titled the book Rebooting Electronic Literature: Documenting Pre-Web Born Digital Media. The first chapter is underway and will be the focus of our presentation at the upcoming INKE conference in Victoria, B.C. We are aiming for a May release date, just in time to begin work on Pathfinders, Volume 2. Stay tuned.