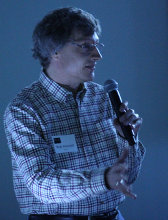 Traversal of Rob Kendall's A Life Set for Two
Friday, 3/30, 2018
12 Noon-2 p.m. PDT
Live on YouTube and F2F in Electronic Literature Lab, WSUV Campus, VMMC 211A
#elitpathfinders
Experience a performance––what Stuart Moulthrop and I call a "Traversal"––of an early book-length, hypertext poem: Robert Kendall's A Life Set for Two (1996).
This is a live performance streamed on YouTube and also captured in video in the Electronic Literature Lab. To access the work, we will be using the 3 1/2-inch floppy disk from The Grigar Collection on a PC running Windows 98. The work was published in the The Eastgate Quarterly Review of Hypertext, Vol. 2, No. 4 and bundled with Richard Smyth's hypertext Genetis: A Rhizography. Performing the Traversal is sound artist John Barber, faculty with the CMDC program. Guests can view the Traversal in person at Multimedia Classroom Building, Room 211B, or online at https://www.youtube.com/watch?v=kXJIcWctuDM. The event begins at 12 noon PDT and will end at 2 p.m. PDT.
Schedule
12-12:30 p.m.: Pre-show including John Barber's soundscape, live feed of set up, videos, and introductory comments
12:30-1:00: John Barber's Traversal
1:00: Q&A with John Barber and Dene Grigar
During the Traversal we will be posting photos and commentary on Facebook and Twitter.
Media Channels
YouTube: https://www.youtube.com/channel/UCzeZQ05p_1Tli0lDBeWMxOA/live
Facebook: https://www.facebook.com/elitpathfinders/
Twitter: #elitpathfinders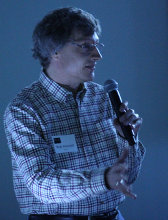 About Rob Kendall
Robert Kendall is the author of the book-length hypertext poem A Life Set for Two (Eastgate Systems) and other hypertext poetry published on the Web. His electronic poetry has been exhibited at many venues in the United States and abroad, and he has given interactive readings of his work in many cities. His printed book of poetry, A Wandering City, was awarded the Cleveland State University Poetry Center Prize, and he has received a New Jersey State Council on the Arts Fellowship, a New Forms Regional Grant, and other awards. He teaches hypertext poetry and fiction for the New School University's online program, runs the literary Web site Word Circuits and is co-developer of the Word Circuits Connection Muse, a hypertext tool for poets and fiction writers.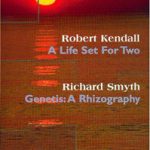 About A Life Set for Two
From the Author's Site: A Life Set for Two is a book-length hypertext excursion into the dynamic processes of thought and memory. The appetites of regret, bitterness, desire, and nostalgia feed on ruminations in the poem. . .. . As the reader interacts with these reflections, they in turn interact with each other, morphing within their changing contexts. In their 1998 review of the work, C.K. Tower and Jennifer Ley call the work "human," reminding that "[i]n a medium that already inserts enough distance between words and the reader through its glass and pixel presentation, this is a definite advantage." Indeed in his interview with the two writers, Kendall says that he "made a conscious decision to focus the work on very human elements and to give it as much emotional depth as possible. I wanted to prove that computer-based writing wasn't incompatible with deeply human expression. A number of people have noted that this work is more direct and less cerebral than many of the poems in my previous printed book, A Wandering City. Postmodern writers often tend to work against their medium, and I think to some extent I was working against the perceived coldness and impersonality of the computer."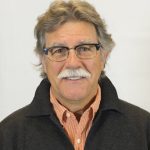 About John Barber
John F. Barber, Ph.D. teaches in The Creative Media & Digital Culture program at Washington State University Vancouver. His research and practice combines media art, Digital Humanities, and sound. Of particular interest are digital archiving and sound+radio art. He developed and maintains Radio Nouspace (www.radionouspace.net), a curated listening gallery/virtual museum for sound featuring historical and experimental radio+audio drama, radio+sound art, and sound poetry. His radio+sound art work has been broadcast internationally, and featured in juried exhibitions in America, Brazil, Canada, England, Germany, Italy, Lithuania, Macedonia, Northern Ireland, Portugal, and Spain.

Reviews, Critical References, & Resources
Kendall, Rob. "Hypertext Dynamics in A Life Set for Two. ACM. Hypertext '96. 74-84. http://delivery.acm.org/10.1145/240000/234836/p74-kendall.pdf?ip=69.166.32.188&id=234836&acc=ACTIVE%20SERVICE&key=B63ACEF81C6334F5%2E3B1D11B7501B70D8%2E4D4702B0C3E38B35%2E4D4702B0C3E38B35&__acm__=1522362019_7a8d09485088ce94761010082fafd1d2.
Review of A Life in Perihelion,(Fall 1998)
Review of A Life in Switched-on Gutenberg (Vol. 3, #1, Fall/Winter 1997)
Words and Mirrors: Confessions of an Electronic Poet(author's introduction to A Life)
To join us in the Electronic Literature Lab for the Traversal, or to get more information about the event, contact Dr. Dene Grigar, dgrigar[at]wsu.edu.
This event is part of the year-long "Born Digital Preservation Series" celebrating the Electronic Literature Organization's move to Washington State University Vancouver. It is sponsored by Washington State University Vancouver, Electronic Literature Organization, and the Lewis E. and Stella G. Buchanan Distinguished Professorship.
Organizers: Dene Grigar, Nicholas Schiller, Greg Philbrook, Vanessa Rhodes, Veronica Whitney, Mariah Gwin, and Katie Bowen.