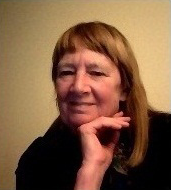 Live Stream Traversal of Judy Malloy's its name was Penelope
Friday, 4/27, 2018
12 Noon-2 p.m. PDT
Live on YouTube and F2F in Electronic Literature Lab, WSUV Campus, VMMC 211A
#elitpathfinders
Experience a performance––what Stuart Moulthrop and I call a "Traversal"––of an early book-length, hypertext poem: Judy Malloy's its name was Penelope (1989, 1990, 1993).
This is a live performance streamed on YouTube and also captured in video in the Electronic Literature Lab. To access the work, we will be using the 3 1/2-inch floppy disk from The Grigar Collection on a Macintosh SE (1987) running System 6.0.7. The work was originally published in 1989 in BASIC for an artists book. Malloy reworked and published it via Narrabase Press, in 1990. This version was distributed by ArtCom Software. The version we are using for this Traversal is the 1993 version (3.0) published by Eastgate Systems, Inc. that is a "retooling" of the 1990 version into a Storyspace aesthetic (Malloy, "Notes"). Performing the Traversal is ELL Director and ELO President Dene Grigar. Guests can view the Traversal in person at Multimedia Classroom Building, Room 211B, or online at https://www.youtube.com/watch?v=kXJIcWctuDM. The event begins at 12 noon PDT and will end at 2 p.m. PDT.
Schedule
12-12:30 p.m.: Pre-show including John Barber's soundscape, live feed of set up, videos, and introductory comments
12:30-1:00: Dene Grigar's Traversal
1:00: Q&A with Judy Malloy and Dene Grigar
During the Traversal we will be posting photos and commentary on Facebook and Twitter.
Media Channels
YouTube: https://www.youtube.com/channel/UCzeZQ05p_1Tli0lDBeWMxOA/live
Facebook: https://www.facebook.com/elitpathfinders/
Twitter: #elitpathfinders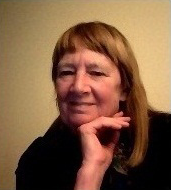 About Judy Malloy
"With a literary and visual arts background that includes artists books, text-based installation art, and narrative performance art, and with experience as a computer programmer for early library systems, Judy Malloy is a poet who works at the conjunction of hypernarrative, magic realism, and information art.
Her work with nonsequential literature began in 1976, the year she started exploring nonsequential narrative in experimental artists books. In subsequent years, she created a series of card catalog artists books that were first exhibited as a series in the exhibition, "Judy Malloy 3X5," Visual Card Catalogs at Artworks, in Venice, California in 1979. The first artists book in her series of push-button electromechanical books was created for her installation, "Technical Information," at SITE in San Francisco in 1981. Then, in August of 1986, she began writing and programming the hyperfictionUncle Rogerwhich was first released on the BBS of Art Com Electronic Networkon the WELL in December 1986.
Her work has been exhibited and published internationally including the San Francisco Art Institute; Tisch School of the Arts, NYU; Sao Paulo Biennial; the Library of Congress, National Library of Madrid; National Library of Portugal, Lisbon; Los Angeles Institute for Contemporary Art; Boston Cyberarts Festival; Walker Art Center; Hammer Museum, Los Angeles, CA; University of Arizona Museum of Art; Visual Studies Workshop; the Electronic Literature Organization; Universite Paris I-Pantheon-Sorbonne; Eastgate Systems; E .P. Dutton; Tanam Press; Seal Press; MIT Press;The Iowa Review Web, and Blue Moon Review, among many others. Parts of her recent work, Paths of Memory and Painting, have been exhibited or presented at the Berkeley Center for New Media Roundtable, the E-Poetry Festival at the Center of Contemporary Art in Barcelona, and the University of California Irvine, as well as short listed for the Prix poesie-media 2009, Biennale Internationale des poetes en Val de Marne. In 2012, her work was given a retrospective at the Electronic Literature Organization Conference in Morgantown, West Virginia.
Her papers––including the original notebooks and programs for Uncle Roger and its name was Penelope––are archived as the Judy Malloy Papers at the David M. Rubenstein Rare Book & Manuscript Library at Duke University.
Judy Malloy has also been active in documenting the electronic arts and is the host of content | code | process. She has been an artist in residence and consultant in the document of the future for Xerox PARC, taught as Visiting Faculty in the Digital Media program at the San Francisco Art Institute and is a member of the Electronic Literature Organization's Literary Advisory Board. In 2013, she was named the Anschutz Distinguished Fellow in American Studies at Princeton University, where she also taught a seminar on Social Media: History, Poetics, and Practice and later team-taught a seminar on Electronic Literature: Lineage, Theory, and Contemporary Practice. From 2016-2017, she was a Digital Studies Fellow at the Rutgers Camden University Digital Studies Center.
As an arts writer, she has worked most notably as Editor of the MIT Press books, Social Media Archeology and Poetics and Women, Art, and Technology; as Editor of The New York Foundation for the Arts' NYFA Current, (originally Arts Wire Current) an Internet-based National journal on the arts and culture; and as an Associate Editor for Leonardo.
She believes that ideally print literature and electronic literature are parallel art forms where writers and artists in each medium understand each other's vision and, as between poetry and fiction, sometimes move with ease between print and screen."–From Pathfinders

About its name was Penelope
"its name was Penelope (Eastgate, 1993; Narrabase Press, 1990; exhibition version 1989) is a collection of memories in which a woman photographer recollects the details of her life. Called by Robert Coover one of the classic works of the golden age of literary hypertext, its name was Penelope invites the reader to explore an artist's life — from "Dawn", the Homeric sunrise, the beginning of life; to the details of the narrator's photography-based artwork in "Fine Work and Wide Across"; to the troubles related in "Rock and Hard Place"; to a concluding "Song" of love and a shared life. Like a photos in a photo album, each lexia represents an image from Anne's memory — so that the work is the equivalent of a pack of small paintings or photographs that the computer continuously shuffles. The reader sees things as she sees them, observes her memories come and go in a natural, yet nonsequential manner that creates a constantly changing order — like the weaving and reweaving of Penelopeia's web. Crafted like poetry, the cadence and tone of each paragraph/stanza in this hypernarrative were carefully constructed so that in whatever order they were seen the reading experience would appear natural, and in the same process, I created a radically innovative computer-mediated interface that seamlessly immersed the reader in a work of literature where you might be reading a poetry chapbook, yet the "pages" are magically brought up at the will of the computer and the seductive repetition situates you in a place of remembered narrative. Poetic narrative is shuffled, continuously changes order, submerges, resurfaces, repeats, and the reader is like a traveler on the merging and diverging paths of a densely wooded forest."–from "Notes on the Creation of its name was Penelope"

About Dene Grigar
Dene Grigar is Professor and Director of The Creative Media & Digital Culture Program at Washington State University Vancouver whose research focuses on the creation, curation, preservation, and criticism of Electronic Literature, specifically building multimedial environments and experiences for live performance, installations, and curated spaces; desktop computers; and mobile media devices. She has authored 14 media works such as "Curlew" (2014), "A Villager's Tale" (2011), the "24-Hour Micro E-Lit Project" (2009), "When Ghosts Will Die" (2008), and "Fallow Field: A Story in Two Parts" (2005), as well as 54 scholarly articles adn three books. She also curates exhibits of electronic literature and media art, mounting shows at the British Computer Society and the Library of Congress and for the Symposium on Electronic Art (ISEA) and the Modern Language Association (MLA), among other venues. With Stuart Moulthrop (U of Wisconsin Milwaukee) she developed the methodology for documenting born digital media, a project that culminated in an open-source, multimedia book, entitled Pathfinders (2015), and book of media art criticism, entitled Traversals (2017), for The MIT Press. She is President of the Electronic Literature Organization, Associate Editor of Leonardo Reviews and Literary Studies in the Digital Age (LSDA), and a series editor for Electronic Literature, with Bloomsbury Press. In 2017 She was awarded the Lewis E. and Stella G. Buchanan Distinguished Professorship by her university. She also directs the Electronic Literature Lab at WSUV.
Reviews, Critical References, & Resources (A sampling)
Bernstein, Mark. "Fresh Code." 17 Aug. 2011. http://www.markbernstein.org/Aug11/FreshCode.html.
—. "Interview with Judy Malloy." 2 Aug. 2010. http://www.markbernstein.org/Aug10/InterviewwithJudyMalloy.html.
Coover, Robert. "Hyperfiction: Novels for the Future." The New York Times Review of Books.  29 Aug. 1993. http://jaimelevy.com/press/nytimesbookreview.pdf. Republished.
Kendall, Robert. "But I Know What I Like." ACM SIGWEB Newsletter. Volume 8. Issue 2. June 1999. 8-13.
Malloy, Judy. its name was Penelope, Version 2.0 (emulated). YouTube. 11 Dec. 2017. https://www.youtube.com/watch?v=6Mf2Wk6Cgb8.
–––. "its Name was Penelope, a Generative Hypertext."  #WomenTechLit. Ed. Maria Mencia. Virginia University Press, 2017.
Judy Malloy. "People." The WELL. https://people.well.com/user/jmalloy/.
"Judy Malloy Papers, 1956-2010." The David M. Rubenstein Rare Book and Manuscript Library. Duke University. https://library.duke.edu/rubenstein/findingaids/malloyjudy/.
Malloy, Judy. "Notes on the Creation of its name was Penelope. The WELL. https://people.well.com/user/jmalloy/statement.html.
Marshall, Cathy. Reading and Writing the Electronic Book. San Rafael, CA: Morgan & Claypool Publishers. 2010.
McKeever. Alice. "Digital Literature Pioneers." The Library Platform. May 2014. http://theliteraryplatform.com/magazine/2014/05/digital-literature-pioneers-judy-malloy-on-collaboration-and-artists-networks-in-the-1980s/.
McKeever. Alice. "Digital Literature Pioneers: Judy Malloy on Narrabases." The Library Platform. 24 April 2014. http://theliteraryplatform.com/magazine/2014/04/digital-literature-pioneers-judy-malloy-on-narrabases-80s-silicon-valley-and-e-literature-today/.
Page, Barbara. "Women Writers and the Restive Text: Feminism, Experimental Writing, and Hypertext." Postmodern Culture. Volume 6. Number 2. January 1996. http://www.pomoculture.org/2013/09/22/women-writers-and-the-restive-text-feminism-experimental-writing-and-hypertext/.
Princenthal, Nancy. "The Technology of Poetry: Review of its name was Penelope." American Book Review. Volume 15. Number 1. April/May 1993. http://americanbookreview.org/issueContent.asp?id=86.
To join us in the Electronic Literature Lab for the Traversal, or to get more information about the event, contact Dr. Dene Grigar, dgrigar[at]wsu.edu.
This event is part of the year-long "Born Digital Preservation Series" celebrating the Electronic Literature Organization's move to Washington State University Vancouver. It is sponsored by Washington State University Vancouver, Electronic Literature Organization, and the Lewis E. and Stella G. Buchanan Distinguished Professorship.
Organizers: Dene Grigar, Nicholas Schiller, Greg Philbrook, Vanessa Rhodes, Veronica Whitney, Mariah Gwin, and Katie Bowen.