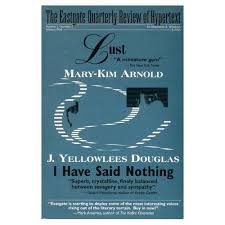 Live Stream Traversal of Mary-Kim Arnold's "Lust"
Friday, 5/18, 2018
1-2 p.m. PDT
Live on YouTube and F2F in Electronic Literature Lab, WSUV Campus, VMMC 211A
#elitpathfinders
Experience a performance––what Stuart Moulthrop and I call a "Traversal"––of Mary-Kim Arnold's short hypertext narrative "Lust" (1994).
This is a live performance streamed on YouTube and also captured in video in the Electronic Literature Lab. To access the work, we will be using the 3.5-inch floppy disk from The Grigar Collection on a Macintosh SE running System Software 6.0.7. The work was published in the The Eastgate Quarterly Review of Hypertext, Vol. 1, No. 2, Winter 1994 and bundled with J. Yellowlees Douglas's "I Have Said Nothing." Performing the Traversal is Nicholas Schiller, Associate Manager of the Electronic Literature Lab and faculty with the CMDC program. Guests can view the Traversal in person at Multimedia Classroom Building, Room 211B, or online at https://www.youtube.com/watch?v=kXJIcWctuDM. The event begins at 12 noon PDT and will end at 2 p.m. PDT.
Schedule
1:00-1:30 p.m.: Nicholas Schiller's Traversal
1:30-2:00 p.m.: Q&A with Nicholas Schiller and Dene Grigar
During the Traversal we will be posting photos and commentary on Facebook and Twitter.
Media Channels
YouTube: https://www.youtube.com/channel/UCzeZQ05p_1Tli0lDBeWMxOA/live
Facebook: https://www.facebook.com/elitpathfinders/
Twitter: #elitpathfinders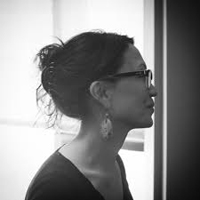 About Mary-Kim Arnold
Mary-Kim Arnold is a poet, writer, and visual artist. Litany for the Long Moment, her book-length experimental essay, was selected by Carla Harryman for the 2016 Essay Press Prize. Other writings have appeared in Hyperallergic, The Georgia Review, The Rumpus, and elsewhere. She teaches in Brown University's Nonfiction Writing Program, and offers community workshops through Grub Street in Boston and Frequency Writers in Providence. She received the 2017 Fellowship in Fiction from the Rhode Island State Council on the Arts, for Nine Men's Misery, her novel in progress. She serves on the Advisory Board for The Rumpus, where she edits the occasional column, Multitudes, a partnership with VONA/Voices of Our Nation Arts. She co-chairs the Board of Directors for the feminist art collective, the Dirt Palace.
Adopted from Korea and raised in New York, she lives in Rhode Island with her husband and children. ––From "About Mary-Kim Arnold"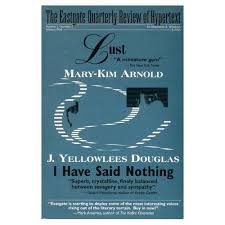 About "Lust"
Poised between prose and poetry, this acclaimed hypertext draws the reader into artfully recombined scenes of terror and seduction.

Mary-Kim Arnold's "Lust" is a short fiction that experiments with the possibilities of hypertextual combinations of a small number of nodes — it has 38 nodes and 141 links. The reader encounters violent scenes, a sequence of lovers, the creation and loss of family, blood, and screaming. These sequences — and their meanings — differ with the reader's initial choices.
Of the writing of "Lust," Mary-Kim Arnold writes:
"This experience has been a tremendous one for me, personally, academically, psychologically, maybe even sexually. In any event, this medium has been the most fertile, flexible, giving, nurturing place I have ever found to write in, to be in, to share in."
This bold work uses the limits of this new form to its advantage; it has been one of the most influential hypertexts yet written.––From "Eastgate Systems, Inc."

Nicholas Schiller is the Associate Director of the Electronic Literature Lab and a member of the library faculty at Washington State University Vancouver. He is also on faculty with the Creative Media & Digital Culture program where he teaches information structure and leads workshops on search engine optimization. He has published and presented on a variety of topics including current efforts to preserve and archive early works of electronic literature, metaphor and structure in information literacy instruction, and learning in video games as a model for library instruction. He is a previous contributor to the ACRL Tech-Connect blog. He is teaching a course in born digital documentation at the 2018 Digital Humanities Summer Institute in Victoria, B.C.
Reviews, Critical References, & Resources
Bernstein, Mark. "Lust, Touch, Metadata: Meaning and the Limits of Adaptation." Hypertext 2004. Proceedings of the Fifteenth ACM Conference on Hypertext and Hypermedia. 36-37.
Joyce, Michael. "Nonce upon Some Times: Rereading Hypertext Fiction." Othermindedness. Ann Arbor: MI, 2000.
Higgason, Richard. "The Mystery of 'Lust.'" ACM. 2004. 18-35. http://delivery.acm.org/10.1145/1020000/1012818/p28-higgason.pdf?ip=69.166.32.188&id=1012818&acc=ACTIVE%20SERVICE&key=B63ACEF81C6334F5%2E3B1D11B7501B70D8%2E4D4702B0C3E38B35%2E4D4702B0C3E38B35&__acm__=1525815077_fabf57517aec68daad8a41e962db7818.
To join us in the Electronic Literature Lab for the Traversal, or to get more information about the event, contact Dr. Dene Grigar, dgrigar[at]wsu.edu.
This event is part of the year-long "Born Digital Preservation Series" celebrating the Electronic Literature Organization's move to Washington State University Vancouver. It is sponsored by Washington State University Vancouver, Electronic Literature Organization, and the Lewis E. and Stella G. Buchanan Distinguished Professorship.
Organizers: Dene Grigar, Nicholas Schiller, Greg Philbrook, Vanessa Rhodes, Mariah Gwin, and Katie Bowen.