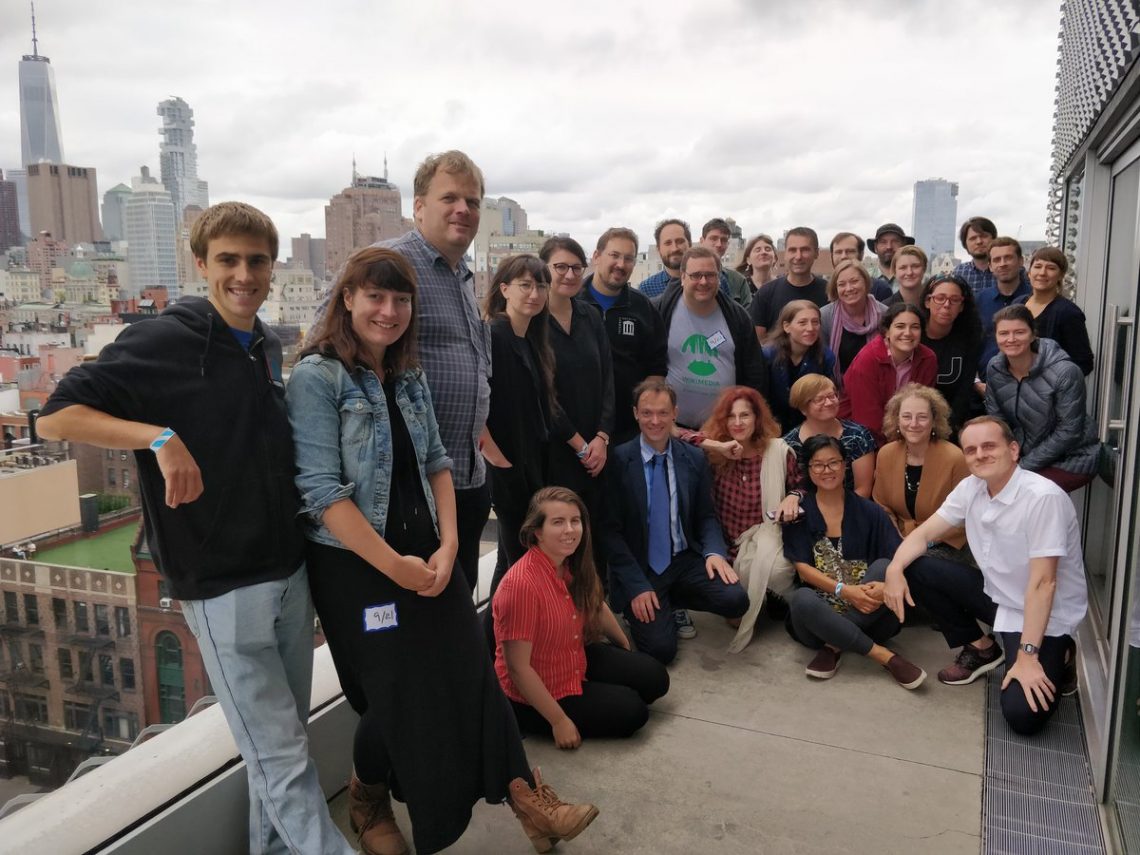 Rhizome's Linked Open Data/Wikibase Summit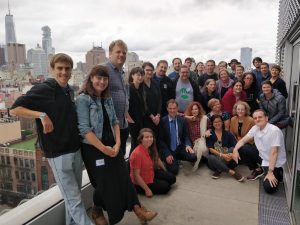 ELO's Digital Archivist Abby Adams and I attended Rhizome's Linked Open Data/Wikibase Summit last week with two goals:  1) to learn more about how Rhizome structured information in its Wikibase because ELO is using it––along with the Library of Congress Name Authority File and ELMCIP––for tracking authoritative data for the ELO Repository; and 2) to become better acquainted with how Wikibase functions so that ELO may assist Rhizome with adding metadata about artists and works that cross between media art and born digital literary art. Following three days of sessions about Data Modeling, Tools, and UX/UI, to name a few, Abby and I agreed that we left the workshop having achieved these two goals.
What exactly is Wikibase, and why should ELO attend a workshop about it, you may ask?
First, Wikibase is an open source system developed by the Wikimedia Foundation that makes it possible for knowledge institutions to "creat[e], manag[e] and shar[e] structured data"––that is, information organized in a "fixed field within a record or file." [1]  Second, if the ELO's Archival Team develops the ELO Repository, as we are doing with our COPE project, as structured data in a Wikibase, it would make that information both findable and accessible by both humans and computers––but more importantly––easily sharable between ELO and Rhizome. This means that instead of needing to work *in* Rhizome's Wikibase to share our information, the ELO's Archival Team would be sharing entries about born digital literary works *across* both our Wikibase sites. Thus, it would be a cleaner way to handle our collaboration and, at the same time, create a shared knowledge-base for born digital media in which other organizations can participate.
But taking it a step further, I imagine the ELO Wikibase as a site where scholars can resolve areas of contention about metadata by linking evidence/provenance directly to it. Once information (i.e. publication date, software used) is refined, metadata would be moved to the ELO Repository. This is an important step in developing an authority file. As it stands right now, when my students and I find information missing about an author in the Library of Congress Name Authority File, we cannot add this information. E-Lit authors remain omitted from the central authority file for all things deemed truly literary.
Another issue that we contend with in the lab when developing the metadata for the ELO Repository is that the system by which information is currently structured––and I am talking about MODS here––was developed out of print culture and so does not include fields for metadata that matter to born digital media. If an e-lit work is a VR narrative created by a team that includes a 3D modeler, for example, there is absolutely no role in the MARC Code List for Relators for a 3D Modeler. The most exact we can be for this role is Creator. Flattening our roles like this in the print world would be akin to calling both the author of a novel and the illustrator of it both Creator. Setting up an ELO Wikibase and using it for ironing out the metadata for exactitude could solve these challenges.
But what I find to be the most important contribution that the Rhizome and ELO collaboration could result in beyond developing our own born digital archives and sharing data across them is that we can contribute to a pioneering effort to develop a new system that better addresses the metadata for born digital media not yet addressed by current authority systems and institutions. 
ELO has long supported the notion of open source with its free and open resources: the Electronic Literature Directory, Electronic Literature Collections, our publications––Acid Free Bits, Born Again Bits––and now the ELO Repository.  It is now also moving toward becoming involved in open data. [2]

Notes
[1] See https://www.webopedia.com/TERM/S/structured_data.html.
[2] For a good discussion about the difference between open source and open data, see https://blog.ldodds.com/2016/03/24/a-key-difference-between-open-data-and-open-source/.