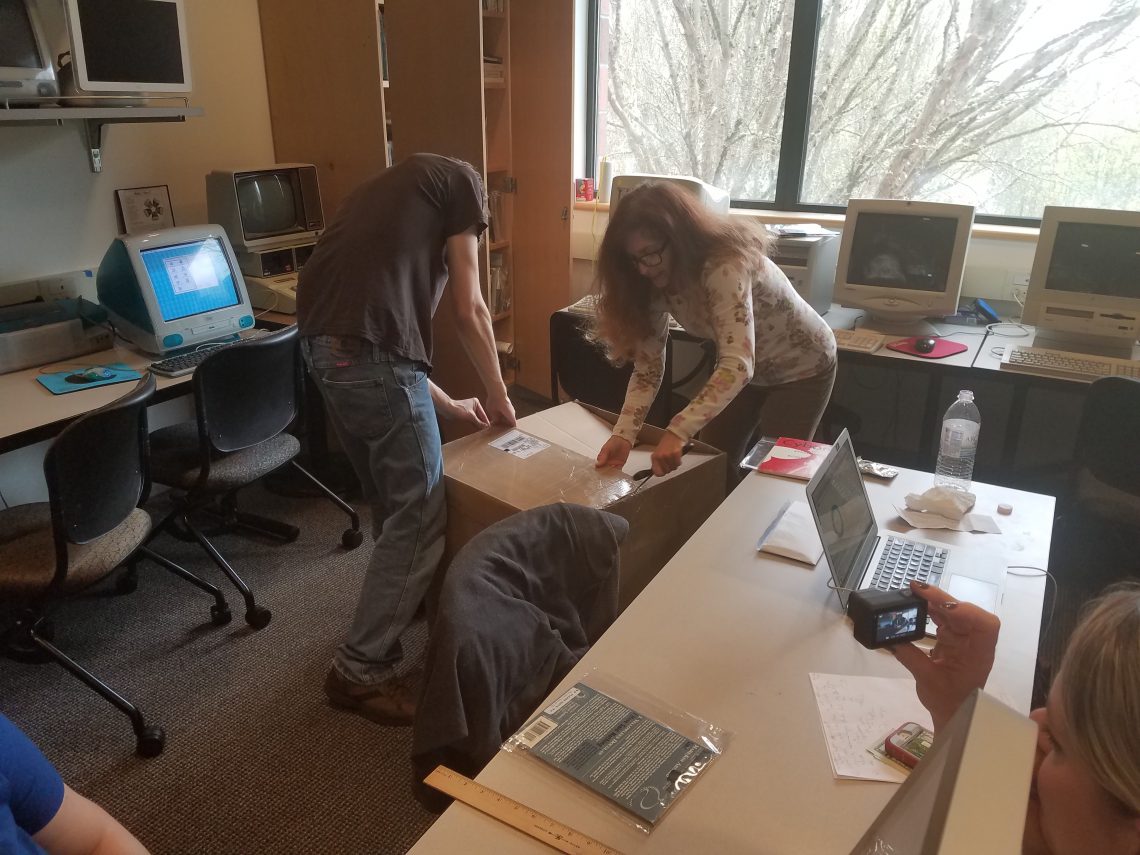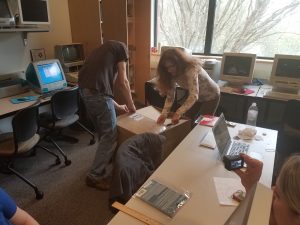 As they walk by, students stare curiously into the window, taken in by the scene of people hunkered down around a long table surrounded by three banks of vintage computers. The boldest and most inquisitive among the onlookers often poke their heads into the door and ask, "What is this place?"
Welcome to the Electronic Literature Lab, where seven intrepid Undergraduate (UG) Researchers work with faculty and staff to preserve, document, promote, and build resources for born digital literature. We are busy this fall with many different activities: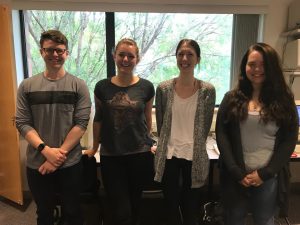 A Comprehensive Online Portal for Electronic Literature Works (COPE)
Four UG Researchers––Katie Bowen, Austin Fields, Mariah Gwin, and Holly Slocum––are working with the four Co-PIs of the ELO's COPE project (Leo Flores, Abby Adams, Nicholas Schiller, and me) to migrate the metadata of the ELO's seven collections of e-lit to the ELO Repository that we are building. These students are funded through the Mellon grant that is supporting the project. We will be completed with this work by December 30, 2018.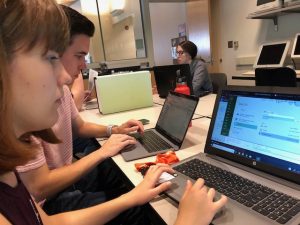 ELO 2013 Proceedings
Two UG Researchers––Kathleen Zoller and Andrew Nevue––are creating the book of Proceedings for the ELO 2013 conference. This project came to us from Gabriel Gaudette and Joe Tabbi, who had worked hard to bring it to a close after a very long delay. Over 40 academic papers by some of the top scholars of e-lit are included in this book. These students are funded through the Lewis E. and Stella G. Buchanan Distinguished Professor Fellowship given to me by WSU last year, which continues until May 2019.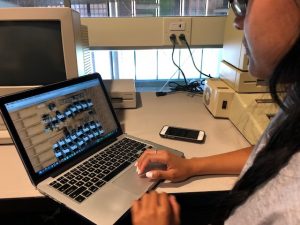 The Museum of the Essential & Beyond That
ELO was fortunate to receive the archives of this important online museum created and curated by Brazilian scholar and artist, Regina Pinto. Nicholas and I hired an UG Researcher––Moneca Roath––to inventory, prepare the metadata for the ELO Repository, and determine works that are no longer accessible and in need of reconstitution. ELO provided a stipend for this position.
There are even more activities to come this fall and spring: the screening of Eduardo Kac's Inner Telescope; seven Live Stream Traversals; the production of the book, Rebooting Electronic Literature, Volume 2; a Wikipedia-A-Thon; further development on ELL's catalog; just to name a few activities. We have already rebuilt a site for the trAce Online Writing Centre and reconstituted its journal,  frAme, which makes it now possible to access over 60 works of e-lit, which according to its founder Sue Thomas, had been unavailable to scholars for the last three years.
So, if you happen to walk by next time, know that we are hard at work on many, many projects, but stop in and say hi. We'll gladly stop and show you around.