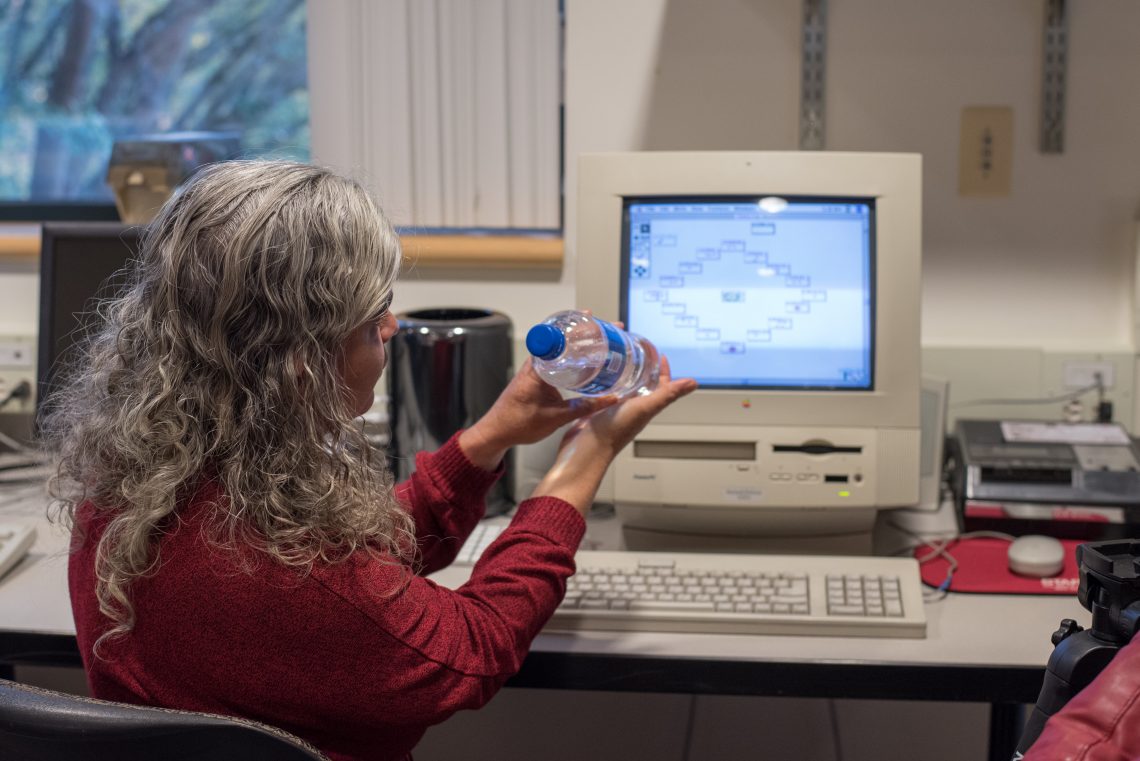 Deena Larsen's Donation to ELO
I found more archived papers and software  in a leftover old tub of stuff from my 2006 move, and I gave them to [ELO] so we can have more places to study these ephemera. –Deena Larsen, 30 November 2018
I love leftover stuff in tubs. They can––like this "stuff" that Deena gave us––be treasures for future generations to enjoy. 607 items of treasures to enjoy, to be exact. And they are all here in the Electronic Literature Lab inventoried, organized, and housed in archival folders and boxes just waiting for us to digitize them in the spring.
The Deena Larsen Collection consists of three boxes, categorized into 12 series:
Published Works, 1992-2016
Unpublished Works, 1997-2016
Notebooks, 1995 and undated
Miscellaneous Papers
Photographs
General Correspondence
Personal Papers
Other Author Materials
Contracts & Royalty Statements (Not available online)
Conference, Festival, & Event Ephemera
Born Digital Literature by Other Artists
Other Media
You can download all 18 pages of the inventory here, but if you rather, you can read some of the highlights of this trove, below:
Samplers includes 10 pages of color Print Outs of Quilt Pieces/ Story Logos. These show the original names of some of the stories that Larsen later changed for the final version of the work (e.g. "Locked" Images later became "Interlocked"]
Letters between Deena and Mark Bernstein of Eastgate Systems, Inc. provide exact dates for production and publication of her many works
We also have several versions of "Firefly" (including raw Flash files) saved on Larsen's back up hard drive that she burned to a CD-ROM and included in the boxes
There are also two versions of Stone Moons, her unpublished work in Storyspace. We have been able to see one on the Performa as early native files and a second on a more recent iMac with Storyspace 3
Also intriguing are two hand-produced notebooks from Larsen's trip to Japan in 1988
There are papers relating to ELO and trAce, bits of history always good to find laying around
We now have hundreds of photos of Larsen at various points in her life, including her trip to DAC 2004 in Melbourne, Australia
Scholars will love the letters she exchanged with other artists and scholars like Bill Bly, Susana Pajares Tosca, the late Adrian Miles, Geniwate, Margie Luesebrink, Stephanie Strickland, and others
I particularly enjoyed reading Larsen's Christmas Letters she penned to close family and friends through the years
There are also archives that feature other artists like Kathryn Cramer, Julianne Chatelaine, William Dickey, William Goldman, and Chris Funkhouser
We can't share the contracts with her publishers, but they provide great insight into the early period of publishing digital writing
The collection of conference, festival, and event ephemera will be very helpful for determining provenance of not only Larsen's work but also that of her contemporaries circa 1993-2004
I was particularly delighted to see among the Born Digital Works by others, a CD-ROM containing Diana Slattery's "Dissertation Appendix" featuring images of her Glide glyphs. #bestillmyheart
Of course, the big surprise was the back up hard disk filled with copies of Larsen's work ––16 of her works that frankly I did not think I would be able to see much less have access to
As mentioned, we will be digitizing these files in the spring and making them available to scholars soon after. Files that provide provenance for her work will be uploaded to the ELO Wikibase.