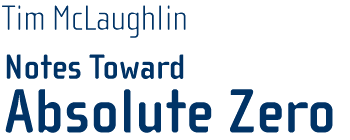 Celebrating Endangered Data Week with Tim McLaughlin's Notes Toward Absolute Zero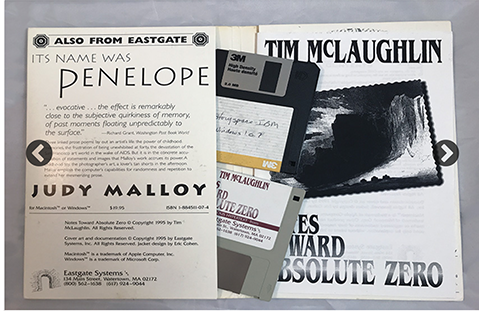 Having spent the last month immersed in the mechanical pigs, Spam, utopian communes, the Star Trek Holodeck and––yes––acid from Richard Holeton's Figurski at Findhorn on Acid, I'm now turning my attention to the special Traversal taking place in celebration of Endangered Data Week: A Traversal of Tim McLaughlin's Notes Toward Absolute Zero, published by Eastgate Systems, Inc. in 1992/3.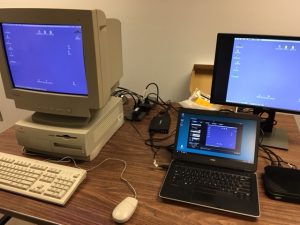 The event, hosted by Digital Scholarship Commons at the University of Victoria's Libraries and organized by John Durno, Head of Library Systems, takes place on Friday, March 1 from 2:00-3:30 p.m. It features the BC artist performing his work in front of both an online and onsite audience on floppy disk on the G3 Macintosh collected by Durno. I will conduct the Traversal and moderate the Q & A that follows the performance. Coming with me to assist with the technical production are Greg Philbrook (video capture) and John Barber (sound). John Durno has his own excellent team handling the live streaming and other major logistics.
About the Artist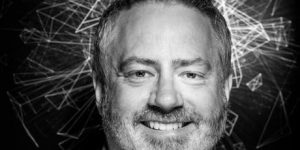 As the event site states, "Tim McLaughlin is a writer and photographer based in Vancouver, British Columbia. Over the years Tim has been active in experimental radio, hypertext fiction (he is included in the Encyclopedia of Literature in Canada), graphic design, book production, and documentary film. In partnership with Charllotte Kwon and Maiwa Handprints, Tim documents artisan communities and advocates for the importance and continuation of traditional craft and culture. Recently, Charlotte and Tim worked together to produce Textiles of the Banjara: Cloth and Culture of a Wandering Tribe (Thames and Hudson, 2016). Here is a link to his website.
About the Work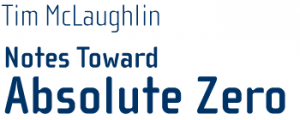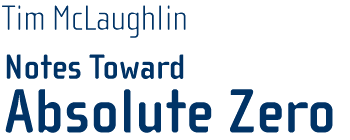 Eastgate Systems, Inc. says, the "stunning Notes Toward Absolute Zero interweaves historical documents of the ill-fated Franklin expedition with the personal reminiscences of a woman in search of her hypnotist uncle and of the the man who, in turn, searches for her. Follow Jericho, Magel, and Winter as their lives intersect and diverge across an eerie landscape dotted with relics, forgotten lists, train wrecks, scraps from journals, ghost ships, poetry, postage stamps, Mesmer's propositions, and — of course — The Six Failures of Love." Critic Christopher Keep (U of Alberta) says, "Tim McLaughlin's Notes Toward Absolute Zero is a lyrical meditation on the geographies of space, time, and desire. . . . Like the hypertext form of the novel itself, memory here is fragmented, indeterminate, and elusive. The men and women of Notes Toward Absolute Zero carry out their expeditions into the past not to retrieve the people they have lost but to discover them all over again, to make them anew. McLaughlin excavates this terrain . . . . with aphoristic precision and lyric tenderness. With its philatelic obsessions and shifting narrative voices, the reader feels like she has been let into the dead-letter office after hours, free to roam among the remains of unread love letters and postcards from unimagined countries."
In their exhaustive study of the use of anchors in 67 "sites and works"––"An Anatomy of Anchors"––Deena Larsen and Richard Higgason argue that "like Victory Garden [48], Samplers [37], and Patchwork Girl [26], Notes Toward Absolute Zero uses Storyspace's selective anchor capabilities to reveal words that yield. This is a densely linked work, but like afternoon: a story [27], readers must hunt for the anchoral words." In Canonizing Hypertext, Astrid Ensslin places Notes Toward Absolute Zero along with other works of hyper poetry that "uses the link as its major organization principle rather than experimenting with new technological developments" (28).
I am delighted that other scholars are attempting Traversals as a way to document and preserve works of electronic literature. The more of these events that can be hosted, the more works that can be taken off the list of endangered hypertexts.