E-Lit Scholar Astrid Ensslin Visits ELL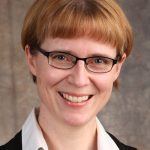 We are very excited about the arrival of e-lit scholar Astrid Ensslin to ELL, who will be doing research on the Eastgate Quarterly Reviews of Hypertext from August 14-28, 2019. The lab holds copies of all eight documented copies published by the company.
Professor Ensslin is Professor in Digital Humanities and Game Studies at the University of Alberta (Canada) and the author of numerous books: Approaches to Videogame Discourse (Bloomsbury, 2019), Small Screen Fictions (Paradoxa, 2018), Literary Gaming (MIT Press, 2014), Analyzing Digital Fiction (Routledge, 2013), The Language of Gaming (Palgrave, 2011), Creating Second Lives: Community, Identity and Spatiality as Constructions of the Virtual (Routledge, 2011), Canonizing Hypertext: Explorations and Constructions (Bloomsbury, 2007), and Language in the Media: Representations, Identity, Ideology (Bloomsbury, 2007). She is affiliated with both the Departments of Modern Languages and Cultural Studies, and Humanities Computing and has held positions at Universities of Leeds, Manchester and Bangor. She serves as editor of Cambridge University Press's Elements in Publishing and Book Culture: Digital Fiction monograph series; Founding Editor of Journal of Gaming and Virtual Worlds; Review Board member of Game Studies; an Editorial Board member of Discourse, Context & Media (Elsevier) and Digital Culture & Society (transcript); and the Electronic Literature Organization's Electronic Literature book series for Bloomsbury Press. She is on the Board of Directors of the Electronic Literature Organization and Project Director of the Electronic Literature Directory.