Expanding the David Kolb Collection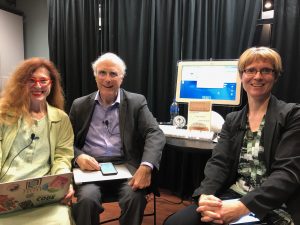 On Friday, August 23, David Kolb, philosopher and author of the hypertext essay, Socrates in the Labyrinth (1994) spent the day with Astrid Ensslin and me in the lab. In the early afternoon, we held a formal event entitled, "For What Is Thinking, If Not Linear?' – A Conversation with David Kolb, Astrid Ensslin, and Dene Grigar about Socrates in the Labyrinth, Hypertext, and the Lore of Electronic Literature," that was videotaped by Undergraduate Researcher Moneca Roath and will be made available on Vimeo in early September. Later that afternoon, though, the three of us got together and went through the digital materials––lectures, published and unpublished hypertexts, printed essays, etc.––that David had brought with him to donate to the Electronic Literature Organization. So extensive is the donation that the finding aid he prepared for us is 10 pages long.
Already David had given ELO physical materials from his personal collection––22 items that resulted in the creation of The David Kolb Collection at the ELO Repository. These included hypertexts published by Eastgate Systems, Inc., such as Patchwork Girl, Victory Garden, Forward Anywhere, and others, as well as copies of various issues of the Eastgate Quarterly Review of Hypertext and Storyspace disks.
But on Friday after lunch, Astrid videotaped David walking me through his materials so that I could better prepare them for the repository. She ended up with 20 very short video clips that I put online at ELL's Vimeo site, adding metadata for each in order to provide some context for each.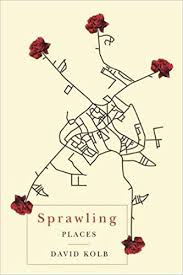 It should be noted that there are many treasures to be found among the recent donated materials. Astrid and I got very excited when we saw the file for "Caged Text," an argument based on the highly experimental style of artist John Cage that David did not include in the publication of Socrates in the Labyrinth (SIL). [1] The plan is to work with David to make this one available as its own publication. Also included are planning docs for SIL and other hypertexts David produced. As important are all of the files associated with his second major hypertext, Sprawling Places (SP). [2]
The lab will be busy in September developing the metadata needed for uploading the information in the repository and plotting out a plan for making unpublished hypertexts accessible to the public.
Notes
[1] A discussion about SIL and the arguments David presents in it, see Rebooting Electronic Literature, Volume 1: http://scalar.usc.edu/works/rebooting-electronic-literature/critical-essays-about-david-kolbs-socrates-in-the-labyrinth?path=david-kolbs-socrates-in-the-labyrinth
[2] Astrid and I learned that the artist who created the art for SP also produced the logo for Firefox. We captured this interesting piece of lore on one of the video clips. See: https://vimeo.com/356978912.