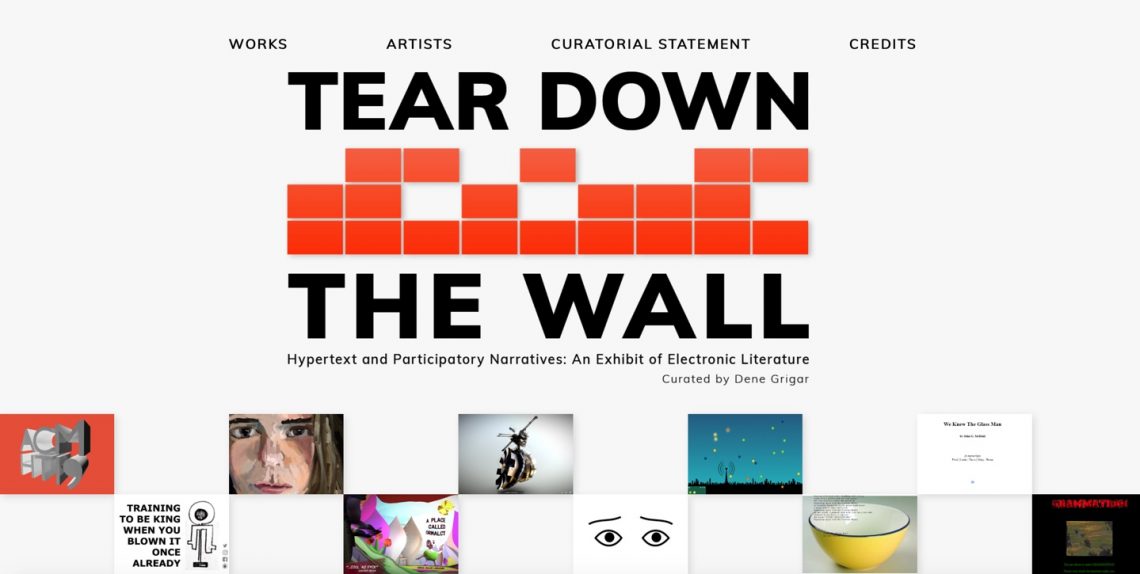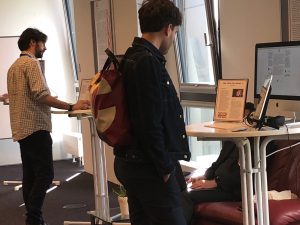 On Friday afternoon––after a very successful week––we closed the Tear Down the Wall: Hypertext & Participatory Narratives exhibition that ran in conjunction with the 2019 ACM Hypertext Conference. As my previous blog post outlined, we featured nine works by eight artists dating from the mid-1990s to the present. Represented were a variety of platforms, including Storyspace 3.0 and Twine, and a range of approaches from 3D narratives to soundscapes. I laid out the show in an unpredictable way. In other words, the works were not organized in chronological order or by genre. Instead, I wanted visitors to move around the space, encountering the works with a sense of wonder and delight. Because the event accompanied an academic conference, I choose to mount the computers on tables where visitors could stand and read between sessions. The archival website is intended to provide them the opportunity to spend more time with the works later, at their convenience. The event also included a Live Stream Traversal of John McDaid's Twine narrative We Knew The Glass Man, which was also featured in the exhibit, with John performing his own work.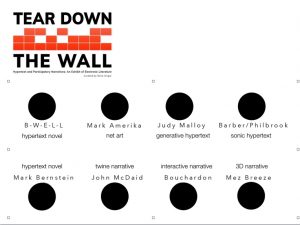 In my curatorial talk given at the conference, I provided my approach to curating electronic literature that framed the decisions I made. Since 2008 I have curated 17 exhibitions for galleries, libraries, art centers, and academic settings. The aim of these endeavors has been to explore curating as a mode of critical and scholarly practice as well as to raise awareness of the art form within academe and beyond into the public sphere. Curation, described by the authors of Digital_Humanities, as "the selection and organization of materials in an interpretative framework, argument or exhibit," allows for "artifacts [to] be seen being shaped by and shaping complex networks of influence, production, dissemination, and reception, animated by multilayered debates and historical forces" [Burdick et al. 2013, 17–18].
The interpretive lens for the exhibition I created for ACM Hypertext 2019 to align with the theme of "tear down the wall", for example, focuses on the question, "For works of born digital art, how can hypertext be expressed?"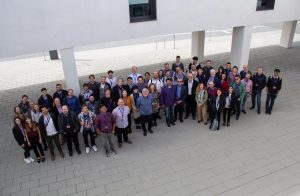 As I mentioned in my curatorial statement, the exhibit borrowed the theme from the conference—tear down the wall—that celebrates the 30th anniversary of the fall of the Berlin Wall. The conference has also been envisioned by Conference Chair Claus Atzenbeck to "reunify different hypertext research directions and communities" ("About"). Born digital literature—what has been come to be called electronic literature, or e-lit—is one of these directions and communities he seeks to bring back into the fold. If this photo is proof of anything, it is that the conference and exhibition did indeed draw together scholars and artists together to share the research and art of hypertext––and to tear down the wall.