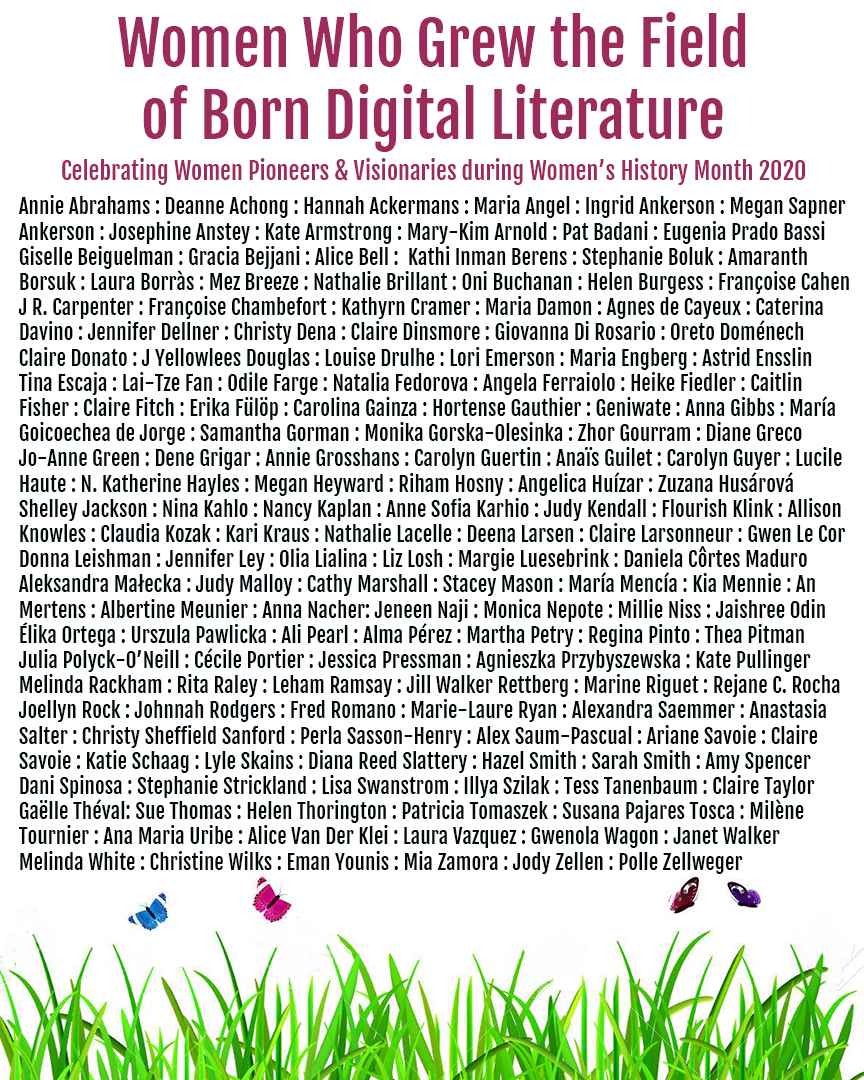 Celebrating Women in E-Lit
March is National Women's History Month and, so, in 2020 the Electronic Literature Lab celebrated the contributions women have made to the field of born digital literature, from its roots in early hypertext literature and theory to the more recent artistic practices of Virtual Reality and sensor-based haptic experiences, to name but a few. Each day we tweeted about women and the work they have done to grow the field. At the end of each day, we archived the tweets here on this site so that people could return and find them.
It was a very successful event in that this blog post about the project was one of two most popular ones of the month, garnering close to 600 unique visits to the site. As for the 162 Twitter posts we made, we found that it resulted in:
179k total impressions
1,682 people visited our profile
133 mentions of us in other people's tweets
171 new followers
We used the hashtag #womenofelit so that we can find colleague's contributions to this project.
Along with the daily posts, we produced two focused blog posts, one on International Women's Day and the second on the last day of the event:
Below is the archive of all the posts we made during the month.
Archive of Posts
Day 1: Sunday, March 1
We're celebrating National Women's History Month by highlighting contributions women have made to e-lit. Each day we'll tweet about women & the work they've done to build the field. Join us by retweeting our posts & adding your own. Hashtag: #womenofelit
We kick off our celebration of women in e-lit by honoring Australian scholar Maria Angel who teaches at Western Sydney U & is the Collector of The Australian Directory of Electronic Literature and Text-based Art (ADELTA) Thank you, Maria, for all you have done! #womenofelit
Annie Abrahams is a Dutch artist living in France, known for seminal works of net art and networked performance with VR & other technologies. "Being Human," "If Not You Not Me," & "Double Blind" are but a few of her contributions to e-lit. https://aabrahams.wordpress.com #womenofelit
Ingrid Ankerson & Megan Sapner Ankerson founded "Poems That Go," (2000-2003), the journal featuring kinetic poetry in each of its 5 issues. It remains 1 of the premier journals of the period. It's now hosted by @eliterature at its Repository https://elo-repository.org/poemsthatgo/ #womenofelit
We conclude our 3/1 postings celebrating women's contributions to e-lit. On 3/2 we'll honor Kate Armstrong, Kathi Inman Berens & Laura Borros, so stay tuned! To see an archive, go to http://dtc-wsuv.org/wp/ell/2020/02/29/celebrating-women-in-e-lit/… You're invited to contribute posts or add to our honorees #womenofelit
Day 2: Monday, March 2
Day 2 of ELL's Women's History Celebration kicks off w/Canadian artist Kate Armstrong who directs Living Labs at Emily Carr & has created over 20 works of media art since 2003, including Grafik Dynamo. She served as Artistic Director of ISEA 2015. #womenofelit
Kathi Inman Berens teaches at Portland SU where she specializes in DH & digital publishing, She is serving on the editorial collective for the ELC4 and has curated exhibits of e-lit at the Library of Congress and for ELO 2012 media art show. In 2014-15 she was a Fulbright Scholar of Digital Culture at the U of Bergen. #womenofelit
Laura Borràs, a scholar from Barcelona, Spain, has long supported e-lit. She served on ELO's editorial collective for the creation of the ELC 2. She is now Deputy of the Parliament of Catalonia & served as the former Consellera de Cultura at gencat. #womenofelit
We conclude ELL's Day 2 celebration of Women's History Month. Tomorrow we will honor the contributions to the field of e-lit by Alice Bell, Giselle Beiguelman, & Mary-Kim Arnold. #womenofelit
Day 3: Tuesday, March 3
Day 3 of our Women's History Month celebration kicks off w/Alice Bell who teaches at Sheffield Hallam U & is a PI for Reading Digital Fiction. Her book Possible Worlds Theory and Contemporary Narratology w/Marie-Laure Ryan was published by U of Nebraska Press in 2019 #womenofelit
Mary-Kim Arnold's hypertext poem "Lust" published by Eastgate Systems, Inc. in The Eastgate Quarterly Review of Hypertext V1, N2 (1994) remains a seminal work of e-lit for its structure and eloquent writing. Thank you, Mary-Kim, for this wonderful contribution! #womenofelit
Giselle Beiguelman is a new media artist, curator & researcher who teaches at the U of São Paulo. 1 of the most influential works of e-lit is her net art piece The Book After the Book (2001). Recent creative projects include Odiolândia (Hateland) & Memoria da Amnésia #womenofelit
Tomorrow we will honor four more women e-lit pioneers and visionaries: Amaranth Borsuk, Mez Breeze, Helen Burgess, and J. R. Carpenter. See the archive of our posts at http://dtc-wsuv.org/wp/ell/2020/02/29/celebrating-women-in-e-lit/Join us in honoring these women by retweeting our posts #womenofelit
Day 4: Wednesday, March 4
We kick off Day 4 of our Women's History Month celebration by honoring poet Amaranth Borsuk known for the AR book of poetry Between Page and Screen (2016) & the gestural poetic environment Whispering Galleries (2014) among so many other books of poetry & scholarship. #womenofelit
Winner of ELO's 2019 Luesebrink Prize, Mez Breeze pioneered numerous "genre-defying output" i.e. poetic codework, flash-based e-lit, VR narratives. Her work is included in @rhizome's Net Art Anthology. To call her an award-winning artist would be an understatement #womenofelit
Helen Burgess, known for her work as editor of Hyperrhiz: New Media Cultures & member of the ELO Board of Directors, is co-author of the innovative multimedia environment, Red Planet, & of numerous sensor-based works that explore storytelling & haptic experiences #womenofelit
J. R. Carpenter is an award-winning artist, writer & practice-led researcher who has created many ground-breaking works of e-lit, including Entre Ville, The Cape, & The Gathering Cloud (which won the New Media Writing Prize 2016). She lives & works in Plymouth, Eng. #womenofelit
Tomorrow we honor e-lit artists and scholars Hannah Ackermans, Gracia Bejjani, Kathern Cramer, Giovanna Di Rosario & Claire Dinsmore. Join us in honoring these women by retweeting our posts. Use the hashtag: #womenofelit
Day 5: Thursday, March 5
We kick off Day 5 of our Women's History Month celebration by honoring Hannah Ackermans whose work explores the intersection of technology, digital practices, e-lit, and DH. She is also co-director of the DH Network at the University of Bergen & serves on the ELMCIP Knowledge Base editorial board. #womenofelit
Gracia Bejjani is a Lebanese artist working in France whose creative output combines written expression with video and images. She publishes widely on YouTube, Instagram, Twitter and Facebook. Learn more about her at https://graciabejjani.fr#womenofelit
Hypertext aficionados are very familiar with Kathryn Cramer's contributions to e-lit. She authored "In Large & Small Pieces" (1994) published by Eastgate Systems, Inc. & served as editor for many other hypertext authors, such as Deena Larsen for Samplers. #womenofelit
Giovanna Di Rosariois Associate Director of Hermeneia Research Group at the U of Barcelona, specializing in e-lit & DH. A recipient of the prestigious Marie Curie Actions Grant, she is managing editor of the International Journal of Transmedia Literacy. #womenofelit
One of the most beautifully designed online journals is Claire Allan Dinsmore's "Cauldron & Net," published from 1997-2002 featuring 4 volumes of 98 works of e-lit, published from 1997-2002. Thank you, Claire, for the work you have done to support e-lit! #womenofelit
Thank you for joining us in this celebration of women who built the field of e-lit. Tomorrow we'll honor Nathalie Brilliant, Lori Emerson, Astrid Ensslin & Caitlin Fisher. You can see the archive of our posts at http://dtc-wsuv.org/wp/ell/2020/02/29/celebrating-women-in-e-lit/…#womenofelit
Day 6: Friday, March 6
Day 6 of the ELL's Celebration during Women's History Month. Today we are honoring Lori Emerson, Astrid Ensslin, Caitlin Fisher, & Nathalie Brilliant. Thank you, all, who have contributed by helping us identify women e-lit scholars & artists &/or retweeted our posts #womenofelit
Lori Emerson is Director of the Media Archaeology Lab at UC Boulder & author of the seminal Reading Writing Interfaces, among several collections. Her much anticipated The Lab Book co-authored w/Jussi Parikka & Darren Wershler, will be published by U of Minn Press #womenofelit
Astrid Ensslin is Prof. of DH & Game Studies at U of Alberta. She has published many books including Small Screen Fictions, Literary Gaming, & Canonizing Hypertext. She serves as Principal Editor of the Bloomsbury Electronic Literature book series & a Director of ELO #womenofelit
Caitlin Fisher's art practice includes XR narratives & experiences. She produced the 1st hypertext dissertation in CA & won the Int'l Electronic Literature Award for These Waves of Girls. She has held the CA Research Chair in Digital Culture & serves on the ELO Board #womenofelit
Nathalie Brilliant is a poet & Lecturer in literature at the University of Rennes 2, who specializes in the reading & teaching of poetry, w/a particular interest in digital literature as both content & teaching method, using the video as a mode of creative engagement for her students.
Day 7: Saturday, March 7
We kick off Day 7 of our Women's History Month celebration by honoring artist & researcher Françoise Chambefort whose work focuses on works on generative art & its narrative potential. In 2016 she won 1st prize at the Hackathon Spectacle Vivant et Transmédia #womenofelit
Zhor Gourram is Professor at Ibn Tofeil U in Morocco & head of the research lab for language, creativity & new media. She authored the 1st book about e-lit in the Arabic language, The Digital Literature, & was awarded the 2016 Royal Sash at the Casablanca Book Fair #womenofelit
Author of the hypertext narrative "I Have Said Nothing" (1994) and the critical work The End of Books or Books Without End or Books Without End, J. Yellowlees Douglas is 1 of 2 e-lit artists whose work was published in W. W. Norton & Co.'s Postmodern American Fiction #womenofelit
Diane Greco authored the hypertext, Cyborg: Engineering the Body Electric (1995) & co-authored Reading Hypertext (w/Mark Bernstein, 2009). She has been instrumental in providing editorial guidance for many works of hypertext published by Eastgate Systems, Inc. #womenofelit
Tomorrow we will celebrate International Women's Day with a post listing critical works by e-lit scholars that celebrate e-lit art by women that we hope will be useful for conducting research on the topic. Visit our website at http://dtc-wsuv.org/wp/ell/2020/02/29/celebrating-women-in-e-lit/… #womenofelit
Day 8: Sunday, March 8: International Women's Day
Today we celebrate International Woman's Day along with Women's History Month by honoring women who have produced print books & born digital collections that promote women's contributions to e-lit. See more at http://dtc-wsuv.org/wp/ell/2020/03/07/in-honor-of-international-womens-day/… #womenofelit
Carolyn Guertin & Margie Luesebrink produced The Progressive Dinner Party for Riding the Meridian, ed. by Jennifer Ley, 1999. This special issue of this prestigious online journal includes 39 works of born digital literature by women artists http://heelstone.com/meridian/templates/Dinner/dinner1.htm… #womenofelit
Judy Malloy's Women, Art & Technology (The MIT Press, 2003) is a collection generating from a project that began in 1993 as the "Leonardo Women, Art, & Technology Project" that includes essays by 36 women artists #womenofelit
Maria Mencia edited #WomenTechLit (2017), a scholarly collection that includes 27 essays by 29 women scholars & artists that focus on born digital literature. The book was awarded the N. Katherine Hayles Prize for Electronic Literature Criticism in 2018. #womenofelit
Jaishree K. Odin's Hypertext & the Female Imaginary (2010) "explores … works, in primarily electronic and filmic media, that use hypertextual strategies … to engage questions of gender or cultural differences" (1). It references e-lit by 10 artists #womenofelit
Lynn Cherny & Elizabeth Reba Weise's "wired_women", published by Seal Press in 1996, is a collection of women's reflecting on their perspective about cyberspace. It includes 16 essays–1 by Judy Malloy and Cathy Marshall ("Closure Was Never a Goal in this Piece") #womenofelit
Day 9: Monday, March 9
We kick off Day 9 of our celebration of Women's History Month honoring Australian artist & scholar Geniwate. She's known for Flash narratives like The Princess Murderer (w/Deena Larsen, 2003) & generative poetry like When You Reach Kyoto (w/Brian Kim Stephens, 2005) #womenofelit
Erika Fülöp is a Lecturer in French at Lancaster U where she specializes in "the impact of digitization and the internet on culture, & literature." She has published articles in Explorations in Media Ecology, French Cultural Studies, & French Studies #womenofeit
Anna Gibbs teaches at the U of Western Sydney & is a member of the DH Research Group. Her interests include new materialism, experimental & conceptual writing, e-poetry and poetics. She's building an annotated Directory of Australian New Media Writers & Writing #womenofelit
Christy Dena is an Australian writer and designer who runs the studio, Universe Creation 101, as well as international labs and remote studio projects. She has produced many games like Magister Ludi & the award-winning Bluebird AR and Authentic In All Caps #womenofelit
Tomorrow, we honor N. Katherine Hayles, Jo-Anne Green & Helen Thorington, Carolyn Guertin, & Carolyn Guyer. Join us by retweeting these posts. You can also visit our website to see the archive: http://dtc-wsuv.org/wp/ell/2020/02/29/celebrating-women-in-e-lit/… #womenofelit
Day 10: Tuesday, March 10
We kick off Day 10 of our celebration of Women's History Month w/N. Katherine Hayles, author of "Electronic Literature," among many other publications. She sponsored ELO at UCLA from 2001-2006. She has been the biggest influence on the field of e-lit. We owe her much #womenofelit
Jo-Anne Green & Helen Thorington co-founded Turbulence in 1996 & over the course of a decade built 1 of the most vital communities for web-based art. It commissioned & exhibited 356 works by some of the biggest names of the field #womenofelit
Carolyn Guyer is an American artist known for several pioneering works of e-lit, most notably Izme Pass (w/Martha Petry, 1991), Quibbling (1992), & HiPitched Voices, a project that promoted women's hypertext at the famous Hypertext Hotel #womenofelit
Carolyn Guertin is a scholar of emergent media & hackermaker aesthetics at the U of Western Ontario known for many publications such as the inspirational The Progressive Dinner Party (w/Margie Luesebrink, Riding the Median 1999) & Digital Prohibition (Continuum 2012) #womenofelit
We'll continue our celebration tomorrow by honoring Megan Heyward, Riham Hosny, María Goicoechea de Jorge, & Stephanie Boluk. With your help we've identified 127 women pioneers & visionaries of e-lit around the world. Visit the website to see the archive: http://dtc-wsuv.org/wp/ell/2020/02/29/celebrating-women-in-e-lit/
Day 11: Wednesday, March 11
We kick off Day 11 of our celebration for Women's History Month by honoring Australian artist Megan Heyward known for interactive media environments "of day of night" (2005) & The Secret Language of Desire" (2015). She's Senior Lecturer at the U of Technology Sydney #womenofelit
Riham Hosny was the key organizer of the 1st international conference on Arabic e-lit at RIT Dubai (2018) & director of arabicelit, the 1st initiative focusing on globalizing Arabic electronic literature in English language. She authored Digital Media Poetics (2018) #womenofelit
María Goicoechea de Jorge teaches at the U Complutense of Madrid (UCM) & is Principal Investigator of the project eLITE-CM in Electronic Literary Edition. Her research includes LEETHI & HERMENEIA, two research groups dedicated to the study of literature and computers #womenofelit
Stephanie Boluk is an Associate Professor in Cinema and Digital Media and English at UC Davis. Her research focuses on game and media studies and e-lit. Her book Metagaming (w/Patrick Lemieux 2017) explores "how games always extend beyond the screen." #womenofelit
We'll continue our celebration tomorrow by honoring Nancy Kaplan, Flourish Klink, Francoise Cahan, and Jennifer Dellner. In the spirit of recognizing all women who have contributed to e-lit, we encourage you to write us with suggestions. Visit http://dtc-wsuv.org/wp/ell/2020/02/29/celebrating-women-in-e-lit/… #womenofelit
Day 12: Thursday, March 12
On Day 12 of our celebration for Women's History Month we honor Nancy Kaplan who created the 1st hypertext kitchen & was co-founder of the electronic arts collective TINAC (Textuality, Intertextuality, Narrative & Consciousness or This Is Not A Conference) #womenofelit
Flourish Klink is a fanfic writer known for her work with Harry Potter fandom as author of the fanfic "Alternity." She co-creator of the podcast Fansplaining and an archive administrator. #womenofelit
Francoise Cahan is Associate Professor of modern literature at the Université Paris III – Sorbonne Nouvelle who integrates digital into her teaching. "Analytical reading and video projection" was published in Revue de recherches en littératie médiatique multimodale #womenofelit
Jennifer Dellner is Professor of English & Literature at Ocean County College & board member of the Association for Interdisciplinary Studies. Her research has taken her to the works of M. D. Coverley w/a paper entitled "Revisting Califia: Here the Path Triverages" #womenofelit
We have now identified 132 women pioneers & visionaries of e-lit. Each day we add more; each day we give shout-outs w/the goal of celebrating each & every one of them during this celebration. Visit the archive to see all of their names http://dtc-wsuv.org/wp/ell/2020/02/29/celebrating-women-in-e-lit/… #womenofelit
Day 13: Friday, March 13
Day 13 of Women's History Month! We honor Claudia Kozak, a scholar of e-lit who coordinated litElat & Red de Literatura Electrónica Latinoamericana & authored Tecnopoéticas argentinas; Poéticas/políticas tecnológicas en Argentina (1910-2010) & many others #womenofelit
Maria Damon is Chair & Professor of the Humanities and Media Studies Department at Pratt Institute of Art who specializes in poetry & poetics. Her book, Literature Nation (2003), is the 1st book-length hypertext poem on the Internet & a collaboration with mIEKAL aND #womenofelit
Deena Larsen is 1 of the most iconic pioneers of the field, authoring e-lit works such as Marble Spring, Samplers, The Princess Murderer & others. Her papers have been collected by MITH at the U of Maryland: https://archive.mith.umd.edu/larsen/ & at the ELO Repository #womenofelit
Eugenia Prado Bassi is a Chilean artist who incorporates design and visual art to her writing. She has created novels, installations, theatrical performances. Works include "Say Fear" & "BluViví." http://eugeniapradobassi.cl #womenofelit
You can find our posts about e-lit women pioneers & visionaries at our archival website: http://dtc-wsuv.org/wp/ell/2020/02/29/celebrating-women-in-e-lit/…. Tomorrow we continue our celebration by honoring Jennifer Ley, Liz Losh, Margie Luesebrink & Tina Escaja #womenofelit
Day 14: Saturday, March 14
Our celebration of Women's History Month continues! Today we honor Jennifer Ley, e-lit author whose work has been published & performed at the Guggenheim Museum, SIGGRAPH, New Media Poetry; & editor of the online journal Riding the Meridian, 1999-2000 #womenofelit
E-lit pioneer Marjorie Coverley Luesebrink (aka M.D. Coverley) is part of the 1st generation of authors that arose during 1987–1997, best known for epic hypertext novels Califia & Egypt: The Book of Going Forth by Day, & the 1st woman president of ELO. #womenofelit
Liz Losh is a media theorist who teaches at William & Mary College. She is a founding member of FemTechNet, an international organization that promotes collaborative research, pedagogy & online learning innovation in feminist art, media, science & tech #womenofelit
Tina Escaja is a Spanish-American writer, activist, feminist scholar, & pioneer in the field of e-lit in Spanish. She is the winner of the International Poetry Prize Dulce María Loynaz, & the National Latino Poetry Award for Young Adults, Isabel Campoy-Alma Flor Ada #womenofelit
It has been a joy to celebrate these women and their contributions to e-lit. Please join us in honoring them by amplifying our tweets so that more people know them. To see the archive of our tweets, go to http://dtc-wsuv.org/wp/ell/2020/02/29/celebrating-women-in-e-lit/… #womenofelit
Day 15: Sunday, March 15
Our celebration for Women's History Month continues w/ Portuguese theorist Daniela Côrtes Maduro, who has been a researcher w/Po-ex.net & CELL. She chaired & curated Shapeshifting Texts at U of Bremen as part of her research into multimodal, experimental storytelling #womenofelit
Judy Malloy is known as 1 of the 1st artists of e-lit, working in the 1980s w/BBS on The WELL, moving to develop her Narrabase software for stand-alone computers, to creating net art for the web. Her Women, Art & Technology includes essays & art by 36 women artists #womenofelit
Lai-Tze Fan is Assoc Editor of EBR & Assist Prof at U of Waterloo whose research spans literature, design & culture. Her essay, "Behind-the-Screens Storytelling: Towards a Critical Ecology of Electronic Literature," is forthcoming in Digital Space in Narrative Theory #womenofelit
Odile Farge's is a researcher at Paris8 who works in e-lit software tools and digital culture. Her thesis "Rhetoric for Creative Authoring" proposes a typology for authors' positions. She also consults on com & digital projects for corp. clients in France & Canada #womenofelit
Rita Raley is Assoc Prof at UCSB whose research interests lie at the intersection of digital media & humanist inquiry. She authored Tactical Media (2009) & co-edited ELC 2 (2011). She has had fellowships at the Nat'l Humanities Center & Fulbright at the U of Bergen #womenofelit
Dani Spinosa completed her PhD at York U & is the author of "Anarchists in the Academy: Machines and Free Readers in Experimental Poetry" (U of Alberta Press 2018). She also served at editor of "Essays from the Arabic E-lit Conference" for electronic book review #womenofelit
Our celebration of women e-lit pioneers & visionaries now includes 143 women from 23 countries. Tomorrow we give shout outs to Stacey Mason, Maria Mencia, Oreto Domenech, Louise Druhle, Thea Pitman & Illya Szilak http://dtc-wsuv.org/wp/ell/2020/02/29/celebrating-women-in-e-lit/… #womenofelit
Day 16: Monday, March 16
Today our celebration of Women's History Month honors media theorist Anna Nacher, Vice Editor-in-Chief for Arts & Cultural Studies Review & the 2019 Fulbright Scholar-in-Residence in Creative Digital Media at Winona SU. She teaches at Jagiellonian U in Kraków #womenofelit
Jeneen Naji is Digital Media Practice Faculty at Maynooth U, Ireland where she lectures on Media Studies, Critical & Creative Media & Multimedia, Mobile & Web Dev w/the Dept. of CompSci. Her research focuses on the impact of the digital apparatus on poetic expression #womenofelit
Carolina Gainza is a Chilean researcher of digital literature & culture in Latin Amer., focusing on aesthetics, production, circulation & reception. She directed the Revista Lab & has authored works like Networks of Collaboration & Creation in Latin Amer. Digital Lit #womenofelit
Samantha Gorman is a writer & artist whose work combines text, cinema, games, VR & scholarship abt digital media. W/Danny Cannizzaro she founded Tender Claws. Their 1st release was the hybrid film/game/novel PRY, selected by Apple as one of the 25 best apps of 2015 #womenofelit
Amy Spencer is a Postdoctoral Research Fellow at Bath Spa U. She worked on the 2-year Ambient Literature project. Her research interests include digital writing, ambient literature, collaborative authorship and do-it-yourself cultural production #womenofelit
Marine Riguet's researches the study of Science & Literary Criticism during the late 19th C & the emergence of a new perception of lit. She's currently working on the development of digital methods for the Literary Studies at the Observatoire de la vie littéraire #womenofelit
Claire Savoie is an artist and professor at the School of Visual & Media Art at the U of du Québec à Montréal. She has produced video & sound installations such as "fiction(vox)" (2003), "déjà" (2001), & "mon coeur" (2000). #womenofelit
Thank you, all, for following us & amplifying the achievements of these women pioneers & visionaries of e-lit. Tomorrow we will honor Monika Gorska-Olesinka, Érika Ortega, Annie Grosshans, Heike Fiedler, Julia Polyck-O'Neill, Susana Pajares Tosca & Lisa Swanstrom #womenofelit
Day 17: Tuesday, March 17
Today we honor 7 more e-lit pioneers & visionaries for Women's History Month beginning with Seattle artist Annie Grosshans, author of "The World Is Not Done Yet," a "weblication of theoretical poetics" #womenofelit
Monika Górska-Olesińska is Assist. Prof. at the U of Opole who researches digital poetry, electronic discourse & new media. She is the author of "Word in the Web: Electronic Discourses." She is also editor of the forthcoming book Liberature, E-Literature & Remixes #womenofelit
Érika Ortega is Assist. Prof. at the U of Colorado Boulder who writes about digital literature & media, cultural hybridity, reading practices/interfaces, books, DH & multilingualism in academia. Her current projects include A Handbook of E-Lit Reading & Binding Media #womenofelit
Heike Fiedler is a Swiss writer, multilingual poet & sound and visual artist who teaches at the Hochschule der Künste Bern HKB / Haute école des arts de Berne HKB & performs poetry with laptop, paper & pencil, modul8, realtime-electronics #womenofelit
Julia Polyck-O'Neill is a Canadian artist, curator, critic, writer & a SSHRC-funded doctoral candidate at Brock U where she teaches art history & contemporary visual culture. From 2017-18 she was a visiting scholar in the Obama Institute at Johannes Gutenberg U #womenofelit
Susana Pajares Tosca is a Spanish researcher who teaches at the ITU of Copenhagen. Her early work focused on hypertext literature, while later work on computer games & online communication. Her journal "Hipertula" remains one of the pioneering e-lit publications #womenofelit
Lisa Swanstrom teaches at the U of Utah & is known for "Small Screen Fictions" (w/Astrid Ensslin & Pawel Frelik, Paradoxa) & "Animal, Vegetable, Digital" (U of Alabama Press). She is also editor of EBR #womenofelit
By highlighting individual women pioneers & visionaries of e-lit in our celebration for Women's History Month, we're underscoring the fact that e-lit is a field practiced all over the world & supported by academic institutions, art collectives & venues, & publishers #womenofelit
Day 18: Wednesday, March 18
Day 18 of Women's History Month! Today we honor Stacey Mason, a specialist in games & interactive & procedural narrative. She worked for many years as an editor at Eastgate Systems, Inc. where she "promote[d] reading, writing, teaching, & criticism of e-lit" #womenofelit
María Mencía is a media artist/e-poet, Associate Professor and Course Leader of the BA in Media and Communication at Kingston U. She's a member of the Electronic Literature Organization Board & editor for the "Electronic Literature" series w/Bloomsbury Press #womenofelit
Oreto Doménech specializes in comparative reading of works of digital literature, especially focusing on a gender perspective. She founded the Network of Experiences ICT & is a member Hermeneia. She authored "Digital Poetry: Deena Larsen & Stephanie Strickland"(2015) #womenofelit
Louise Drulhe is an artist whose work has been featured in exhibitions at the Hartware MedienKunstVerein, Moscow Intern'l Biennale, Vienna Kunsthalle & Gaité Lyrique in Paris. She teaches at Le Campus de la Fonderie de l'Image for the master of creative direction #womenofelit
Thea Pitman teaches at the U of Leeds, working in the field of Latin American digital cultural production & digital cultures. She founded & directs the Network for Hispanic and Lusophone Cultural Studies & co-authored two books, with Claire Taylor, on the subject #womenofelit
Illya Szilak is an award-winning writer, artist & storyteller. Her work Queerskins was awarded a Peabody Future of Media Award & seeded by Tribeca Film Institute/MacArthur Foundation. She also practices medicine part-time at Rikers Island Corr. Facility in NYC #womenofelit
We're promoting the work of pioneering women e-lit artists & scholars from all over the world just as borders are closing to coronavirus. But we do so b/c ELL's mission is to document & preserve human expression, particularly modes expressed thru computer technology #womenofelit
Day 20: Friday, March 20
We are kicking Day 20 of our Women's History Month celebration with Agnieszka Przybysezewska. She works at the University of Lodz in Poland, where she specializes in the theory and history of literature, electronic literature, and the history and theory of flamenco #womenofelit
Kate Pullinger is a multi-platform writer who was awarded the Governor General's Literary Award. Her most recent digital fiction, Breathe, is a ghost story available for free for mobile phones. It was shortlisted for the New Media Writing Prize in 2019 #womenofelit
Anaïs Guilet is a member of the research team G-SICA, LLSETI. She received her PhD in comparative literature from the UQAM & the U of Poitiers. She is interested indigital and transmedia aesthetics as well as the place of the book in contemporary culture #womenofelit
Anastasia Salter teaches at U of Central Florida. She has authored numerous books such as Toxic Geek Masculinity in Media (w/Bridget Blodgett 2017), Jane Jensen (2017), What is Your Quest? (2014), & Flash (w/John Murray 2014). She/s on the Board of Directors of ELO #womenofelit
Cécile Portier works at the National Library of France, as assistant to the cultural dissemination delegate. She writes on her blog http://petiteracine.net, in online literary journals, for projects of digital books (on http://publie.net) or websites of fiction #womenofelit
You can see the archival site celebrating these women pioneers & visionaries at our website, http://dtc-wsuv.org/wp/ell/2020/02/29/celebrating-women-in-e-lit/…. Be sure to like and retweet our posts so that we amplify the contributions these women have made to e-lit #womenofelit
Day 21: Saturday, March 21
Day 21 of our celebration of Women's History Month & we're honoring Alexandra Saemmer, professor at University Paris 8. She has written many scholarly texts & authored Böhmische Dörfer, a work about "March of Death" of the Sudeten Germans from Brno in winter 1945. #womenofelit
Angélica Huízar teaches Spanish & International Studies at Old Dominion U. Her research focuses on avant-garde poetry & Latin American digital poetics. Her book, "Beyond the Page" (2008), focuses on the the digital poetics of Mexico, Uruguay, Chile, Peru & Brazil #womenofelit
Zuzana Husárová is a researcher at Comenius U (SR), Masaryk U (CZ) & at Sprachkunst at Universitaet fuer Angewandte Kunst (AT). She was a Fulbright scholar at MIT (2011). She has authored experimental literature, sound, interactive digital & transmedia poetry #womenofelit
Nathalie Lacelle is a professor at UQAM in Montreal & a founding member of the Multimodal Media Literacy Research Group & of the LMM Journal. She specializes in the development & testing of didactic devices for reading / producing texts and hypertext / hypermedia #womenofelit
Nathalie Lacelle is a professor at UQAM in Montreal & a founding member of the Multimodal Media Literacy Research Group & of the LMM Journal. She specializes in the development & testing of didactic devices for reading / producing texts and hypertext / hypermedia #womenofelit
Perla Sassón-Henry teaches at the United States Naval Academy. Her research interests include Latin American digital litfrom the perspective of comparative studies, science, e-lit, video games & net-art. She is the author of Borges 2.0: From Text to Virtual Worlds #womenofelit
Gwenola Wagon is an artist & professor at the U de Paris 8. She is currently a researcher of the Théorie Expérimentation Arts Médias et Design & has produced numerous sound & moving image installations, including Discothèque sauvage, Mute and Cyborgs dans la brume #womenofelit
Besides being Women's History Month, it is also World Poetry Day. So, we'd like to thank all of the e-lit poets across the globe for their art. During the day look for links to works by women e-lit poets to read! #womenofelit
Day 22: Sunday, March 22
We continue our celebration of Women's History Month with Shelley Jackson. Her work, "Patchwork Girl," remains one of the most popular works of hypertext lit. Since its release in 1995 Jackson has established a reputation for producing cutting edge fiction for both the electronic & print medium #womenofelit
Christy Sheffield Sanford is a writer, artist, & project designer who was the 1st trAce Virtual Writer-in-Residence and an Alden B. Dow Creativity Fellow. She has won 9 grants including a NEA Fellowship and 2 NEA-Rockefeller sponsored grants. She designed and curated Volumes 4 & 5 of frAme journal and authored several e-lit works including "Two Little Soldiers" & others #womenofelit
Anne Sofia Karhio is an Irish Research Council Laureate Project Fellow whose research interests include contemporary Irish poetry, digital literature & culture, and the aesthetics of space and landscape. She has contributed to the "Machine Vision in Everyday Life" at the University of Bergen, Norway. She was one of the keynote speakers at ELO 2019 held in Cork, Ireland #womenofelit
Judy Kendall teaches at U of Salford where she specializes in poetry, poetry composition & visual text. She has has won a number of awards for both her creative & academic work #womenofelit
Claire Larsonneur is a Senior Lecturer, currently working at U de Vincennes – Paris 8. Claire researches Translation studies, English Literature & DH. Her most recent publication is 'The Digital Subject'. She is currently working on a project on digital authorship, combining academic events with a series of interviews of authors who practice writing both online and offline #womenofelit
Join us on Monday when we honor five more pioneering & visionary women of e-lit: Lyle Skains, Hortense Gauthier, Rejane C. Rocha, Deanne Achong & Kari Kraus. You can see the complete archive of all our posts at our website: http://dtc-wsuv.org/wp/ell/2020/02/29/celebrating-women-in-e-lit/
Day 23: Monday, March 23
Today our celebration of Women's History Month honors Rejane Rocha, professor at the Universidade Federal de São Carlos, where she lectures on Portuguese language literature. She is a specialist in Narrative Text Theory, Modern & Contem. Brazilian Lit, & New Media #womenofelit
Lyle Skains researches/teaches Creative Writing & Digital Media. She published The Digital Author (2019) & articles in Convergence, Digital Creativity, & C&C. She's also interested in exploring the connections between post-modern print fiction & born digital lit #womenofelit
Hortense Gauthier is an artist, performer, poet & curator whose works involves relationships between bodies, spaces, technology & language. Her writing incorporates sound as well as electronic and electroacoustic compositions #womenofelit
Deanne Achong works in disciplines, including digital, lens-based projects and public art & has exhibited work in Canada, the US, the Caribbean, & Europe. Her project, Pier D, is a public art work that combines photography & a QR code to re-imagine Vancouver in 1938 #womenofelit
Kari Kraus is an Assoc. Prof. at the U of MD whose research/teaching focus on new media & DH, HCI, digital preservation, game studies & transmedia storytelling, & speculative design. She's Co-PI of a NSF grant (w/Derek Hansen) to study ARGs & transmedia storytelling #womenofelit
This is our final week of the celebration of Women's History Month. Stay tuned for the shout outs to other women pioneers and visionaries of e-lit #womenofelit
Day 24: March 24
Our celebration of Women's History Month honors Agnes de Cayeux, net artist who "programmed Alissa, the carnal & literary figure developed for the Jeu de Paume & reorganized the database of CA Sex Offenders for a POPUP collection of Nat'l Center for the Plastic Arts" #womenofelit
Sarah Smith is the author of King of Space (1991), a work of speculative fiction that combines feminist notions of the body & reproduction with hypermedia games. Published as a hypertext novel by Eastgate Systems, Inc., it remains 1 of the 1st works of sci fi e-lit #womenofelit
Josephine Anstey is Assoc. Prof. at the U at Buffalo, where she specializes in game studies, e-lit, virtual reality & responsive environments. Her VR & video works have shown widely & some are in the permanent collections of MoMA & the Ars Electronica Center, Austria #womenofelit
Claire Donato received an MFA in Literary Arts from Brown U, where she won the John Hawkes Prize in Fiction for Burial (Tarpaulin Sky Press). A digital language artist, she collaborates on Special America, a critical performance intervention; & various netprovs #womenofelit
Fred Romano researches Literary Theory & World Literatures. She authored the 1997 cybernovel, Edward_Amiga. Her recent work, "Topography and General History of Algiers," is envisioned as a hypertext "because the text can be considered as the ancestor of hypertext" #womenofelit
So many women e-lit pioneers & visionaries to honor during Women's History Month. Stay tuned tomorrow when we give shout-outs to Stephanie Strickland, Nina Kahlo, Aleksandra Malecka, Johannah Rodgers, & Albertine Meunier http://dtc-wsuv.org/wp/ell/2020/02/29/celebrating-women-in-e-lit/… #womenofelit
Day 25: Wednesday, March 25
Welcome back to Women's History Month. Today we honor 5 more e-lit pioneers & visionaries, starting w/Nina Kahlo, a performance artist & poet known for such works as T.O.C (Trouble Obsessionnel du Comportement) Performance, Pratiques De La Relation & Dans Mon Ventre #womenofelit
Stephanie Strickland is an award-winning poet who has published 9 volumes of print poetry & co-authored 11 digital poems: True North, Vniverse, & Sea & Spar Between (w/Nick Montfort). Her papers are collected at the David M. Rubenstein Rare Book & Manuscript Library #womenofelit
Aleksandra Malecka is Vice President of the Korporacja Ha! Art Foundation & a PhD student at the UNESCO Chair for Translation. A translator of English and French, she is interested in the problems of translating experimental literature #womenofelit
Johannah Rodgers is a writer & artist whose work explores issues related to representation & communication practices across media. She's the author of 52WordDrawings (2017), At, Or To Take Regret (2016), Technology: A Reader for Writers (2014) #womenofelit
Albertine Meunier has been practicing digital art since 1998 & uses the net as a creative material, exploring the essence of poetry, digital aesthetics & networks. Her works question the major internet players, Google, Twitter & Facebook, and the new world around us #womenofelit
You can see the archive of this project at http://dtc-wsuv.org/wp/ell/2020/02/29/celebrating-women-in-e-lit/…. Continue to follow us as we honor women e-lit pioneers & visionaries throughout the rest of the month of March! #womenofelit
Day 26: Thursday, March 26
It's Day 26 of Women's History Month & we honor Cathy Marshall, a Principal Researcher in Microsoft Research's Silicon Valley Lab. She collaborated w/Judy Malloy on Forward Anywhere, a hypertext work "exchange[d] the remembered & day-to-day substance of our lives" #womenofelit
Sue Thomas is the founder of the digital community, trAce Online Writing Centre & a noted writer who explored the impact of computers & the net on everyday life. She coined the term technobiophilia to describe the innate tendency to focus on life & lifelike processes #womenofelit
Gwen Le Cor is a Professor at U Paris 8 & a member of the "Transferts critiques et dynamique des savoirs" research lab. She authored "From erasure poetry to e-mash-ups, "reel on/ another! power!," an essay that examine print & digital forms of writing #womenof elit
Kia Mennie is known for her work with hypertext theory research. She created the collection of Essays on hypertext and literary theory. She ran the listserv ht_lit and authored many essays including, ""Hypertext and literary things." #womenofelit
Joellyn Rock teaches digital art & filmmaking at UMD. Her creative work includes digital print, interactive narrative, & experimental multimedia in a range of hybrid text/image/video projects. She helped establish the Motion & Media Across Disciplines Lab (MMAD lab)#womenofelit
You can see the archive of all of the posts associated with our celebration of Women's History Month at http://dtc-wsuv.org/wp/ell/2020/02/29/celebrating-women-in-e-lit/… #womenofelit
Day 27: Friday, March 27
We welcome you back to our Women's History Month celebration of women pioneers and visionaries. Today we are honoring 7 women pioneers and visionaries of e-lit #womenofelit
An Mertens [BE] is a member of Constant, a Brussels-based artist-run org. for art & media w/a focus on free software, feminist methodologies & free culture. Her experimental novel Tot Later is published by De Bezige Bij Antwerpen #womenofelit
Hazel Smith works in the areas of poetry, short prose, performance, mixed-media work & hypermedia. She has written several commissioned works for radio & co-authored of numerous multi-media and hypermedia works. She is also a founding member of austraLYSIS #womenofelit
Alice van der Klei is a specialist in hypertext at the U of Montreal. She served as a post-doctoral fellow at NT2 & editor & co-founder of blueOrange. She is a lecturer at UQAM & head of the Observatory of the Contemporary Imaginary in Figura #womenofelit
Milène Tournier's research focuses on autobiography, the body, play & redefinition of the intimate in terms of online sharing on various web platforms. She practices video writing & publishes the contemporary poetry review Place de la Sorbonne #womenofelit
Jessica Pressman is a scholar of 20th & 21st C experimental lit, digital poetics & media theory. She is author of Digital Modernism (2014); Reading Project (w/Mark Marino & Jeremy Douglass, 2015); & co-editor of Comparative Textual Media (w/N. Katherine Hayles, 2013) #womenofelit
Marie-Laure Ryan is an independent scholar who served as a Johannes Gutenberg Fellow at the U of Mainz. She's known for Avatars of Story (2006); Cyberspace Textuality (1999); Intermediality and Storytelling (2010); Routledge Encyclopedia of Narrative Theory (2005) #womenofelit
Maria Engberg holds a Ph.D. in English & is head of the research program Data Society. She is Affiliate Researcher w/the Augmented Environments Lab at Georgia Tech. Research interests include DH, computational media, XR, media theory, urban media & media aesthetics #womenofelit
The list we have been working on now includes 278 women e-lit pioneers & visionaries. Watch for the final post on Tuesday that gives all their names #womenofelit
Day 28: Saturday, March 28
Day 28 of our Women's History Month celebration. Today we honor Janet Walker, a hypertext specialist who developed the Symbolics Document Examiner, the 1st widely used hypertext-based application, which game way to other authoring systems including Hypercard #womenofelit
Lucile Haute is an artist & researcher at EnsadLab & the U of Nîmes. Her research focuses on hybrid forms of narrative, artists' books & printed or digital editions. She studies & embodies the contemporary cyborg, performing at the edge of tangible & digital spaces #womenofelit
Donna Leishman is an innovative electronic author whose work combines critical writing & research in digital art, creating narratives based on historic and folkloric myth. Some of her works include RedRidingHood and Deviant: The Possession of Christian Shaw #womenofelit
Tess Tanenbaum is a game designer, artist, maker at the U of California-Irvine where she is a founding member of the Transformative Play Lab. Her work has been funded by Canada's GRAND NCE initiative, and the Canadian Heritage New Media Research Networks Fund #womenofelit
Gaëlle Théval is an Assoc. Prof. at the U of Rouen (IUT) where she researches poetry and the arts, intermedialities; modernity & the avant-garde, & contemporary poetry. She also works in collage, montage, poetic ready-made, poetry and performance, & poetry and media #womenofelit
Caterina Davino is an Italian writer, poet & multimedia artist whose work has been exhibited in the Biennials of Sydney, Lyon, Athens, Merida, Liverpool (Independents), Hong Kong, Manifesta, & Venice Biennale. She is the author of many award-winning books of poetry #womenofelit
Claire Taylor is the author of Electronic Literature in Latin America: From Text to Hypertext, the 1st comprehensive look at new genres in a Latin American context, "combin[ing] close textual analysis w/attention to…socio-political concerns and contexts" #womenofelit
Olia Lialina is a pioneering net artist & theorist, experimental film & video critic, curator known for many media art works, including My Boyfriend Came Back From The War (1996) & One Terabyte of Kilobyte Age (w/ Dragan Espenschied, 2011) #womenofelit
We will continue tomorrow with our celebration and hope you will follow us and repost our tweets as a way to honor these amazing women during Women's History Month #womenofelit
Day 29: Sunday, March 29
Day 29 of our celebration during Women's History Month. We honor Katie Schaag, an artist, writer, curator, & educator. She's a Brittain Fellow at GATECH who develops curricular materials for emerging "smart media" genres such as visual & sonic essays & presentations #womenofelit
Jill Walker Rettberg is professor of digital culture at the U of Bergen, & PI of the ERC project MACHINE VISION, & leader of the DH Network. Her earlier research is on storytelling and self-representation in social media that built upon digital art, e-lit & DH #womenofelit
Eman Younis is Head of the Dept. of Arabic Language & Literature at Beit Berl College who has authored numerous papers about e-lit, such as Interaction Between Art and Literature in Arab Digital Poetry (2015); The Development of Digital Arab Literature(2011) #womenofelit
Ali Rachel Pearl is a Postdoctoral Fellow at the USC. Her creative work and scholarship appear in Kenyon Review Online; Ada, New Media, & Technology; Cosmonauts Avenue; Hyperrhiz: New Media Cultures; Redivider; DIAGRAM; The New York Times; and elsewhere #womenofelit
Pat Badani is an artist, researcher, writer, & editor born in Buenos Aires. Her work has been showcased at ISEA; Transmediale; New Forms Festival; FILE; Canadian Cultural Center Paris; & Museo de Monterrey. Her research has been published in Leonardo & in books #womenofelit
Oni Buchanan is a poet whose poems have been published in more than 50 print & online journals, including Bennington Review, Columbia Poetry Review, Seneca Review, & many more. Her large-scale kinetic poem, "The Mandrake Vehicles," is included in ELO's ELC2 #womenofelit
Angela Ferraiolo is a visual artist working with adaptive systems, noise, randomness, & generative processes. Her work has been screened at the Nabi Art Center (Seoul), SIGGRAPH, ISEA, the NY Film Festival, & the International Conference of Generative Art #womenofelit
We are nearing the end of our celebration. Watch for shout outs to 16 more women e-lit pioneers & visionaries over the next two days. Check out our archives of all posts at http://dtc-wsuv.org/wp/ell/2020/02/29/celebrating-women-in-e-lit/… #womenofelit
Day 30: Monday, March 30
Day 30 of our Women's History Month celebration! Today we begin by honoring Polle Zellweger, who teaches at the U of Washington & specializes in the evaluation of novel computing systems using multimedia, hypertext, & mobile devices #womenofelit
Jody Zellen is a LA-based artist known for interactive installations, public art, exhibitions & art criticism. Her artistic practice includes apps, net art & digital animation. Her exhibition "Poetic Codings" was the nation's 1st touring exhibition of artists' apps #womenofelit
Mia Zamora is an Assoc. Prof. at Kean U & a scholar of e-lit, a digital humanist, and a #connectedlearning who writes about how digital technologies are transforming education in the 21st C. She was the 2017-8 Fulbright Scholar of Digital Culture at the U of Bergen #womenofelit
Laura Vasquez is an artist & scholar working out of Marseille who has produced 6 books, 1 anthology, & numerous pieces for radio and museums, including Un peu in Memoryscapes, Myrdal Soundlab (2013) #womenofelit
Alison Knowles is a visual artist & founding member of Fluxus. She began experimenting w/digital poetry in the 1960s w/The House of Dust, the 1st computer-generated poem (w/ James Tenney). She has been awarded a Guggenheim, NEA grants & CAA Lifetime Achievement Award #womenofelit
Melinda White teaches at the U of New Hampshire specializing in digital composition & storytelling, multimodal & immersive narratives, postmodern & electronic literature. She has authored 11 works of e-lit, including "The Duality of Strings, Subatomic Love Song" #womenofelit
Sharon Daniel is a media artist who produces interactive documentaries focused social, economic, environmental & criminal justice. Her work, Public Secrets (2008), is an interactive website w/sound clips & textual narratives from female inmates in CA State Prisons #womenofelit
Tomorrow our celebration ends. Join us to learn about women e-lit pioneers & visionaries who have grown the field. Remember, you can see the names of all women we have honored during Women's History Month at http://dtc-wsuv.org/wp/ell/2020/02/29/celebrating-women-in-e-lit/
Day 31: Tuesday, March 31
The last day of our Women's History Month celebration! Today we begin by honoring Diana Reed Slattery, author of Glide, exhibited at 7th Biennial Symposium on Art & Tech (1999); IEEE Symposium on Visual Language (1999); FILE (2001); & Technopoetry Festival (2002) #womenofelit
Millie Niss is a noted web-based artist whose work has been published at http://wordcircuits.com, Hyperrhiz, The Museum of the Essential & Beyond That, trAce, and others. A full list of her publications on the web is at http://sporkworld.org/webpub.html #womenofelit
Melinda Rackham is 1 of the 1st Australian curators of Internet Art & known for the 1995 exhibition WWWO: Wollongong Worlds Women. Her art has been exhibited at FILE, ISEA, & EMAF. She's also founder of the online forum, _empyre_. #womenofelit
Ana Maria Uribe was an Argentinian visual poet who authored Tipoems and Anipoems, both as an artists book & later with Macromedia Director on CD-ROM. Her work described as "lettristic/concrete" & "typographic" has been translated into English & available on the web #womenofelit
Natalia Fedorova is a new media artist, writer, literary scholar & translator. She has authored publications on avant-garde poetry, kinetic poetry, concrete poetry, hyperfiction, literary text generators & video poetry. She is also curator & creator of VIDEO.txt #womenofelit
Christine Wilks is a digital writer & artist of interactive narratives & playable media. "Underbelly" won the New Media Writing Prize 2010 & the MaMSIE Digital Media Competition 2011. Her work is published in online journals, exhibitions & anthologies, including ELC2 #womenofelit
Lehan Ramsay was an educator, arts activist, photographer, painter, curator, writer and artist involved in the Brisbane/Queensland artist-run scene during the 1980s and 1990s. Her net art was included in The Progressive Dinner Party and in frAme 5 #womenofelit
Patricia Tomaszek was the recipient of the 2010 U of Bergen PhD-scholarship. Since 2007 she has worked with ELO on the Electronic Literature Directory. She also has worked with the research group "Literature in Nets. Net Literature" at the U of Siegen #womenofelit
We're glad you joined us during our celebration of Women's History Month. To read the final post about the project that includes the full list of the 279 women e-lit pioneers & visionaries, go to http://dtc-wsuv.org/wp/ell/2020/03/29/let-her-name-be-remembered-a-final-post-about-the-womenofelit-project/… #womenofelit