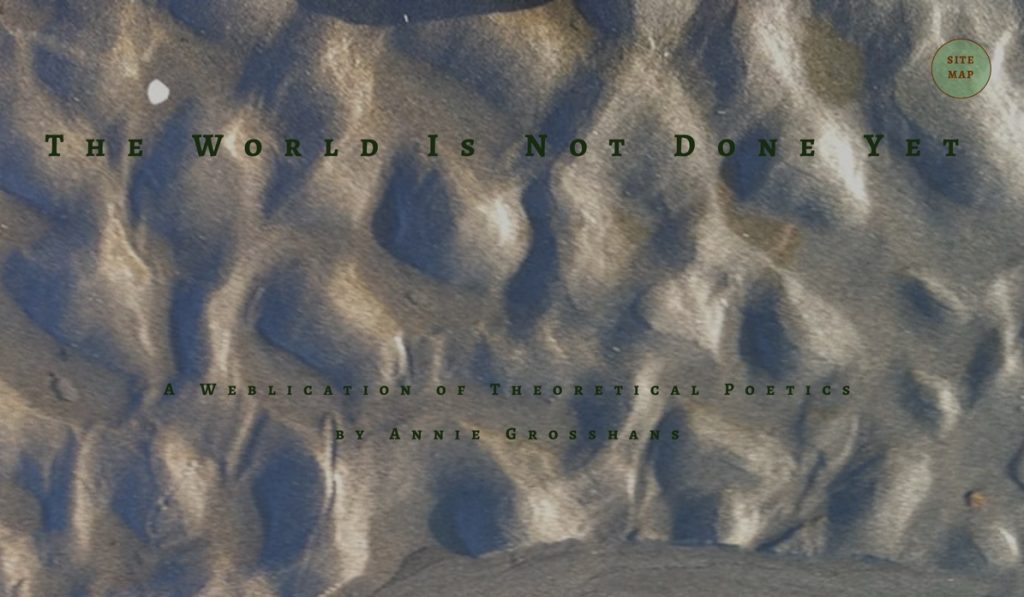 The recoded version of Annie Grosshans' nonfiction hypertext essay, The World Is Not Done Yet, or what we in the lab have lovingly been referring to as TWINDY 2.0, is now online.
TWINDY 1.0 was originally created with Adobe Muse, which since March 26, 2020 is no longer supported by the company. [1] For fear that over time the work would deprecate, Annie reached out to several folks, including Amaranth Borsuk, who recommended to Annie that she get in touch with me to see if my lab could do something to preserve it. The ELL Team considered capturing a copy of it via the Webrecorder but decided against this idea since in its original state TWINDY was not mobile responsive nor ADA compliant. Instead, we opted to rework the code to add these features, along with better Search Engine Optimization, user-friendly typefaces, and an updated audio player.
Kathleen began work on the project in late January. After close to two months of wrangling the very inelegant code behind the Muse program, [2] we made the decision to rebuild the work from the bottom up. At that point Greg and Holly both jumped in the project––Greg creating templates for the 53 pages comprising the work, and Holly working to style, add content, code, and edit the work. It took the three of them two weeks to produce the new version, and I am proud to say that it does Annie's gorgeous work the justice it deserves.
There is certainly a more detailed essay than this blog post that will come out of this project. Holly and I agreed this morning that it will take the form of a cautionary tale about proprietary software, embittered already as we are about Adobe's treatment of Shockwave and Flash––and now Muse scratching at our brains. Holly, Kathleen, Greg, and I will certainly address the notion of media translation and talk about maintaining the aesthetic and functionality in the process of moving TWINDY's many animations from MuCow (Muse Configurable Options Widget) to JavaScript, to name but one item that had to be translated. Annie will join us in the paper to talk about the inspiration behind the work and the decisions she made as an artist.
In the meantime, I hope you will enjoy TWINDY 2.0. It has been a labor of love for all of us in ELL.
Notes
[1] Originally released in 2012, the last stable release of the software was April 2018.
[2] The CSS especially posed difficulty in tracking down typefaces on pages.