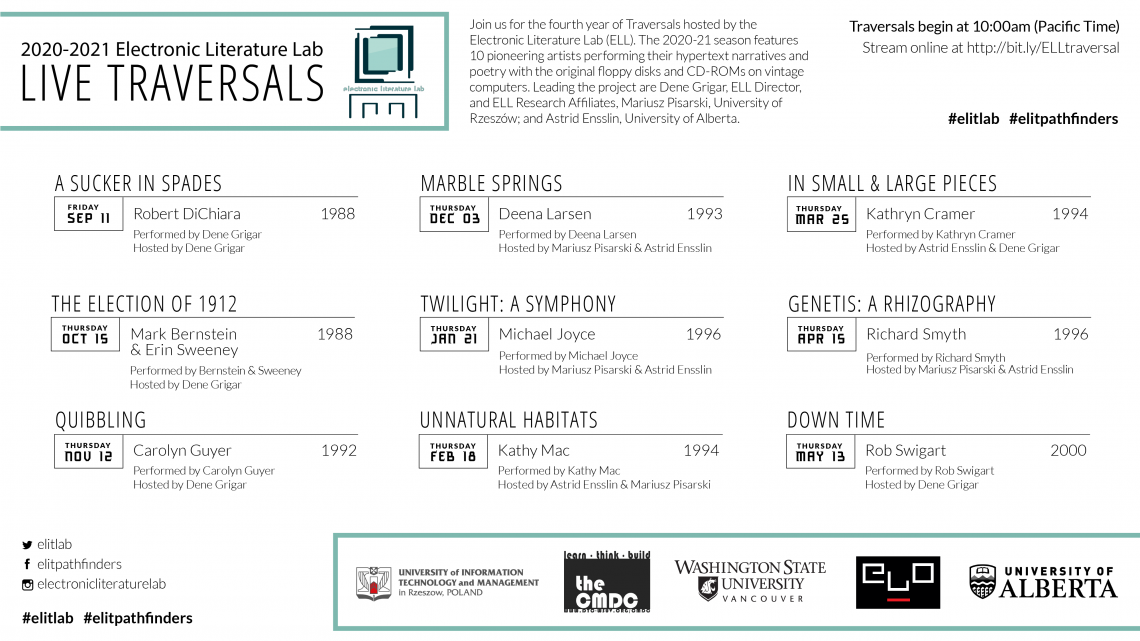 2020-2021 Traversal Schedule
Continuing with the documentation of born digital literature published on 3.5-inch floppy disks and CD-ROMs between 1986-2014, the Electronic Literature Lab is excited to announce the 2020-2021 Traversal Schedule. Additionally we are honored to be collaborating with two prominent scholars in the field––Mariusz Pisarski (Poland) and Astrid Ensslin (Canada)––in order to expand the Traversal schedule to nine works and the publication output for the Rebooting Electronic Literature series to Volumes 4 & 5.
The Traversal process will differ from previous years due to the COVID-19 pandemic. Because we cannot bring authors to the lab to perform at the event, we are experimenting with remote performances via YouTube Live. The URL to the events will be made available at the beginning of September.
Note that we are finalizing the February Traversal. A special thank you to Holly Slocum, ELL's Project Manager, for creating the digital flyer for the project.
Schedule
Friday, September 11, 10-11:30 am PDT: Robert DiChiara, A Sucker in Spades (1988), performed by Dene Grigar and led by the ELL Team
Thursday, October 8, 10-11:30 PDT: Bernstein and Sweeney, The Election of 1912 (1988), performed by the authors and led by the ELL Team
Thursday, November 12, 10-11:30 PST: Carolyn Guyer, Quibbling (1992), performed by the author and led by ELL Team
Thursday, December 3, 10-11:30 PST: Deena Larsen, Marble Springs (1993), performed by the author and led by Pisarski
Thursday, January 21, 10-11:30 PST: Michael Joyce, Twilight: A Symphony (1996), performed by the author and led by Pisarski
Thursday, February 18, 10-11:30 PST: TBA
Thursday, March 25, 10-11:30 PST: Kathryn Cramer, In Small & Large Pieces (1994), performed by the author and led by Ensslin
Thursday, April 22, 10-11:30 PDT: Richard Smyth, Genetis: A Rhizography (1996), performed by the author and led by Pisarki
Thursday, May 13, 10-11:30 PDT: Rob Swigart, Down Time (2000), performed by the author and led by the ELL Team