Traversal of Bernstein and Sweeney's The Election of 1912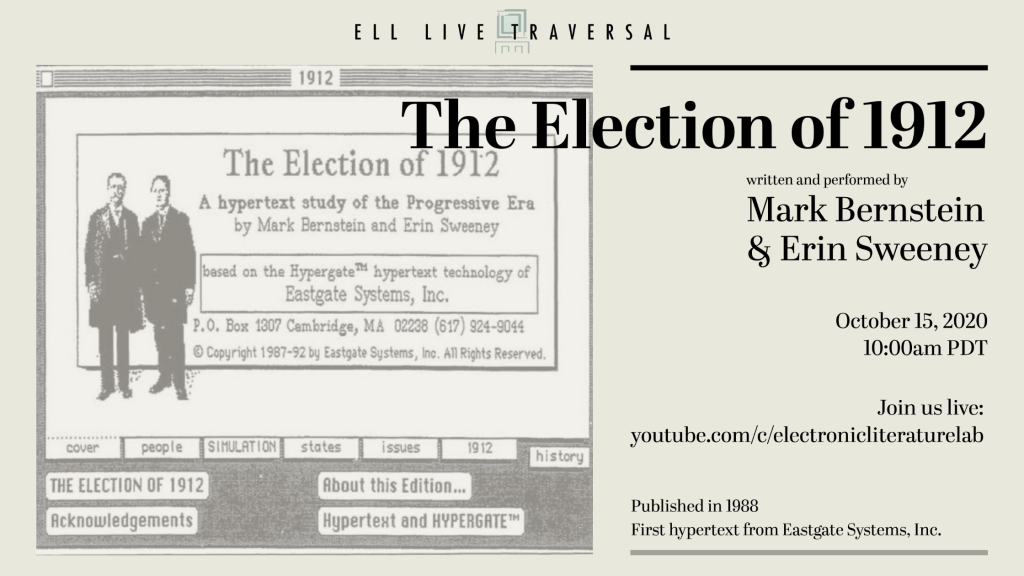 Join us for the second of nine Traversals this year, The Election of 1912, performed by authors, Mark Bernstein and Erin Sweeney. Because The Election of 1912 is the first of 48 born-digital works published by Eastgate Systems, Inc., this event should be of interest of scholars of hypertext studies, electronic literature, early digital culture, material culture, and electronic writing. Also of interest to an Americans audience is the political ramifications of the 1912 election: Woodrow Wilson, a Democrat, ran against incumbent Republican president, Howard Taft, and 3rd party candidate Theodore Roosevelt of the Bull Moose Party, and won. It was the first time since 1892 that a Democrat had won the presidency and with only 41.8% of the popular vote.
The Election of 1912 is a rare work, published on a 3.5-inch floppy disk in 1988. It was released without packaging as many floppy disks were during that period. A Mac Classic running System Software 6.0.3 will be used for accessing the work.
This event is hosted by the Electronic Literature Lab (ELL) at Washington State University Vancouver, directed by Dene Grigar. Collaborating this year on the Traversals are ELL Affiliate Scholars Mariusz Pisarski and Astrid Ensslin. Bernstein and Sweeney will perform remotely and live on YouTube, guiding Grigar via Zoom on the computer in the lab. The audience can interact via YouTube Chat and participate in the Q&A with the authors after the Traversal. Sound artist John Barber will be handling the sound and videographer David Alonzo, the video production. Greg Philbrook will oversee the technical production and Holly Slocum and Kathleen Zoller, the dissemination of information across social media platforms during the event. The video captured from YouTube will be made available on Vimeo and in the 4th volume of lab's annual publication, Rebooting Electronic Literature.