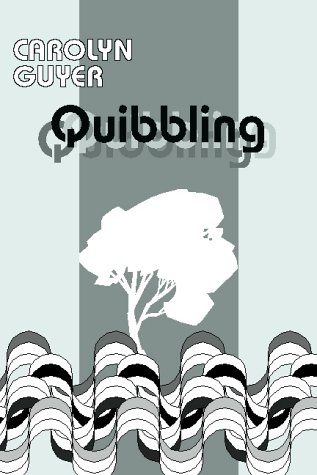 Traversal of Carolyn Guyer's Quibbling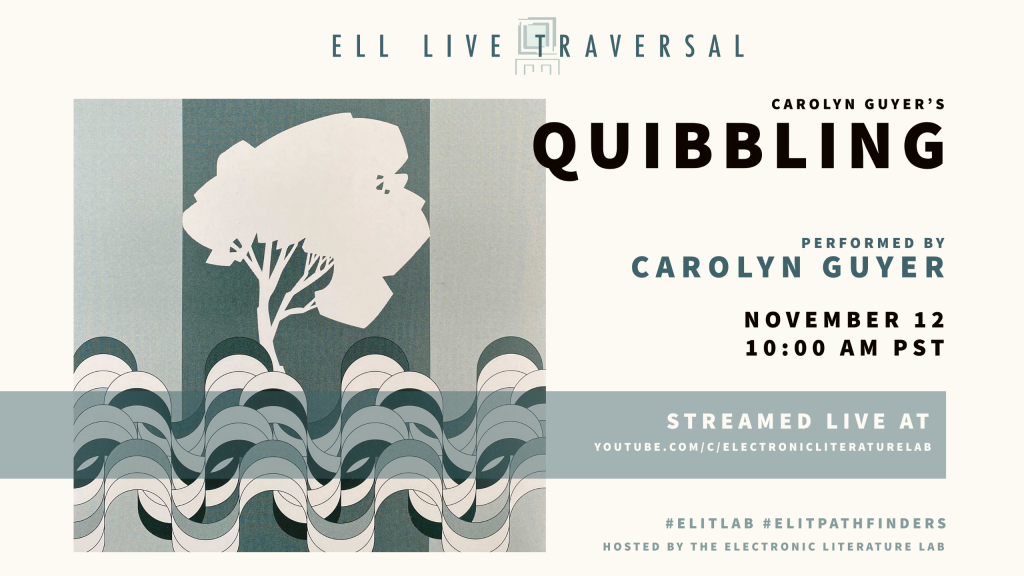 Thursday, 11/12, 2020
10 a.m.-11:30 a.m. PST
Live on YouTube: http://youtube.com/c/electronicliteraturelab
#ELitLab
Join us for a live YouTube event: A playthrough of Carolyn Guyer's hypertext narrative Quibbling (1992, 1996). For the playthrough we'll be using the 3.5-inch floppy disk version on a Macintosh Classic II, running System Software 7.1. Performing the work is the author Carolyn Guyer. Following her performance there will be a Q&A that includes the author, hypertext scholar and ELL Research Affiliate, Mariusz Pisarski, and Dene Grigar. Safety precautions due to COVID-19 means we will be using a combination of Zoom, YouTube, and OBS software to allow Guyer from New York State to remotely guide Grigar in Vancouver, WA to navigate the work from her lab in Vancouver, WA. As a participant in the event, you will be able to post questions in the YouTube Chat to the authors about their work that they will then answer in the Q&A.
Schedule
10-10:15 a.m.: Grigar's introductory comments
10:15-11:00 a.m.: Guyer's Playthrough
11:00-11:30 a.m.: Q&A with Guyer, Pisarski, and Grigar

Media Channels
YouTube: https://www.youtube.com/channel/UCzeZQ05p_1Tli0lDBeWMxOA/live
Facebook: https://www.facebook.com/elitpathfinders/
Twitter: @ELitLab
During the event we will be posting photos and commentary on Facebook and Twitter.

About the Author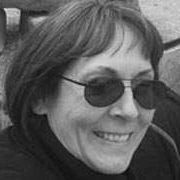 Among the early wave of hypertext fiction writers, Carolyn Guyer is the author of Quibbling, published by Eastgate in 1992. Her other hypertexts include a collaborative fiction, Izme Pass, with co-authors Martha Petry and Michael Joyce; Lasting Image, with co-author Michael Joyce, published by Eastgate on the web in 1999; and Sister Stories, with co-authors Rosemary Joyce and Michael Joyce, published by NYU Press Online, 2000. In 1993, Guyer also founded HiPitched Voices, a women's hypertext collective that helped to launch the Hypertext Hotel at Brown University. Guyer originally came to hypertext as a mixed-media visual artist, and in recent years has turned to textiles as her primary visual art interest. It was in this medium that she and Michael Joyce created More Than a Year, an art book poem on canvas, translated into Polish and published in the post-disciplinary journal on contemporary culture Ha!art in 2013. Now retired, she was Director of Web Development at Vassar College in Poughkeepsie, New York.
Called by Carolyn Guertin "the mother of feminist hypertext," Quibbling was originally released on a 3.5-inch floppy disk for Macintosh computers in 1992 and re-released on CD-ROM in 1996 for both Macintosh and Windows computers. Guyer began laying out the work in Olathe, Kansas and finished it alone in a cottage in Manistee, Michigan near Lake Michigan, writing as many as 12 hours a day (Sloane 135). Guyer revealed in her essay for Leonardo that water figures largely as a metaphor in the work because of the influence of the lake. Specifically, it represents womanhood and, exceeding it, for 'life itself'" (74). Guyer herself wrote that the novel focuses on "how women and men come together" (Guyer 258). Hypertext as a platform provides the foundation for Guyer's vision. As she says, the novel is about "the stories we tell everyday. The gossip, family discussions, letters, passing fantasies and daydreams that we tell ourselves and each other almost all day in order to make sense of things. They are not "whole stories" like literary fiction. They are instead the small bits, intimate and personal, that get us through a day, string together the days, eventually, seen from a distance, create the patterns of a life." The novel also serves as "a model of how women in particular tell each other their stories" (136). Quibbling, which connotes trivial arguments people have with one another rather than large conflicts and struggles, therefore reflects the quotidian, ordinary, and daily living among and with others, specifically the four couples in the novel. from the perspective of the women in each couple. Guyer says that she deliberately constructed Quibbling to encourage readers *to invent reading it* and also to make changes in it if they wished" (137).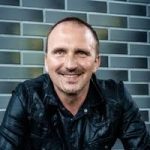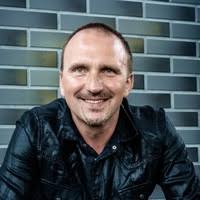 About Mariusz Pisarski
Mariusz Pisarski is an electronic literature researcher, editor, producer and translator. He is the author of "Xanadu: Hypertextual metamorphosis of fiction" (Kraków, 2013) and holds a PhD on communication and semiotics of new media from Adam Mickiewicz University in Poznan, Poland. In 2012 his dissertation received an award from the National Centre for Culture (Warsaw). His digital literary projects, as well as talks about digital art and culture, have been presented at contemporary art spaces in Paris (Centre Georges Pompidou, Biblioteque Francais), Warsaw (Galeria Foksal, Czuły Barbarzyńca), Kraków (Bunkier Sztuki, Mocak), Polish Institute in Bratislava, Kosice and Vancouver. His translations of American digital literature include hypertext novels afternoon, a storyand Twilight. A Symphony by Michael Joyce; Hypertextual Counsciousness by Mark Amerika, L0ve0ne by Judy Malloy; Hegirascope by Stuart Moulthrop; and Sea and Spar Between by Stephanie Strickland and Nick Montfort (with Monika Górska-Olesińska). He also serves as editor of "Techsty" – journal on new media and literature and creative director for multimedia in Korporacja Ha!art from Cracow. Pisarski has joined the Electronic Literature Lab at Washington State University as a Research Affiliate in 2020-2021.
References
Ensslin, Astrid. Canonizing Hypertext: Explorations and Constructions. NY, NY: Continuum Press, 2007. 74-75.
Guertin, Carolyn. "Queen Bees and the Hum of the Hive: An Overview of Feminist Hypertext's Subversive Honeycombings." BeeHive 1.2 July 1998. https://elo-repository.org/beehive/archive/12arc.html.
Guyer, Carolyn. Quibbling. Watertown, MA: Eastgate Systems, Inc., 1992, 1996.
—. "Quibbling: A Hyperfiction." Leonardo26.3 (1993): 258.
Sloane, Sarah. Digital Fictions: Storytelling in a Material World. Stamford, CT: Ablex Publishing, 2000. 134-138.