Welcome 2021 ELO Fellow Sean Braune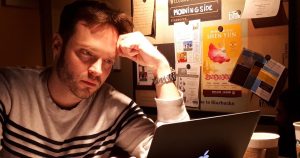 ELL is very pleased to welcome its 2021 ELO Fellow, Sean Braune.
Sean, who will be working directly under Professor Will Luers on the publication, The Digital Review, is a scholar, writer, and filmmaker. He has authored the full-length poetry collection, Dendrite Balconies (University of Calgary Press, 2019) and the philosophy book Language Parasites: Of Phorontology (Punctum Books, 2017). He has recently completed post-production on his first feature-length film, Nuptials, which has been submitted to several international film festivals.
After completing a PhD at York University, he held a Canadian Social Sciences and Humanities Research Council (SSHRC) Postdoctoral Fellowship at Brock University. He has had theoretical work published in Postmodern Culture, Western American Literature, Journal of Modern Literature, Canadian Literature, symplokē, Open Philosophy, and elsewhere, and his poetry has appeared in publications like The Puritan, Rampike, and Poetry is Dead. From 2012-2015, he was invited to speak at the graduate level at Yale University on the topic of avant-garde visual poetry.