Woman E-Lit Event & Initiatives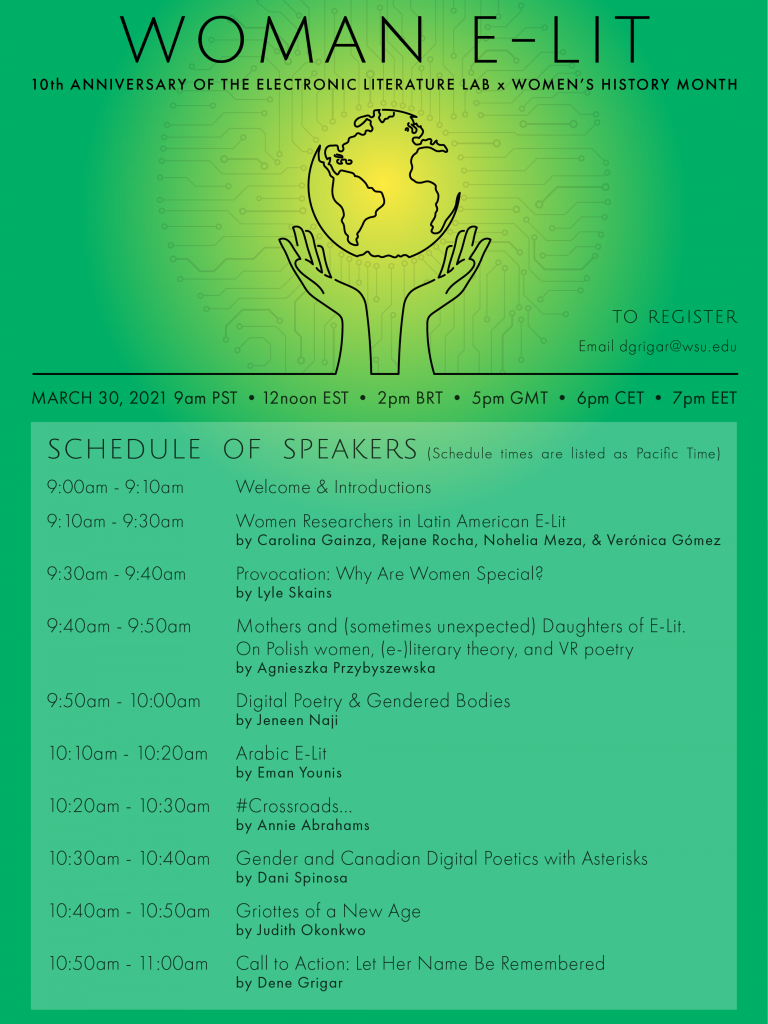 Welcome to Woman E-Lit, a very special symposium that took place on March 30, 2021 during Women's History Month celebrating women who have contributed to the field of electronic literature. It also celebrated the 10th anniversary of the founding of the Electronic Literature Lab (ELL). The two events intersect in that it was important to the ELL Team to celebrate the lab's anniversary in a way that speaks to it mission––that is, to curate, document, preserve, and produce born digital literary works and other media. Hosting a symposium where women could come together to amplify achievements, provide a space of free and welcomed expression, and celebrate you, us, all of us, whether here today or not seemed to be the most joyful way to accomplish this goal.
Video Documentation of the Event
Below are the video clips of each woman or group of women presenting their talks. Visitors to this site can also access the videos at the lab's Vimeo channel: https://vimeo.com/manage/videos.
Dene Grigar, symposium organizer and Electronic Literature Lab director, welcoming participants to the event.
Carolina Gainza, Rejane Rocha, Nohelia Meza, and Veronica Gomez presenting "Women Researchers in Latin American E-Lit"
Lyle Skains presenting "Provocation: Why Are Women Special?"
Agnieszska Przybyszewska presenting "Mothers and (sometimes unexpected) Daughters of E-Lit: On Polish Women, (e-)literary theory, and VR Poetry"
Jeneen Naji presenting "Digital Poetry and Gendered Bodies"
Eman O. Younis presenting "Leading Women in the Field of Arabic E-Lit Culture"
Annie Abrahams presenting "#Crossroads . . ."
Dene Grigar and Lai-Tze Fan introducing Dani Spinosa's talk, "Gender and Canadian Digital Poetics with Astericks"
Judith Okonkwo presenting "Griottes of a New Age"
Dene Grigar making the Call to Action
Speakers' Bios (In Alpha Order)
Annie Abrahams, based in Montpellier, France, has an art practice that meanders between research and performance. In her carefully scripted art, she tends to reveal ordinary human behavior and develops what she calls an aesthetics of trust and attention. She is interested in collaborative practices as a learning place for "being with", and considers behavior as the aesthetic material for her art. In projects like Angry Women (2011-), Distant Feelings(2015-), Online En-semble – Entanglement Training (2018) and Utterings (2019-) Abrahams questions the possibilities and limits of communication in general and, more specifically, investigates its modes under networked conditions. Abrahams is known worldwide for her netart (Being Human – online low tech mood mutators / not immersive. 1996 – 2007), collective writing experiments and is an internationally regarded pioneer of networked performance art. bram.org
Carolina Gainza C. (Sociologist and Master in Latin American Studies, University of Chile; Phd in Hispanic Languages and Literatures, University of Pittsburgh) is an associate professor at the School of Creative Literature and director of the Digital Lab at Universidad Diego Portales (Santiago, Chile). Her main research interests are related to digital culture and digital literature in Latin America, in which she analyses the contemporary modes of cultural production and digital aesthetic experiences in the 21st century. Currently, she is the principal investigator of the research project "Critical Cartography of Latin American Digital Literature" (2018- 2021). She has published more than twenty journal articles and book chapters, along with two books: "Narrativas y poéticas digitales en América Latina. Producción literaria en el capitalismo informacional" (Ebook, Centro de Cultura Digital, Ciudad de México, 2018; Editorial Cuarto Propio, Santiago, 2018) and "La Batalla de Artes y Humanidades" (Ebook, 2020, coauthored with Matías Ayala).
Dr. Verónica Paula Gómez holds a Ph.D. in Humanities from the Universidad Nacional del Litoral (2020) in Argentina and is a research fellow at the Council of Scientific and Technical Research of Argentina (CONICET). Additionally, she holds an MA in Comparative Cultures and Literature (Universidad Nacional de Córdoba, 2015) and a BA in Modern Literature (Universidad de Buenos Aires, 2008). Her research interest focuses on e-literature, examining how it locates itself when it abandons its national roots. Her current postdoctoral project is entitled: "Migrant Forms of Appearance of the Past in Latin American Digital Literature: Memories, Supports, Translations, Corporalities". She is a member of a collective project entitled "Archives in Transition" supported by the European Union (RISE-Marie Curie, Horizon 2020-2024) and is looking forward to the Summer 2021 Semester where she will be teaching and researching in Frankfurt, Germany, facilitated by a DAAD grant. Publications and communications in academic meetings can be found here: https://www.researchgate.net/profile/Veronica-Paula-Gomez
Dr. Dene Grigar is Professor and Director of The Creative Media & Digital Culture Program at Washington State University Vancouver whose research focuses on the creation, curation, preservation, and criticism of born-digital literature and net art. She has authored 16 media works such as "Curlew" (2014) and "A Villager's Tale" (2011), as well as 71 scholarly articles and six books. She has curated exhibits at the British Computer Society and the Library of Congress and for the Symposium on Electronic Art (ISEA) and the Modern Language Association (MLA), among other venues. With Stuart Moulthrop (U of Wisconsin Milwaukee) she developed the methodology for documenting born-digital media, a project that culminated in an open-source, multimedia book, entitled Pathfinders (2015), and book of media art criticism, entitled Traversals (2017), for The MIT Press. Her recent book, co-edited with James O'Sullivan (University College Cork) and published by Bloomsbury Press in 2021, is entitled Electronic Literature as Digital Humanities. Grigar served as President of the Electronic Literature Organization from 2013-2019 and is now the organization's Digital Preservationist. Since 2003 she has been Associate Editor of Leonardo Reviews. In 2017 She was awarded the Lewis E. and Stella G. Buchanan Distinguished Professorship by her university, where she also directs the Electronic Literature Lab.
Nohelia Meza is a researcher in Latin American Digital Literature and Culture. She holds a PhD in Translation and Language Sciences from Pompeu Fabra University Barcelona. She was a visiting research fellow at the University of Leeds UK (CONACYT, 2018-2020), where she developed her postdoctoral project: "Towards a Digital Rhetoric of Latin American Works of Electronic Literature". Her research interests encompass digital rhetoric, discourse analysis, literary translation and Latin American cultural studies. Nohelia is a member of the Latin American Electronic Literature Network (litElat), HStudies Research Group (University of Jyväskylä, Finland), and a collaborator of the e-literature publishing group at The Centre for Digital Culture in Mexico City.
Dr. Jeneen Naji is Practice Coordinator and Digital Media Practice Faculty in the Department of Media Studies in Maynooth University, Ireland where she lectures on the B.A. Media Studies, the M.A. in Critical and Creative Media and the BSc Multimedia, Mobile & Web Development run with the Department of Computer Science. Dr. Naji's research is in the area of digital culture specifically exploring the impact of the digital apparatus on poetic expression. She is also a convener and founding member of the Maynooth University Digital Arts & Humanities Research Cluster and a Fulbright TechImpact Scholar.
Judith Okonkwo is a Technology Evangelist, Business Psychologist and Organisation Development Consultant with experience working in Africa, Asia and Europe. She sits on the Board of the European Organisation Design Forum, advises Startups, not-for-profits and SMEs on emerging technologies and is a guest lecturer at several HEIs. She is also the creator of the Oriki Coaching Model™ and a co-founder of We Will Lead Africa. Judith is a Fellow of the Royal Society of Arts and an Associate Fellow of the British Psychological Society. In 2016 Judith set up Imisi 3D a creation lab in Lagos focused on building the African ecosystem for extended reality technologies (AR/VR/MR), and connecting XR communities across the continent. The lab provides learning opportunities and access to XR resources for creators and enthusiasts, while supporting engagement and adoption by the wider community, and consulting and content creation for clients. In 2018 she set up AR/VR Africa which holds large XR events on the continent, the most recent – the 2020 AR/VR Africa hackathon – had participants from 27 African countries. Judith is especially passionate about the adaptation of immersive technologies to create solutions on the continent, particularly low/mid cost virtual reality, for education, healthcare and storytelling. In 2019, Imisi 3D's VR film production Lagos At Large made the Forbes list of the Top 50 XR Experiences of 2019.
Agnieszka Przybyszewska is an adjunct professor at the Department of Theory of Literature at the Institute for Contemporary Culture at the University of Lodz (Poland). She holds a double degree in Polish literary studies and film&media studies and received her PhD in literary studies from the University of Lodz. She was repeatedly awarded the Ministry of Education Scholarship and in 2006 she was conferred the Czesław Zgorzelski Prize for the best literary master thesis in Poland (it focused on Polish liberature and hypertext). In 2019 she was granted a scholarship in the Bekker Programme of Polish National Agency For Academic Exchange to realize the project Kate Pullinger and innovation in digital writing: from multimodal interactive narrative to haptic, corporeal reading.
Her research interests include diverse forms of textual materialism, especially in its relation to electronic literature and, generally speaking, modern evolution in concept of the book, the act of reading and literature itself. Recently she focuses on haptic and corporeal aspects of reading. She is passionate propagator of new forms of books and literature (including the electronic one) in Poland and she has also a little experience in translating e-literary works into Polish (Loss Of Grasp by Serge Bouchardon and Concepción del dragon by José Aburto Zolezzi).
Agnieszka was a co-author of a new programme of Creative Writing studies at the University of Lodz, where she teaches among others on narrative forms and visual, material and electronic literature. She is an author of monograph on liberature (Liberackość dzieła literackiego, Lodz 2015) as well as of several dozen articles on e-lit (in Polish, English and Spanish) published in peer-reviewed journals and collective academic publications. Currently she is working on the book Krótkie wprowadzenie do literatury elektronicznej (Electronic Literature. A Very Short Introduction).
Rejane Rocha holds a PhD in in Literary Studies and a professor at the Federal University of São Carlos, where she works in the undergraduate courses in letters and in the Postgraduate Course in Literature. She coordinates the Observatory of Brazilian Digital Literature Research Group. His research is related to contemporary Brazilian literature and to the production, circulation, reading and legitimization of digital literature. His current research project aims to build the first archive of Brazilian digital literature.
Lyle Skains researches and teaches Creative Digital Writing and Science Communication, conducting practice-based research into writing, reading/playing, publishing digital and transmedia narratives, and how these can be used for health and science communication. Her recent digital fiction includes No World 4 Tomorrow for the You & CO2 project, and Only, Always, Never for the Infectious Storytelling project; both works were designed to effect social change. She is the founder of Wonderbox Digital, a marketplace for digital fiction, aiming to explore innovations in digital and online publishing and creativity, and the Opening Up Digital Fiction Writing Competition. She is also a judge in the New Media Writing Prize, and an editor on the Electronic Literature Collection, volume 4. Her digital fiction can be found at lyleskains.com; articles in Convergence, Digital Creativity, and Computers and Composition; and books with Cambridge UP (Digital Authorship), forthcoming Emerald (interdisciplinary scicomm) and Bloomsbury (convergent evolution of mainstream digital fiction). She is currently a Senior Lecturer in Health and Science Communication at Bournemouth University.
Dani Spinosa is a Canadian scholar and poet. Her work investigates the role of authorship and anarchist politics in digital and print-based experimental poetry. She is the author of one scholarly manuscript, nine peer-reviewed academic articles, four poetry chapbooks, and over a dozen literary publications. She is the managing editor of the Electronic Literature Directory, an adjunct professor of English at York University and Sheridan College, and a founding co-editor of the feminist experimental micropress Gap Riot.
Dr. Eman Younis is Head of the Department of Arabic Language and Literature at the Academic College for Education–Beit Berl. Her research focuses on Modern Arabic Literature, Digital Literature, Learning and Teaching Arabic language, and Digital Literacy. Last year, she co-published a book titled Artistic Literary Interaction in Digital Poetry. Currently, she is working on publishing two new books on Arabic Literature and Palestinian Literature.
Call to Action: "Let Her Name Be Remembered"
Honoring women who grew the field of electronic literature has been an ongoing project of the Electronic Literature Lab. Last year's celebration during Women's History Month ended with the names of 280 women highlighted in the final post. Picking up on this thread, this year's celebration will result in the creation of a Wikipedia page on the topic of women in e-lit and the continuation of our efforts to document the work of women in the field by adding the names of women to the scholarly database, ELMCIP.net. So, we ask you for your help in remembering all of their names. Contact Dene Grigar and Lyle Skains with those not mentioned below.
A
Annie Abrahams, Deanne Achong, Hannah Ackermans, Laurie Anderson, Maria Angel, Ingrid Ankerson, Megan Sapner Ankerson, Josephine Anstey, Kate Armstrong, Mary-Kim Arnold, Manaíra Aires Athayde
B
Pat Badani, Laurie Baker, Cheryl Ball, Di Ball, Katarzyna Bazarnik, Eugenia Prado Bassi, Giselle Beiguelman, Gracia Bejjani, Alice Bell, Zoe Belof, Kathi Inman Berens, Annick Bergeron, Caroline Bergvall, Susanne Bergenheger, Stephanie Boluk, Natalie Bookchin, Laura Borràs, Amaranth Borsuk, Mez Breeze, Nathalie Brilliant, Lola Brine, Nancy Buchanan, Oni Buchanan, Helen Burgess
C
Françoise Cahan, Licia Calvi, Lucille Calmel, Diane Caney, J. R. Carpenter, Linda Carroli, Amy Sara Carroll, Françoise Chambefort, Rachel Charlus (Jean Pierre Balpe), Davida Charney, Jules Chatelain, Allison Clifford, Martha Conway, M. D. Coverley (Marjorie Coverley Luesebrink), Kathern Cramer, Maria Damon, Agnes de Cayeux
D
Sharon Daniel, Francesca da Rimini, Ana Marques da Silva, Chrystin Davies, Caterina Davino, Juliet Davis, Jennifer Dellner, Christy Dena, Debra di Blasi, Claire Dinsmore, Giovanna Di Rosario, Oreto Doménech, Claire Donato, J Yellowlees Douglas, Louise Druhle
E
Adrian Eisen, Lori Emerson, Angie Eng, Maria Engberg, Astrid Ensslin, Tina Escaja (Ama Pérez)
F
Lai-Tze Fan, Odile Farge, Natalia Fedorova, Alicia Felberbaum, Clara Fernandez-Vara, Angela Ferraiolo, Heike Fiedler, Caitlin Fisher, Claire Fitch, Mary Flanagan, Penny Florence, Vera Frenkel, Elaine Froelich, Erika Fülöp
G
Belén Gaché, Carolina Gainza, Dora García, Luciana Gattass, Hortense Gauthier, Geniwate, Susan Gibb, Anna Gibbs, Michelle Glaros, María Goicoechea de Jorge, Verónica Gómez, Samantha Gorman, Monika Gorska-Olesinka, Jacqueline Goss, Zhor Gourram, Diane Greco, Jo-Anne Green, Dene Grigar, Diane Gromala, Annie Grosshans, Carolyn Guertin, Anaïs Guilet, Carolyn Guyer
H
Auriea Harvey, Lucile Haute, N. Katherine Hayles, Megan Heyward, Janet Holmes, Teri Hoskin, Riham Hosny, Kathy Rae Huffman, Angelica Huízar, Zuzana Husárová
J
Shelley Jackson, Sarah Jacobs, Lori Janis, Cynthia Lawson Jaramillo, Natalie Jeremijenko, Lisa Jevbratt
K
Nina Kahlo, Nancy Kaplan, Yael Kararek, Anne Sofia Karhio, Aya Karpinski, Jayne Fenton Keane, Judy Kendall, Judith Kerman, Kikiyama, Deb King, Lisbeth Klastrup, Flourish Klink, Elizabeth Knipe, Alison Knowles, Elena Knox, Claudia Kozak, Kari Kraus
L
Nathalie Lacelle, Jess Lacetti, Jeanette Lambert (Jean Net), Dorothy Lang, Tina LaPorta, Deena Larsen, Claire Larsonneur, Brenda Laurel, Kerry Lawrynovicz, Leah Lazariuk, Gwen LeCor, Donna Leishman, Cathérine Lenoble, Jennifer Ley, Olia Lialina, Lee Libby, Dolores Romero López, Jacalyn Lopez-Garcia, Liz Losh, Margie Luesebrink (M. D. Coverley)
M
Kathy Mac, Daniela Côrtes Maduro, Aleksandra Malecka, Judy Malloy, Cathy Marshall, Julie Ann Martin, Pauline Masurel (Mazzy), Stacey Mason, Christina McPhee, María Mencía, Kia Mennie, An Mertens (Anaïs Berck), Albertine Meunier, Nohelia Meza, Juliette Mezenc, Kate Monro, Adelaide Morris (Dee), Petra Mueller, Janet Murray, Elli Mylonis
N
Anna Nacher, Jeneen Naji, Jocelyn Nanard, Moneca Nepote, Elizabeth Nesheim, Ruth Nestvold, Millie Niss, Katharine Norman
O
Jaishree Odin, Judith Okonkwo, Karen O'Rourke, Érika Ortega
P
Ula Pawlicka, Celia Pearce, Ali Rachel Pearl, Amy Pearl, Martha Petry, Regina Pinto, Thea Pitman, Julia Polyck-O'Neill, Cécile Portier, Jessica Pressman, Sally Pryor, Kate Pullinger, Agnieszka Przybyszewska
R
Melinda Rackham, Rita Raley, Sonja Rapoport, Lehan Ramsay, Anja Rau, Jill Walker Rettberg, Marine Riguet, Raquel Rivera, Rejane C. Rocha, Joellyn Rock, Johannah Rodgers, Fred Romano, Teri Rueb, Marie-Laure Ryan
S
Alexandra Saemmer, Anastasia Salter, Christy Sheffield Sanford, Laura Sánchez, Amelia Sanz, Perla Sasson-Henry, Alex Saum-Pascual, Ariane Savoie, Claire Savoie, Katie Schaag, Patricia Seaman, Phoebe Sengers, Laura Shackelford, Emily Short, Lyle Skains, Diana Reed Slattery, Hazel Smith, K. E. Smith (Brown), Sarah Smith, Winnie Soon, Cheryl Sourkes, Amy Spencer, Dani Spinosa, Jyanni Steffensen, Helga Stein, Stephanie Strickland, Kim Stringfellow, Lisa Swanstrom, Illya Szilak
T
Tess Tanenbaum, Claire Taylor, Gaëlle Théval, Sue Thomas, Helen Thorington, Patricia Tomaszek, Susana Pajares Tosca, Milene Tournier, Anmarie Trimble, Colette Tron, Pascale Trudel
U
Ana Maria Uribe, Camille Utterback
V
Alice Van Der Klei, Laura Vasquez, Liliana Vasques
W
Gwenola Wagon, Janet Walker, Sara Waterson, Anne Maria Wegenkreuz, Lori Weidenhammer, Victoria Welby, Karin Wenz, Marta Werner, Kim White, Melinda White, Helen Whitehead, Christina Wilks, Roberta Williams, Josephine Wilson, Leonie Winson, Adrianne Wortzel, Nanette Wylde, Anne Francis Wysocki
Y
Jin-Me Yoon, Eman Younis
Z
Paniagua Zalbidea, Mia Zamora, Jody Zellen, Polle Zellweger, Marina Zerbarini, Natalie Zeriff, Marina Zurkow