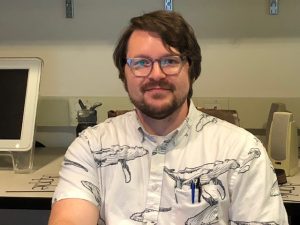 Richard Snyder joins the Electronic Literature Lab as its new Assistant Director on July 1, 2021. He began working with us in March 2021 specifically to fine tune the metadata for the 2500+ works held in The NEXT. His duties expanded into writing descriptions for those works missing that information and serving as a liaison between the lab and artists with collections in The NEXT.
He is a PhD Candidate at Washington State University Vancouver's English Department where his research focuses on intersections of word and images in literary media. As part of his dissertation research, he is currently developing Early Modern Visual Reader (EMVR), a digital platform that remediates the experience of reading early modern literature within its own visual culture. He also teaches Digital Storytelling and Data Visualization for the Creative Media & Digital Culture program at the university.
Welcome, Richard, to ELL! We are so glad to have your energy and brilliance!