PowerBook 520 Drive Transfer
Greg Philbrook is the Technical and Instructional Specialist for the Creative Media & Digital Culture Program. Fortunately for ELL, he also serves as our Tech Guru. In that role, he designed of database for and programmed The NEXT, which has been one of our major outputs this year, one that keeps all of us (especially him) very busy. But he also helps out colleagues at the university when they are in need. Below is a blog post Greg has written that explains the most recent task he undertook for a colleague in Environment Science. It suggests why having a media archaeology lab on the WSUV campus is useful.
——————————————————————-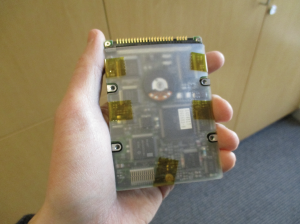 Transferring Data from Outmoded Tech: An Argument for a Media Archaeology Lab, by Greg Philbrook, B.A.
Every now and then, someone will approach the Electronic Literature Lab with an old piece of media and ask for help retrieving its precious contents. This time, the request involved an internal drive from an old PowerBook 520. Since we had a couple of PowerBook 520/c models lying around, I figured that a quick swap and transfer would do the trick.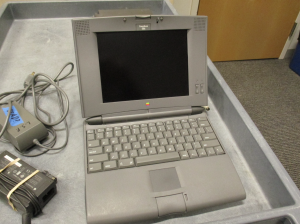 From what we knew, the original machine with this hard drive was from a 520 made about a year prior to our models, but I don't know of any reason why the 520/c wouldn't be compatible with 520 drive. So, I got to work!
It has been a while since I've fiddled with these PowerBooks, but I have to say that the ease of access on the inside is quite a breath of fresh air. Modern laptops have so much crammed into them that they can be a real pain to navigate when performing repairs.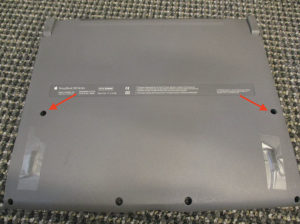 The PowerBook 520/c, on the other hand, only has a few screws and tabs to deal with. In fact, undoing the keyboard only requires going through two screws. After that, you're already at the hard drive. It's beautiful, really.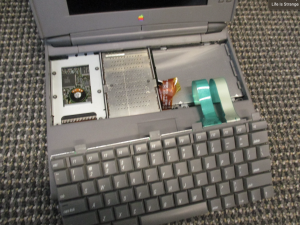 Now, after popping out and replacing the hard drive, it's just a matter of getting the data off the machine. Since we had been asked to grab around 100MB of data, simply pulling the files off through floppy diskettes would be a stable but time-consuming method. Sadly, we don't have any AAUI transceiver for the PowerBook, so even though we have a local network setup for a few of our machines, ethernet is out of the question without tracking one down. Luckily, we have an AppleTalk cable. While not quite a replacement, it helped me get to the next step.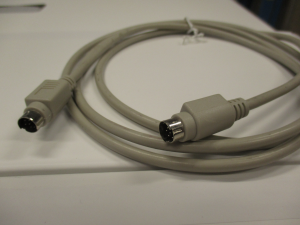 The PowerBook is running System 7.5.4 and the target computer, a G3 All-in-One, is running Mac OS 9.2. While their operating systems and AppleTalk versions are different, the connection only takes a few minutes to setup. A quick stop in the AppleTalk and TCP/IP settings, a trip to the ol' Chooser and we're up and running! The transfer speed is pretty slow, but it does exactly what we need. Half a day later, and all our files are sitting on the new computer.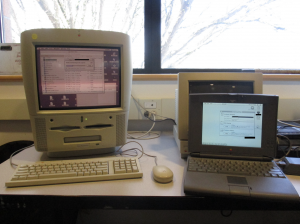 However, that's just the first jump. The All-in-One still can't dump that data onto the external drive our client supplied us with. So, we need to jump one more time. Remember the local network I mentioned earlier? Well, it just so happens that this Power Mac G4 has both a USB port and an active connection to the local network that the All-in-One is also sitting on. Within a few minutes, the transfer is complete! Now that the files are on the G4, it's a cinch to pass them off to the external drive and over to our client. Nice and clean.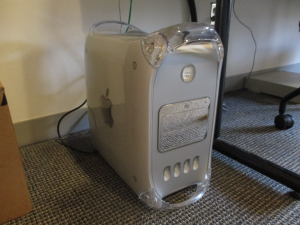 While the process itself took a little bit due to transfer speeds, it's crazy to think that this entire process mostly involved a screwdriver, a serial cable, and an ethernet cable. There were already certain items in place, of course, what with the network and the AppleTalk configurations but, other than that, the process was rather straightforward. A nice win, to be sure.
Now, onto the next project!