Welcome Erika Fulop to ELL!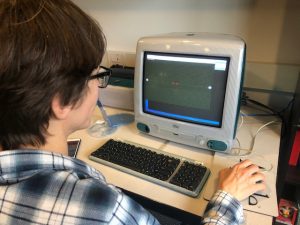 Erika Fulop, a Senior Lecturer in French at Lancaster University (UK), is a Hungarian scholar whose research focuses on "the impact of digitization and the internet on culture . . . and the modern and contemporary novel, especially metafiction and self-reflexive phenomena." She is also a specialist in French e-lit and is working in the lab for three weeks to develop a range of projects, including a potential "The Alire Collection" at The NEXT.
This journal, whose subtitle is A Relentless Literary Investigation, was begun in 1989 by Philippe Bootz, Frédéric Develay, Jean-Marie Dutey, Claude Maillard, and Tibor Papp of the Parisian group, L.A.I.R.E. (Lecture, Art, Innovation, Recherche, Écriture). As Bootz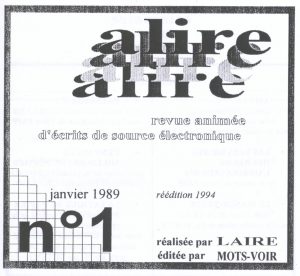 reminds us, A.L.I.R.E. is the first journal of its kind in France, and the first perhaps in the West. To be honest, I cannot think of any others that predate it. Certainly it followed in the vein of many endeavors to highlight experimental artists like bpNichol in Canada, Judy Malloy in the U.S., and Augusto de Campos in Brazil, and explored the computer medium as a mode of expression and medium of distribution. It took the stance that "literature was not 'assisted by' the computer, contrary to the ideas of A.L.A.M.O. (Atelier [ workshop ] de Littérature Assistée par la Mathématique et les Ordinateurs), but that there exists a literature tied intimately to computer technology," a view that aligns very well with that of the lab's and The NEXT's.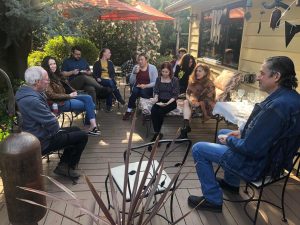 Erika is also spending time reading through the lab's library of e-lit works and going through the archives associated with The NEXT. Yesterday she acquainted herself with David Kolb's Socrates in the Labyrinth via CD-ROM on the iMac G4 "Lampshade" and read through Talan Memmot's "Lexia to Perplexia" via CD-ROM on the iMac G3 "Bondi Blue Bubble"–both held in The N. Katherine Hayles Collection. Earlier this week she got her hands on my personal copy of John McDaid's Uncle Buddy's Phantom Funhouse and, so, experienced firsthand what was meant by the "chocolate box of death." Like many of us, she got stuck in the Troop Carrier puzzle in Sarah Smith's King of Space and marveled at the tales about CyberMountain recounted by Bill Bly, who visited the lab for a few days last week. She has also been busy learning about The NEXT's infrastructure, workflow, archives and collections, and long-term goals with an eye toward building a node of The NEXT at Lancaster U.
Though she has only been embedded with us for a little over a week, she has become an unofficial member of the ELL Team.
Works Cited
Bootz, Philippe. "Alire: A Relentless Literary Investigation." Trans. James Stevens. electronicbookreview. 03-15-99. https://electronicbookreview.com/essay/alire-a-relentless-literary-investigation/.