Madison McCartha, PhD Fellow at the Electronic Literature Lab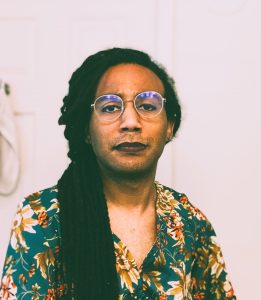 We are pleased to welcome the Electronic Literature Lab's first PhD Fellow––poet, critic, and multimedia artist, Madison McCartha.
Their debut book of poetry and visual art, FREAKOPHONE WORLD, was published by Inside the Castle, in 2021. Their second book, THE CRYPTODRONE SEQUENCE, is forthcoming from Black Ocean.
McCartha holds an MFA from the University of Notre Dame and is a PhD student at the University of California, Santa Cruz. Their Fellowship is funded by N. Katherine Hayles, the Luesebrink Family, and the WSU College of Arts & Sciences.
Madison's interest in kinetic poetry has led them to work directly this summer on the metadata for The New River Journal Collection, forthcoming to The NEXT in October 2022. They are also attending workshops about 3D modeling and other art-based practices.