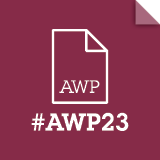 Panel Accepted for the AWP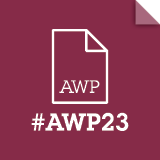 The panel I was invited to join, entitled "Cripping & Digitizing: (Re)Imagining the Poetry eBook," that was organized by poet C. R. Grinner for the Association of Writers and Writing Programs 2023 conference was accepted.
Grinner teaches at the UW in Seattle and author of The Lyme Letters (Texas Tech University Press). Other panelists besides Grinner and me include Molly E. Ubbesen, Ph.D., Assistant Professor and Director of Writing at University of Minnesota Rochester; and Dr. Katherine "Kate" Deibel, the systems librarian at the Philadelphia College of Osteopathic Medicine and advocate for usable and accessible technologies.
Our Panel Description: "The emergence of eBook formats creates an opportunity to accessibly digitize and archive poetry. However, eBooks use "reflowable" text to adjust to page widths, fonts, colors, and related readability modifications. For dis/abled (or, crip) readers, this increases access and introduces new problems that our panel addresses: how do we accessibly digitize poetry so that is not just "readable" but fully experienced? What forms of pedagogical and social translation does this work make possible?"
Our Statement of Value: "We examine physical (vision, hearing, mobility), neurological (neurodivergence, mental health), and social (class, race, gender) accessibility by questioning the existing gap in eBook technology. We both critique and suggest new strategies for digitizing otherwise inaccessible poetry. Our panel fills an urgent need to ensure that as books are increasingly digitized, publishers and writers center equity and inclusion at the levels of both representation and technical production."
I will specifically talk about the efforts we are undertaking in the lab to preserve works of born-digital literature and extend their accessibility for people with disabilities.