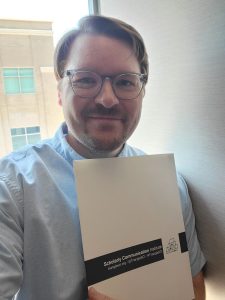 Triangle SCI began today in Durham today. Dene and Richard are here developing the metadata fields for visitors to The NEXT with disabilities for better access.
We kicked off the event with an opening event at The Rickhouse where we met with the other teams invited to the week-long retreat. This year's theme is Reckoning, Care, and Repair, and we are one of five teams invited to participate. Besides ours, entitled A Post-Pandemic Reckoning: Improving Metadata for Better Accessibility to Scholarly Archives for People with Disabilities, there are:
*Joshua Neds-Fox, Matt Ruen, Teresa Schultz, Brianne Selman, Leila Sterman, Stephanie Towery's Building a contextual alternative to scholarly journal un/safelists
*Karen Stoll Farrell, Kimberly Gladfelter Graham, Simon Holt, Sylvia Izzo Hunter, Erin Osborne-Martin, Stacy Scott's Equity Toolkit for Disability Inclusion
*Nadine Aboulmagd, Alex Armstrong, Elena Berg, Jeff Gima, Fiona Glasgow, Antonio Lopez, Dalal Rahme's Intercultural & interdisciplinary open resources supporting environmental justice
*Idowu Adegbilero-Iwari, Basiru Adetomiwa, Samir Hachani, Dan Paul O'Donnell, Shaharima Parvin, Nathan Woods' Towards Curing the Predatory Publishing Malady in the South: Community of Practice Approach to Developing Local Strategies and Toolkits
Our teammate Erika Fulop is en route from Toulouse after seeing her flight cancelled on Sunday, Jarah Moesch and Karl Hebenstreit are joining us via Zoom and Slack on Monday.