Visualization Space Is Live at The NEXT!
The Visualization space, long planned for The NEXT, is now live at https://the-next.eliterature.org/visualizations.
When artists and scholars send the lab their digital works, they often also ship their physical archives. This means that we are holding boxes of personal papers, notebooks, books, and ephemera that correspond to the digital media The NEXT is hosting.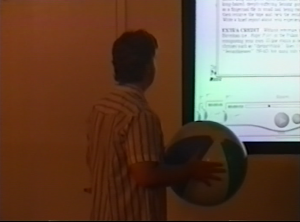 In an effort to share some of the most historically compelling of these artifacts, the lab called upon our lab mates, Sierra O'Neal and Kathleen Zoller, to re-create them as 3D models. Visualizations you will see at The NEXT include packaging used for early born-digital media as well as objects, like the beach ball that Richard Holeton would toss out at audiences during his performances of Figurski at Findhorn on Acid. Fans of Deena Larsen will find the pinwheel she produced as an aid for teaching hypertext. Another favorite of the lab's is the brooch of Lady Nii that Sarah Smith made to reflect this diabolical character from her interactive game, King of Space. In this way, visitors to The NEXT can experience these artifacts, which both brings the works to life and encourages engagement by visitors.
Additionally, visitors will find two digital visualizations to aid with understanding the breadth and depth of The NEXT collections, with more to come.