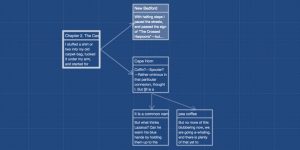 Hypertext is currently rising in popularity. Twine is one of the contributors to its recent comeback, as its intuitiveness and free access has made it a convenient and useful tool for people to tell stories. As Rettberg pointed out, 
"Twine has a user-friendly browser based authoring environment…The platform is also open source." (Rettberg 2019).  
It seems most popular among the younger generation. My sister is currently teaching high school English students, but when she asked them if they were familiar with hypertext all she received were blank stares. So she and I created a Twine tutorial introducing the concept, and it was met with great excitement. Since then, several students have approached her and enthusiastically shared their current projects.  
While it's evident that hypertext is a popular concept among this generation, I have my doubts that it will thrive as a literary form (Afternoon: A Story might still be known by this generation if it were.) Instead, I think it will become more prevalent in non-textual forms, placing a heavier focus on visuals and sound. This form of hyper(text) is emerging as a new way to present storytelling even now, with the introduction of multilinearity in games such as Life is Strange, or in shows like Black Mirror. Just as books were more-or-less replaced by cinematic films, I think hypertext will likely be overtaken by interactive, multilinear digital media. 
However, hypertext is powerful in that it can express things about our world that print cannot, one of these being that the world is open for us to explore. (Most of us) are not locked in a single space, which print tends to enforce upon the reader. Rather, we are free (within reasonable constraints) to explore the world as we please, which hypertext demonstrates by linking to other lexias—or "spaces"—for us to roam. Another aspect that print cannot express is that our world is multilinear. We're offered many pathways and shown different outcomes, as well as more than one person's point of view or story. Print has a harder time portraying this sense of multilinearity (the closest that comes to mind is Coover's The Babysitter), yet hypertext does this with ease by presenting various pathways leading to fragmented text, each containing a different aspect of the story. Lastly, our world requires us to participate in some way. Similarly to clicking links in a hypertext, we must make choices and follow through with our actions. Whereas print is a passive experience that only asks one to read (or simply listen to) the narrative being told. In hypertext, the reader is no longer in a familiar, comfortable environment, but is instead present and at the ready (Interview with Shelly Jackson par. 18). At no point in a print story will the reader have to make decisions that alter the course of the narrative ("Choose Your Own Adventure Books" are the exception) like a hypertext would because it does not offer the reader any freedom to do so.