Web-born works opened a lot of doors for those with the ambition to explore, experiment and create in a similar yet altered environment from being solely digital in origin but not accessible far and wide to the public.
World of Awe is particularly interesting because of how deep the immersion into this work goes. The sound encourages a feeling of solidarity almost to the point of being lost in some deserted area with how the wind howls in the background. The occasional buzz or tune of a computer, a voice singing and laughing, circus and electronic music, and typing all combined together. When the chapter opens, it appears as though you are actually on an older style computer interface.
Examining the content on the computer, you discover travel logs, love letters, maps (Eep [Digital] and Moo [Leather]), and all the while exploring this content, the background on the computer changes as if going through time and seeing the various backup files piled up on top of each other. There's clearly something wrong within the work (all intentionally no doubt) with the computer or the person searching for the lost treasure. The work has a dark sense surrounding it from the start, a sort of twisted essence that lingers, carrying through at a constant. At one point in love letter 654/638, the traveler writes,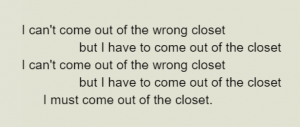 This bit is written, indented in such a way that it is almost as if they are writing a poem and yet the words themselves, repeating over and over sound like that of a madman. The traveler repeats themselves quite a lot throughout the note over all, calling it a joke but still marking at the end that they're continuing to search for the lost treasure.
Looking at the work as a whole, it fully embraces not only the concept of multi-linearity as you explore the contents of the computer and put the pieces together in your mind or write down notes, but World of Awe also touches upon poetic formatting, moving image and various sounds. The interface takes advantage of the navigation system, or perhaps it is actually the navigation system taking advantage of the interface. Yael Kanarek clearly took the opportunity to explore the options available to her when creating this work. Compared to older works of hypertext, again it does feel more immersive while interacting, listening, and exploring the interface. However, with that in mind, it is by no means an "easy" work to traverse through.
Sources:
"Introduction to Net.Art (1994-1999)" by Natalie Bookchin & Alexei Shulgin
World of Awe by Yael Kanarek
The Rhizome Anthology entry on Yael Kanarek's World of Awe: The Traveler's Journal (Chapter 1: Forever)