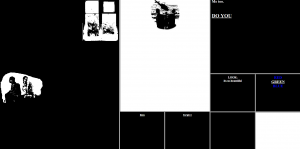 My Boyfriend Came Back from the War is a piece of net art that I found to be quite interesting. Like many other pieces of electronic literature we have looked at in class, I had a difficult time pulling a straightforward story or narrative from this piece. Despite this, My Boyfriend Came Back from the War captured my attention with the interesting way in which it is laid out. It begins with a piece of hyperlinked white text on a black background. Once you click on this text, it creates white graphic images that are displayed against the black background. Some of the images are clickable. When you click on those specific images, the page creates more images and pieces of text that are separated by white borders. Eventually, the web page will contain many different grids, each containing their own little narrative path of clickable pieces of text and images.
This piece of art has an incredibly visual style of multilinearity. There are many different pieces of linear narratives happening, but they are visually separated by the grid squares in which they are held. This leads to a multilinear experience that is easier for the reader to visualize.
Variability is also present in this piece, but not in the typical way that one may think. Variability is not present in the work itself. What I mean by this is that there are no algorithms or pieces of code that make the work different each time a reader opens it. The work always remains the same. In this case, the variability in this piece comes from the way in which the reader decides to approach it. Since there is no linear path when it comes to clicking on images and pieces of text in this work, the way it is approached by readers will always be different. Then again, this can apply to all pieces of electronic literature that always remain the same in structure but allow a reader to follow their own path.  
When compared to the earlier pieces of hypertext fiction viewed in class, My Boyfriend Came Back from the War does more when it comes to visual interaction between images and texts. Earlier pieces of hypertext fiction explored in class had a much heavier focus on different narrative paths explored through textual links, while My Boyfriend Came Back from the War combines both text and images to create a seamless multilinear experience. The reader's eyes are constantly wandering around the page, seeing different pieces of a linear narrative. My Boyfriend Came Back from the War leaves it up to the reader to decide which panels grab their attention the most to advance each narrative path in the order that they choose. The reader may even decide to read different panels one after another in their own order, creating an entirely different narrative from what may have been intended. Overall, the visual grid-panel style of My Boyfriend Came Back from the War is an excellent addition and piece to explore in the world of electronic literature and net art.