The firs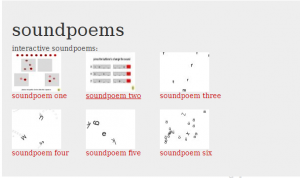 t poem or poems to catch my attention were the sound poems by Jorg Piringer. I enjoyed messing around with the different interactive sound poems, trying to create my own unique and interesting sound bites. Although fun and interesting to interact with, I failed to notice any deeper meaning within the poems. This may be because I have a difficult time finding meaning within things in general, but with these sound poems, I just fail to see how they could allude to anything of deeper meaning.
"Concrete poetry is based on an awareness of and interest in the material nature of language, its shapes and forms, and the aesthetic and semantic effects made possible by manipulating language as a material." – Scott Rettberg
The sound poems by Jorg Piringer follow the definition set out by Scott Rettberg in that they allow the reader to manipulate sounds created by language in unusual ways. Many of the sound poems contain letters that can be manipulated freely by the user. As the letters are manipulated, a sound is made based around that letter. The only deeper meaning I can pull from these poems is that at its roots, the English language can be incredibly nonsensical and off-putting. But, this poem appears to be a form of Lettrism, so being devoid of meaning may be its intention. Lettrism focuses on deconstructing poetry to be devoid of semantic content. The sound poems created by Jorg Piringer succeed at this by focusing only on letters, their movements, and the sounds they make.
The second poem that caught my attention was Cruising by Ingrid Ankerson and Megan Sapnar. This is a poem that utilizes sound, images, text, and animations to tell a short story. This is similar to the sound poems by Jorg Piringer only in that Cruising utilizes sound, but in Cruising, the sound is used to tell a story through a voiceover. This kinetic poem is much more traditional in that it has a clear story and meaning. The poem is also interactive, the user can move their mouse and make the images and text on the screen scroll at different speeds. The description of the poem states that this was done in order to create an experience in which the user needs to learn to control and "drive" the poem.