After I watched and played around with A is for apple last week, I knew 88 Constellations for Wittgenstein was my first choice for this week. Another piece done in Flash, demonstrates constellations in which you click on each and it opens displays with animated pictures and narration that creatively relates certain things from Wittgens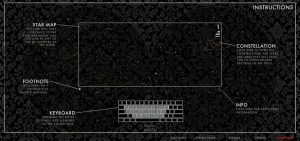 tein's life and philosophy. For example, the piece plays on numerous meanings of "88", from its ban on German soccer jerseys to a deeper idea that "88" implies "Heil Hitler" because the letter H is the 8th letter. The piece is not an effective story being that it is very nonlinear rather it is an assembly of clicks that make connections in multiple ways, yet works very well to keep your attention.
The next piece I chose was Mark Amerika's "Film Text".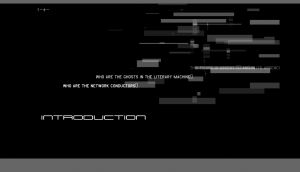 As I watched the introduction and After no changes on the screen, thinking this was a video only, I started to interact with the text. I really enjoyed the audio and visuals used in the piece that connected the use of technology and living in inner-city communities with many people. again, I felt the piece was a critique of modern society with its large urban centers, technology, and media. I found It interesting that Amerika intended for this piece to have a more particular narrative with specific characters, places, and events. The only continuity in this piece was the shadow man with a hat who appeared throughout the piece. Very nice pieces this week, I feel sometimes I have little to no understanding of why or what these artworks are all about and then some just click with me.