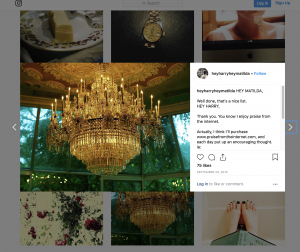 Out of the works we were asked to explore this week, the one that engaged me the most emotionally was heyharryheymatilda by Rachel Hulin. I had never seen a work done this way, so it was very interesting to me. Most of the time while I surf Instagram, I don't really look at people's posts as a way of telling a narrative, but as I was exploring heyharryheymatilda it made me realize that posts can in fact be considered a story. I did find it a little hard to follow at first, but then I remembered that the most recent posts are displayed first in the feed, so I scrolled down to the beginning and started there.
I think this piece is a perfect example of how we interact with the networks we live in. One of the things that really brought this to my attention was the use of the Instagram platform itself. After a post is published, users/viewers are able to interact with the posts by "liking" images as well as making comments on the posts (if the owner has allowed them) to further engage with the story.
"-digital literary art can serve as a critical mirror to help us better understand the networked society that we co-create, that we are subject to, and that we together inhabit." (Rettberg, 182)
While looking more into this work, I discovered that there is a paperback version of the novel as well. It would be interesting to read the print version and compare the experience of the two. I would make a guess that personally,  I would feel more engaged and immersed in the Instagram version of the novel than I would with the print version. I think that the use of imagery and video really enhances the experience and makes the narrative come to life.