Born Digital Preservation Series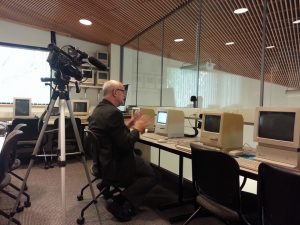 We are pleased to announce events and activities planned for the Electronic Literature Lab in the 2017-2018 academic year:
1. Wikipedia-Edit-A-Thon
Friday, October 20, 2017, 10 a.m.-4 p.m.
A one-day event aimed at developing entries for e-lit authors and works in Wikipedia. 10 people limit. Lunch will be served.
2. Early E-Lit Traversals
A monthly Reader Traversal of early electronic literature, between 1986-1997, streamed live on Twitch. Seven are planned during 2017-2018:
3. Workshops
Half-day hands-on workshops on these topics. Lunch will be served.
Best Practices for Preserving Apps: October 7, 2017, 11 a.m.-2 p.m.
Working with Legacy Hardware and Software: April 7, 2018, 11 a.m.-2 p.m.
4. Scholars & Artists Talks
International scholars and artists talking about their research and creative activities
"The ZX Spectrum Demoscene as Organized Anarchy," by Piotr Marecki, Jagiellonian University, Kraków, Poland, 12-1 p.m., Friday, September 1, 2017
"Access to Spanish & Portuguese Works of E-Lit," by Élika Ortega, Northeastern University, 12-1 p.m., Friday, March 2, 2018
All events are free. For more information about events or to become an affiliate member of ELL, contact Dene Grigar, dgrigar[at]wsu[dot]edu.