Traversal of Thomas M. Disch's AMNESIA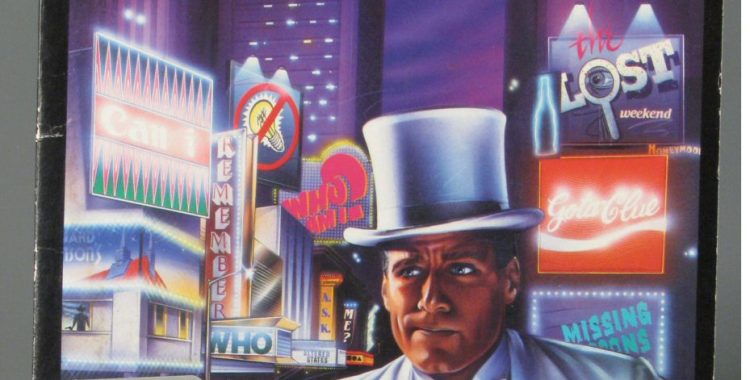 Friday, 1/26, 2018
12 Noon-2 p.m. PDT
Live on YouTube and F2F in Electronic Literature Lab, WSUV Campus, VMMC 211A
#elitpathfinders
Experience a performance––what Stuart Moulthrop and I call a "Traversal"––of an early creative hypertext essay: Thomas M. Disch's AMNESIA (Electronic Arts, 1986)
This is a live performance streamed on YouTube and also captured in video in the Electronic Literature Lab. To access the work, we will be using the 5 1/4-inch floppy disk from The Grigar Collection running on an Apple IIe. Performing the Traversal is Trevor Dodge, games studies faculty with the CMDC program. Guests can view the Traversal in person at Multimedia Classroom Building, Room 211B, or online at https://www.youtube.com/watch?v=kXJIcWctuDM. The event begins at 12 noon PDT and will end at 2 p.m. PDT.
Schedule
12-12:30 p.m.: Pre-show including John Barber's soundscape, live feed of set up, videos, and introductory comments
12:30-1:00: Trevor Dodge's Traversal
1:00: Q&A with Trevor Dodge and Dene Grigar
During the Traversal we will be posting photos and commentary on Facebook and Twitter.
Media Channels
YouTube: https://www.youtube.com/channel/UCzeZQ05p_1Tli0lDBeWMxOA/live
Facebook: https://www.facebook.com/elitpathfinders/
Twitter: #elitpathfinders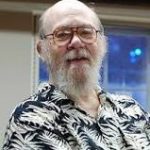 About Thomas M. Disch
From Wikipedia: "Thomas Michael Disch (February 2, 1940 – July 4, 2008) was an American science fiction author and poet.[1][2][3] He won the Hugo Award for Best Related Book – previously called "Best Non-Fiction Book" – in 1999, and he had two other Hugo nominations and nine Nebula Award nominations to his credit, plus one win of the John W. Campbell Memorial Award, a Rhysling Award, and two Seiun Awards, among others."
About AMNESIA
From ELMCIP: "Thomas M. Disch's Amnesia is a text adventure computer game created by Charles Kreitzberg's Cognetics Corporation, written by award-winning science fiction author Thomas M. Disch, and programmed by Kevin Bentley using the King Edward Adventure game authoring system developed by James Terry. The game was acquired and produced by Don Daglow and published by Electronic Arts (EA) in 1986 for the MS-DOS PC and Apple II systems. A version for Commodore 64 was released in 1987.
The game begins as the player's character awakens in a midtown Manhattan hotel room with absolutely no memory. He has no clothes and no money, and doesn't even remember what he looks like. The player soon discovers he is engaged to a woman he cannot remember, a strange man is trying to kill him, and the state of Texas wants him for murder. From here, the player must unravel the events in his life that led him to this point.
In addition to being a text adventure, the game's major innovation was simulating life in Manhattan. Disch's model covered every block and street corner south of 110th Street. A hard-copy map of the streets and subways of Manhattan was included in the packaging. Players moved from place to place on foot, and had to reach destinations at the correct time of day to initiate plot developments. Stores opened and closed at the correct times, street lights went on, and other aspects of New York City life were simulated. Almost 4000 separate Manhattan locations, including 650 streets, were part of the game. In this aspect, along with the player's freedom of movement (most of the time), Amnesia can be seen as a forerunner of the sandbox game."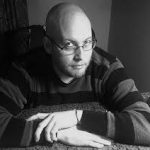 About Trevor Dodge
Trevor Dodge teaches courses in games studies and new media in the CMDC program at Washington State University-Vancouver. From 2007-2010 he co-hosted the games and digital culture podcast First Wall Rebate with Shane Hinton and Shawn Rider. In 2014 his experimental fiction, "A Beginner's Guide to Leet" a flash story primarily executed in leetspeak, was nominated for a Pushcart Prize. He is currently working on a memoir exploring the crucial role video games played in his survival of and recovery from a sexually abusive and traumatic childhood.
Reviews, Critical References, & Resources
"AMNESIA Manuscript." ASCII by Jason Scott. 11 October 2008. http://ascii.textfiles.com/archives/1458.
Carroll, Tobias. "The Only Thing Worse Than Bad Memories: Playing and Reading Amnesia by Thomas M. Disch." Hazlitt.  22 Oct. 2013.  https://hazlitt.net/feature/only-thing-worse-bad-memories-playing-and-reading-thomas-m-dischs-amnesia.
Montfort, Nick. "Generating Narrative Variation in Interactive Fiction." Dissertation, 2007. Accessed at University of Pennsylvania Scholarly Commons, https://repository.upenn.edu/dissertations/AAI3271851/.
Montfort, Nick. Twisty Little Passages. Cambridge, MA: The MIT Press, 2003. See specifically pages, 182-5.
"Review of AMNESIA." Computer Gaming World. Jan-Feb. 1987. No. 34. 44-45, 64-65.
AMNESIA Emulations
Classic Reload: Game and Software Preservation, https://classicreload.com/amnesia.html
Free Game Empire, http://www.freegameempire.com/games/Amnesia
AMNESIA Playthrough on YouTube (2014)

Other Resources
PDF of the User's Manual, http://mocagh.org/ea/amnesia-manual.pdf
To join us in the Electronic Literature Lab for the Traversal, or to get more information about the event, contact Dr. Dene Grigar, dgrigar[at]wsu.edu.
This event is part of the year-long "Born Digital Preservation Series" celebrating the Electronic Literature Organization's move to Washington State University Vancouver. It is sponsored by Washington State University Vancouver, Electronic Literature Organization, and the Lewis E. and Stella G. Buchanan Distinguished Professorship.
Organizers: Dene Grigar, Nicholas Schiller, Greg Philbrook, Vanessa Rhodes, Veronica Whitney, Mariah Gwin, and Katie Bowen.