Live Stream Traversal of Red Planet by Helen Burgess
Tuesday, 2/13, 2018
1:30 p.m.-3:00 p.m. PDT
Live on YouTube and F2F in Electronic Literature Lab, WSUV Campus, VMMC 211A #elitpathfinders
Experience a performance––what Stuart Moulthrop and I call a "Traversal"––of an interactive environment, Red Planet: Scientific & Cultural Experiences with Mars (2001) by Robert Markley, Harrison Higgs, Michelle Kendrick, and Helen Burgess. This is a live performance streamed on YouTube and also captured in video in the Electronic Literature Lab. To access the work, we will be using the DVD from The Grigar Collection running on an Apple iMac flat panel (circa 2002). Performing the Traversal is Helen Burgess, new media scholar from NC State, editor of the journal Hyperrhiz, and a member of the Electronic Literature Organization Board of Directors. Guests can view the Traversal in person at Multimedia Classroom Building, Room 211B, or online at https://www.youtube.com/watch?v=kXJIc… event begins at 1:30 noon PDT and will end at 3 p.m. PDT.
Schedule
1:30 p.m.: Pre-show including John Barber's soundscape, live feed of set up, videos, and introductory comments
2:00-2:30: Helen Burgess's Traversal
2:30-3:00: Q&A with Helen Burgess and Dene Grigar During the Traversal we will be posting photos and commentary on Facebook and Twitter
Media Channels
YouTube: https://www.youtube.com/channel/UCzeZQ05p_1Tli0lDBeWMxOA/live
Facebook: https://www.facebook.com/elitpathfinders/
Twitter: #elitpathfinders
Storify: https://storify.com/nnschiller/david-kolb-s-socrates-in-the-labyrinth-a-live-e-li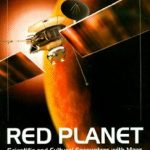 About Red Planet
"Red Planet, an educational DVD-ROM for home, library, or school use, complete with the latest interactive multimedia technology, offers in-depth, cross-disciplinary analyses of Mars as both an object of scientific study and a cultural artifact. Red Planet constitutes an entire virtual library on Mars. With more than 3.0 gigabytes of material, it features extended video interviews with scientists, cultural critics, and visionaries and includes animation, hundreds of pages of text, voiceover narration, biographies of key figures, bibliographies, and technical glossaries. Throughout, hyperlinks provide access to additional scientific papers and Mars-related web sites on the world wide web. The host server will link to web pages that will be regularly updated with the latest information on the red planet." (U of Pennsylvania Press)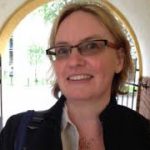 About Helen Burgess
Helen J Burgess is Associate Professor of English at North Carolina State University. She received her BA (Hons) and MA (Dist.) in English Language and Literature from Victoria University of Wellington, in New Zealand, and her PhD in English from West Virginia University. Her interests include digital humanities, electronic literature, multimodal composition, critical code studies, multimedia and web development, and feminist crafting.
Dr Burgess is active in the new media research community as editor of the online journal Hyperrhiz: New Media Cultures, technical editor of Rhizomes: Cultural Studies in Emerging Knowledge, and editorial board member for thresholds journal and the Bloomsbury series Electronic Literature. She is also on the Board of Directors of the Electronic Literature Organization, and co-editor of Hyperrhiz Electric, a monograph series for born-digital multimedia and digital humanities projects.
Major media works include Red Planet: Scientific and Cultural Encounters with Mars (Markley, Higgs, Kendrick, Burgess 2000) and Biofutures: Owning Body Parts and Information (Mitchell, Burgess, Thurtle 2008), both titles published in the Mariner10 interactive DVD-Rom series at the University of Pennsylvania Press, and Highways of the Mind (2014) an interactive book for iPad from Penn Press coauthored with Jeanne Hamming. Her latest work is The Routledge Research Companion to Digital Medieval Literature (2018) coedited with Jen Boyle. She is currently preparing a digital humanities project, Intimate Fields, for publication in the University of Victoria's Kits for Culture Series with fellow NCSU faculty member Margaret Simon.
References
Burgess, Helen and Jeanne Hamming. "New Media in the Academy: Labor and the Production of Knowledge in Scholarly Multimedia." Digital Humanities Quarterly 5 (2011). http://www.digitalhumanities.org/dhq/vol/5/3/000102/000102.html.
Markley, Robert, Helen Burgess, and Jeanne Hamming. "The Dialogics of New Media: Video, Visualization, and Narrative in Red Planet: Scientific and Cultural Encounters with Mars." Eloquent Images: Word and Image in the Age of New Media. Edited by Mary Hocks and Michelle Kendrick. Cambridge, MA: The MIT Press, 2003.
Markley, Robert. Dying Planet: Mars in Science and the Imagination. Durham, NC: Duke University Press, 2005.
Markley, Robert. "New Media and the Natural World." Adrift in the Technological Matrix. Ed. David L. Erben. Lewisburg, PA: Bucknell University Press, 2003.
Vandendorpe, Christian. From Papyrus to Hypertext: Toward the Universal Digital Library. Champaign, IL: University of Illinois Press, 2009.
To join us in the Electronic Literature Lab for the Traversal, or to get more information about the event, contact Dr. Dene Grigar, dgrigar[at]wsu.edu.
This event is part of the year-long "Born Digital Preservation Series" celebrating the Electronic Literature Organization's move to Washington State University Vancouver. It is sponsored by Washington State University Vancouver, Electronic Literature Organization, and the Lewis E. and Stella G. Buchanan Distinguished Professorship.
Organizers: Dene Grigar, Nicholas Schiller, Greg Philbrook, Vanessa Rhodes, Veronica Whitney, Mariah Gwin, and Katie Bowen.