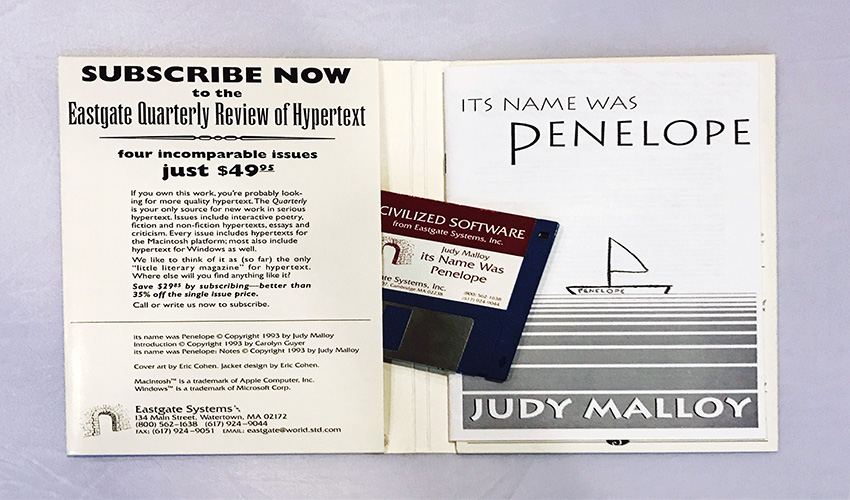 Provenance & Collecting E-Lit: A Case for Human-Centered Archiving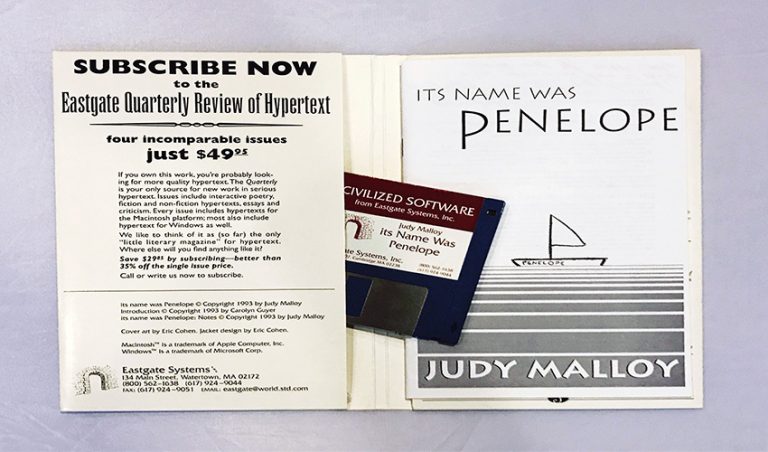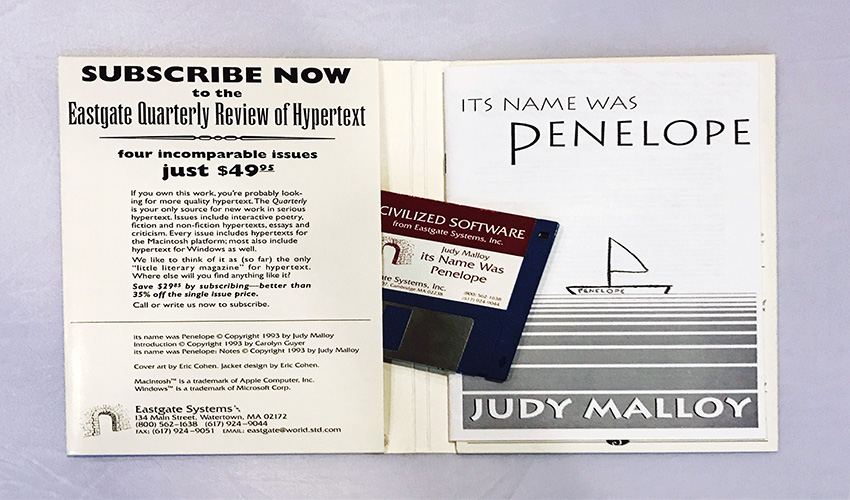 We all know that information comprising a digital object can be studied forensically and that doing so can verify the authenticity of that object. Matthew Kirchenbaum's Mechanisms: New Media and the Forensic Imagination (2008) documents this feature of digital media well with William Gibson's Agrippa along with other examples. That is not what this post is about. What I am talking about are the stories surrounding digital objects. More precisely, I am talking about the human experience with digital objects that results in stories that ultimately give a work its own "life" beyond the lives reflected in the content of the work itself. Watch Antiques Roadshow any night and you will see someone showing their family's baseball card collection, or signed letters from a former President, or heirloom necklace––you get the drift––along with an autographed photograph, a photo of the family member holding the collection or wearing the jewelry when it was first purchased, etc. You learn from the TV series that the validity of the object is directly connected to the ability to track its authenticity through the stories that relate where the object came from, when it was bought, who used it. These stories ultimately document the object's value through its provenance.
As the Society of American Archivists (SAA) defines it, provenance is "[t]he origin or source of something" and can be seen as "[i]nformation regarding the origins, custody, and ownership of an item or collection." "Provenance,"  SAA says, "is a fundamental principle of archives, referring to the individual, family, or organization that created or received the items in a collection" ("A Glossary"). Despite its obvious importance, we scholars of electronic literature seldom mention provenance when we talk about the works we discuss, yet it matters deeply in terms of a work's historical context, particularly since most of the e-lit collected through the years has been not through traditional avenues like libraries and museums but through "rogue archives" like my own where the relationship with the digital object may be very personal and deep. [1]
Take for instance the copy of Judy Malloy's its name was Penelope (1992), listed as #W-87-1, in the ELL Catalog. I purchased that particular copy directly from its publisher, Eastgate Systems, Inc. when I was in graduate school working on my dissertation about Homer's Penelope from his epic, The Odyssey. I discovered Malloy's work from some advertising venue that the company made available––an announcement card that had come packaged with another Eastgate work or the flyer that would come folded neatly in the folios. Seeing Malloy's title, I wondered if that Penelope had anything to do with Homer's. Sure enough in Malloy's story there were allusions to "a rock and a hard place" (re: Charybdis and Scylla), boats and sea, and other connecting threads. The work was promptly added to my primary bibliography.
But I distinctly remember receiving the work in the mail. I can see that tiny white cottage on Redondo Drive where I lived. I remember scooping up the package from the floor where it had been slipped through the mail slot on the front door. I can feel the plastic wrapper that I removed from the folio. I recall sitting at my desk in what was supposed to be a dining room but had been turned into my makeshift office and reading the accompanying manual, thinking how cool it was to discover a female author of hypertext literature. Up until that time I had read Michael Joyce's afternoon: a story (1990) and Stuart Moulthrop's Victory Garden (1991), and although I learned of these two works from my professor, the prominent hypertext theorist Nancy Kaplan, its name was Penelope was my first foray into hypertext literature by a woman.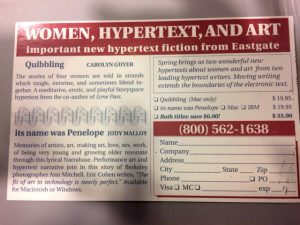 Malloy, thus, became my touchstone of sorts, my Sappho among the Homers, Euripides, Sophocles, and Hesiods that comprised the male canon of classical Greek literature. There wasn't just one woman hypertext author––I quickly learned––but numerous of them, their names emblazoned on Eastgate Systems, Inc.'s ads and its website: Carolyn Guyer and Sarah Smith. Judy Malloy. Then Jane Yellowlees Douglas, Mary-Kim Arnold, Deena Larsen, Kathy Mac, Kathryn Cramer, Shelley Jackson, Diane Greco, and Judith Kerman. And then Stephanie Strickland, M. D. Coverley, and Megan Heyward. [2] Hell yes, this discovery emboldened me to produce my own hypertext about Homer's epic, a study that ultimately helped me develop the argument for my dissertation. While women writers of print were still elbowing their way into literary anthologies, it seemed to me (holding Malloy's work in my hand that day in Dallas, TX) that women writers of hypertext literature had found a better place of acceptance in the world. That it involved computers only made it seem that much more of a victory for us all.
So, Malloy's its name was Penelope sits on the shelf with the four other copies I have purchased or have been given over the years, its story told in the new version of the ELL Catalog currently in production that functions not only as a finding tool for the collection but also a descriptive tool for scholars wanting more detail information about each copy of a collected work. These are stories that go far to explain why its name is Penelope is one of the 300+ works held in my collection as much as contextualize how it comes to pass that I am an academic involved in digital preservation of early electronic literature with a full-on lab devoted to that very research. Its story is made more powerful by its connection to a human who collects and experiences it. Their story has become my story; their living history, tied up in mine.
But it is easy to tell the stories of how works come to us for our personal collections. What is more challenging is figuring out how they came to the place before we got them. Here is where we need to do a little sleuthing.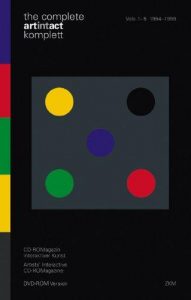 I am looking at the folio, entitled The Complete Artintact, Vols. 1-5, 1994-1999. It is one of the many works donated by N. Katherine Hayles to the Electronic Literature Organization's archives. Currently it resides in the Hayles Collection situated on a shelf in my lab where all of the ELO's archives are hosted while being prepared for documentation. Touted as a "virtual museum," the work is a German publication consisting of a CD-ROM and a 43-page booklet featuring 15 works of interactive art made possible and published in 2002 by ZKM/Zentrum für Kunst und Medientechnologie Karlsruhe. When Élika Ortega––who was visiting the lab in March to do research for her book––showed it to me, I wondered how this work came to be possessed by Kate. I wondered how in 16 years of existence this folio had traveled from Germany to the Pacific Northwest. I wondered, "What is the story of its life?"
Looking closely at the cover, clues mount.
You see, the first volume, originally published in 1994, lists three works, one of which is Bill Seaman's The Exquisite Mechanism of Shivers (1991, 1993). That bit of information put me on the scent. I had met Bill in 2001 at Kate's NEH Summer Seminar that she hosted on UCLA. At the time Bill was Professor in the Department of Design | Media Arts and one of the artists Kate introduced to us. [Another, by the way, was Anne Balsamo, who is now Dean at the university where I received my PhD. At the time I met her, though, she was still working at Xerox PARC. Later she returned to academe, arriving as the Dean of UT Dallas' ATEC School by way of USC and The New School. Anne also has a leading role in the work's story, which we will get to a little later.] But back to Bill . . . I remember walking into the auditorium that held his, then recent, generative project––my recollection leads me to say that it was The World Generator. So taken with this mammoth 3D interactive piece that I approached Bill after his presentation and asked where he learned to produce such work. He then told me about The Centre for Advanced Inquiry in the Interactive Arts (CAiiA) at the University of Wales, where he had completed his PhD in 1999. I also learned from our NEH group's discussion that Bill held an artist residency from 1994-1995 at the ZKM, Karlsruhe and that he had won numerous media art prizes including the Prix Ars Electronica in Linz, Austria (1992, 1995), and the International Video Art Prize, ZKM, Karlsruhe, Germany (1994).
Are you following me here? [Hint: the italics, above]
Taking Bill's advice that the best place to learn interactive art was with CAiiA, I began a two-year post doctoral study with the group in 2002 (which during that time had morphed into CAiiA-STAR and then finally to its current name, The Planetary Collegium). In 2002 Bill also took the position of Founding Chair, Digital+Media Department and Graduate Program Director at the Rhode Island School of Design. Our paths crossed again in 2003 at Nomadic Transitions in Art and Design, a conference hosted by Jill Scott and Marille Hahn in Zurich, Switzerland. For five more years Bill remained at RISD, until in 2008 he moved to Duke University as Professor in the Art, Art History, and Visual Studies Department. While Bill was settling into RISD, Kate left UCLA for Duke University in 2006 where she became the James B. Duke Professor of Literature. Two years later Bill joined her at Duke. So, Bill and Kate were together at two institutions: UCLA and Duke University. The same year Kate moved to Duke, I took my job at WSUV as Director of the Creative Media & Digital Culture program. In 2011 when Bill and Kate were both at Duke, I opened ELL. Later that same year Anne came to WSUV at my invitation to give the keynote at the university's Research Showcase. Her visit prompted a list of recommendations for my lab, one of which was to  continue building it out and including post-doctoral research and grant-writing in support of research. The NEH grant that resulted in Stuart's and my Pathfinders project and Traversals book, both of which center on the lab's activities, came out of Anne's help and suggestions. [3]
It is at this juncture that the story of The Complete Artintact, Vols. 1-5, 1994-1999 now begins to take shape. We can surmise a few scenarios. First, Kate may have come into possession of the work while both Bill and she were at UCLA and before Bill left for RISD in 2002 and that it may have traveled with Kate to Duke University and then sent to me at WSUV in Vancouver, WA. Or, second, Bill gave Kate the work when they were both on faculty at Duke University. In each case Bill gave Kate the work, and Kate gave it to me for the ELO. This means that the work has now passed into three different hands since its publication: Bill's, Kate's, and then the ELO's via me. It may have traveled from Germany to the West Coast of the U.S. and then to the country's East Coast and then back to the West, 971 miles up the coast to the Pacific Northwest. The fact that I even have a lab that serves as the hub of preservation work for e-lit and can offer a resting place to The Complete Artintact, Vols. 1-5, 1994-1999 came about because of the NEH summer seminar with Kate and Anne's guidance and support. Not ironically my collaborator in Pathfinders and Traversals is none other than Stuart Moulthrop, author of Victory Garden, one of the first e-lit works I owned––who also happens to be the partner of my college professor Nancy, mentioned at the beginning of this essay. It was actually Stuart's initial contact with Anne at a conference in Santa Cruz around 2012 that got the ball rolling on the grant and the projects. It may be a small world, folks, but it is one packed with a lot of stories.
Luckily both main characters in this story are available to verify the provenance of The Complete Artintact, Vols. 1-5, 1994-1999 and put theory to rest once and for all. This is one of the perks about working in a new field: We are still young enough for the characters to be still involved in the developing story. But in cases where the works are ancient like Homer's, well, the sussing out leaves the theory, many times, just that.
Et voilá. There lies the impetus to do this work with provenance with our e-lit collections now, rather than leave it to future scholars to muddle through later. The floppy disks, CD-ROMs, and now flash drives––all of these removable media––will fail at some point. Yada yada yada. The computers we have to read them on will also finally give out. Yada yada yada. We all imagine that at some point we will be able to recover the content on these objects and emulate them for future audiences. Yada yada yada. But left us are the people who participated in the living history of the work. The stories that constitute that history collude with the physical object, the folio, and the folio's contents (which are all also part of the work, too) to sustain the work once that content––the poem, story, or essay––is gone or moved outside of the cultural context of its original packaging and storage device that time-stamp the literary experience. More importantly, though, the characters who participated in the work's life history will also disappear and no longer be able to help with contextualizing it. Over the last year or so members of the ELL Team have taken up the effort to tell the stories of the 300+ works in my lab's library. It stands to reason that we could, at some time in the future, appear on an episode of Antiques Roadshow with a trunk full of floppy disks and CD-ROMS to show Mark Walberg and his viewing audience and trace each work's provenance for them all.
I do not want to end this essay with such a glib comment involving a popular TV show. Let me say with more gravitas that where I am headed with my thinking is the notion of human-centered archiving, where born digital works like electronic literature are afforded their own history through documented stories. I see this material gathered in one place along with other e-lit works of its period, collector's stories, artists' papers, and the scholarship about them––and dare I say it? Yes, the computers on which they were created to be experienced––so that the archive is contextualized in such a way that humans can use them effectively, so that people now and in the distant future can understand more precisely what we were doing with our intellectual output in the early age of digital. A good place to begin this endeavor is with a work's provenance.
Coda
I received an email response today from Kate about when she may have gotten The Complete Artintact, Vols. 1-5, 1994-1999. She said that "she believes that it was at UCLA" (Hayles). Indeed it has enjoyed a long life that entails an interesting journey.
Notes
[1] Rogue archives is a term argued for by Abigail De Kosnik in her book Rogue Archives: Digital Cultural Memory and Media Fandom (2016). She explains such an archive as one that resides outside the "traditional memory systems" and established by "nonprofessionals," which she identifies as "amateurs, fans, hackers, pirates, and volunteers" (1-2).
[2] For a fairly complete list of Eastgate Systems, Inc. hypertexts, visit this section of Pathfinders.
[3] I document ELL's history at http://dtc-wsuv.org/ell-catalog/site2/history.php.
References
The Complete Artintact, Vols. 1-5, 1994-1999. CD-ROM. Karlsruhe, Germany: ZKM/Zentrum für Kunst und Medientechnologie Karlsruhe, 2002.
De Kosnik, Abigail. Rogue Archives. Cambridge, MA: The MIT Press, 2016.
Grigar, Dene and Stuart Moulthrop. Pathfinders: Documenting the Experience of Early Digital Literature. 2015.
Hayles, N. Katherine. "The Complete Artintact, Vols. 1-5, 1994-1999." Personal Email. 26 March 2018.
Kirschenbaum, Matthew. Mechanisms. Cambridge, MA: The MIT Press, 2008.
Malloy, Judy. its name was Penelope. Watertown, MA: Eastgate Systems, Inc., 1992.
"Provenance." A Glossary of Archival and Records Terminology. Society of American Archivists. https://www2.archivists.org/glossary/terms/p/provenance.